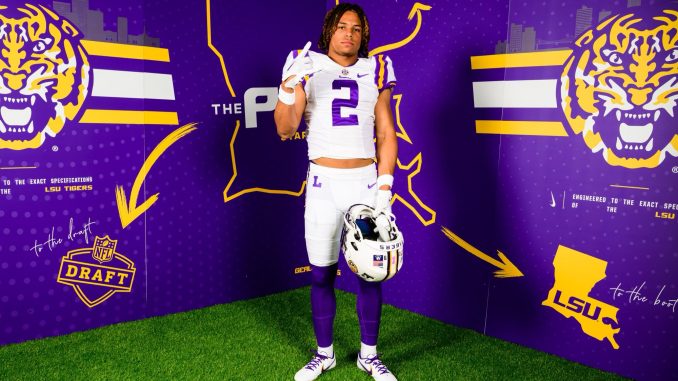 A week in advance of LSU's final big recruiting push before a mandatory NCAA dead period the Tigers got a leg up for next weekend.
The Tigers increased their commitment total to 19 with a pledge from one of the state's top prospects in Many four-star safety Tylen Singleton.
"100% committed," Singleton wrote on his Twitter account. "I would like to thank college coaches for recruiting me and giving me the opportunity, but I will be staying home. Geaux Tigers! #4Louisiana."
The 6-foot-1, 208-pound Singleton is the 14th player from Louisiana to remain within his state's borders. Second-year head coach Brian Kelly is looking to add to that total with next week's "Bayou Splash" recruiting event that's scheduled to draw a combination of both Louisiana and out-of-state prospects.
Singleton provided a "late July, early August" timeline for a commitment less than a week ago. He had narrowed his finalists to LSU, TCU, Texas A&M and Tennessee, plans to graduate in December and enroll in college for the spring semester.
Singleton, a first team Class 2A All-State safety in 2022, has been ranked as high as the state's No. 1 prospect but now is a consensus No. 5 prospect going into the start of the '23 season. He's ranked as high as the state's third-best prospect by Rivals.com, No. 13 safety by On3Sports and No. 114 overall player by Rivals.com.
The three-year starter has been a key figure on Many's defense which has won two of the last three state championships, including last year's 35-13 win over Union Parish in the Division III nonselect championship game. He registered 78 tackles and two sacks for last year's undefeated state champion.
He will also play wide receiver for the Tigers this season.
LSU's long made Singleton's a priority, spearheaded by defensive coordinator Matt House. Singleton made an unofficial visit to LSU on April 14. He's also made official visits to Texas A&M and Arkansas in June.
"We didn't even talk about football; we talked about life, life after football," Singleton said of House. "We looked at film, at my plays where I did great and plays where I could've been better. I like playing the nickel. And I feel that he can bring out the best of my abilities at any level."