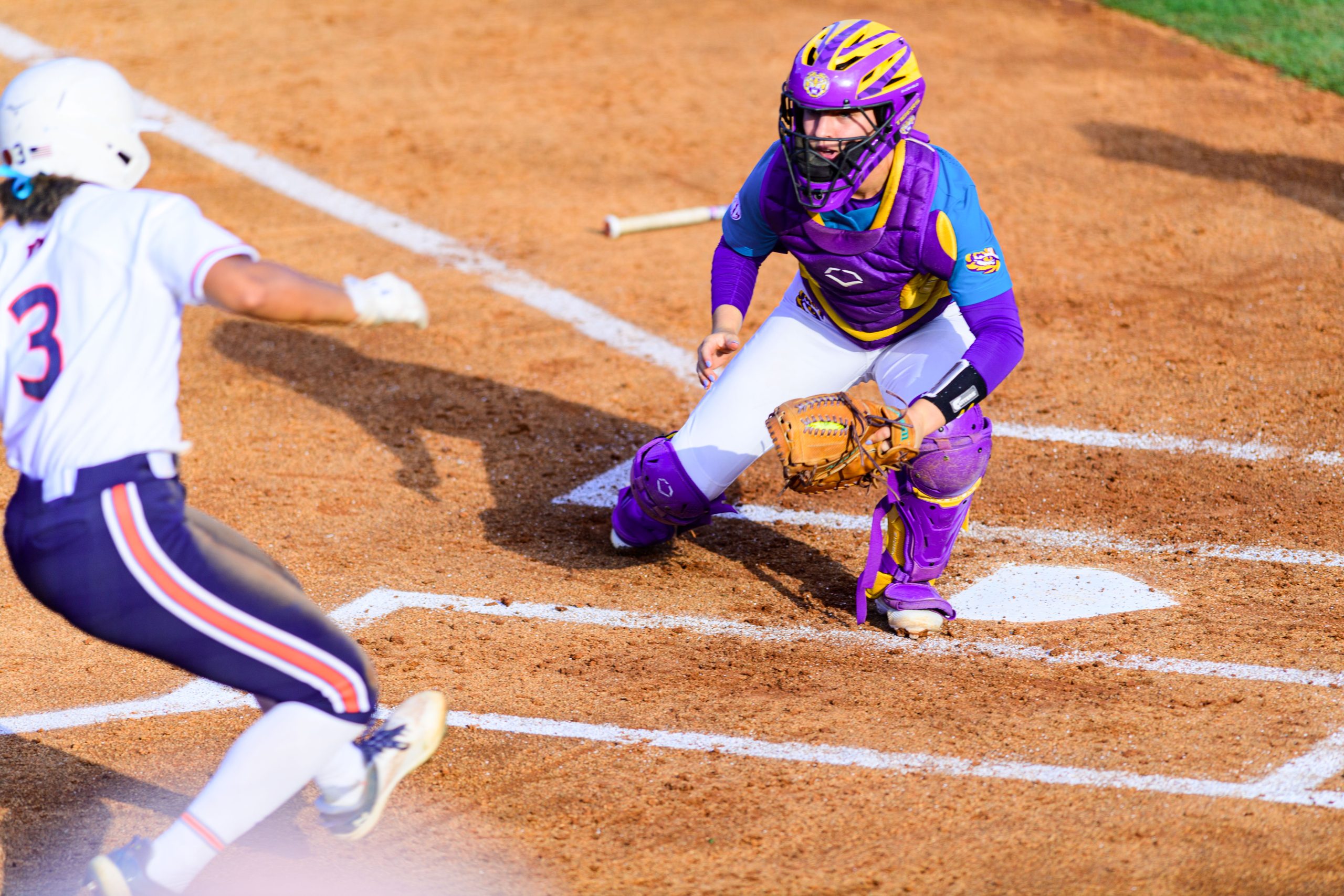 The perfect world of the catching position for LSU softball hasn't gone according to plan this season.
Transfer portal signee and projected starter Hannah Carson of Michigan tore an ACL two games into the 2023 season. Decorated signee Maci Bergeron of Notre Dame, the state's Gatorade Player of the Year, has encountered her share of difficulty of trying to balance an increased workload defensively and at the plate.
That's led a change at two positions that have helped No. 12 LSU (37-11, 10-8 in SEC) get back on track heading to this weekend's three game Southeastern Conference series at No. 16 Alabama (34-15, 10-8) 6 p.m. on Friday in a battle of teams tied for fifth in the league.
The Tigers have shifted junior left fielder Ali Newland, last year's backup catcher, to the team's No. 1 catcher and moved graduate student Savannah Stewart into left field – a combination that helped produce a three-game sweep over Mississippi State last weekend.
"Everybody here expected me to be hanging out in left field all year," Newland said. "That was what I certainly expected, especially with Hannah coming in with so much experience. That's probably what we all expected, and our defense probably looks a lot different than what we all thought this spring. A couple of weeks ago I was asked my role preference. I said whatever role it takes to win.
"I like to go to the College World Series," Newland continued. "That's what I want, and I think whatever role coach (Beth Torina) and this staff thinks I need to be in for that to happen, that's the one I like the best. I've caught for three years, and I always loved it. When I was little in travel ball and in high school, I always did it. It wasn't necessarily what I was asked to do here. I've continued to work on it, continued to trust the process this staff has put us in. If it's the one that takes us to win, that's what I'm here for."
Torina explained the personnel move was equally important to get Stewart on the field. She's a .269 hitter with seven RBIs that hasn't committed an error this season.
"The decision is more about Savannah Stewart than either of them," Torina said of Newland replacing Bergeron. "The person that would come out at this point would be Savannah and that's impossible to justify at this point."
Newland shared catching duties in 2022 with Morgan Cummins and believed she was targeted for more time behind the plate next season when Bergeron returned for her sophomore season and no high school seniors were signed in November.
She's displayed a knack for making dramatic plays in left field, coming up with a several ESPN SportsCenter Top 10 plays a year ago. She only committed two errors in 148 chances this season for a .986 fielding percentage and had provided the Tigers with one of the nation's top defensive outfields along with Ciara Briggs in center and McKenzie Redoutey in right.
"I caught a lot in practice, but not in scrimmages," Newland said of the fall. "Coach said she didn't necessarily want me to stop catching. She explained that she didn't expect me to have to do it much with Hannah here with all of this experience, and Maci coming in. Maci was highly touted and everybody's expecting great things from her over her career. It (catching) was definitely not what everyone expected, but I never really hung it (catcher's mitt) up."
Torina said Newland's willingness to play a different position speaks to her unselfishness and team-first approach.
"She's very talented," she said. "She's a true utility player. The best thing about her is she's willing to do anything the team needs. She will do whatever the team needs."
Newland is also a key member of an LSU lineup, batting fifth and sixth last weekend, and providing the Tigers with a player capable of hitting for a high average, driving in runs and supplying power.
A year after batting a career-high .284 with 12 doubles, seven homers and 35 RBIs, Newland is currently fifth on the team with a .318 average on the strength of a 10-game hitting streak. She's hit three of her five homers and driven in 10 of her 31 RBIs during that stretch.
"Before the season coach talked about me being a jack of all trades," Newland said. "That's what I've been asked to do. When (second baseman) Sydney Peterson went down with a labrum tear (before 2022 season), I was at second base because we didn't have enough middle infielders. I was just being prepared for whatever's asked of me.
"When Hannah went down, I didn't think she (Bergeron) could do it all by herself as a freshman," Newland added. "I knew it would be a ton to ask her to do it by all herself, especially as a freshman. This is what I'm being asked to do right now and trusting that this staff, our strength staff and training staff, have done everything they can to help me playing my best."