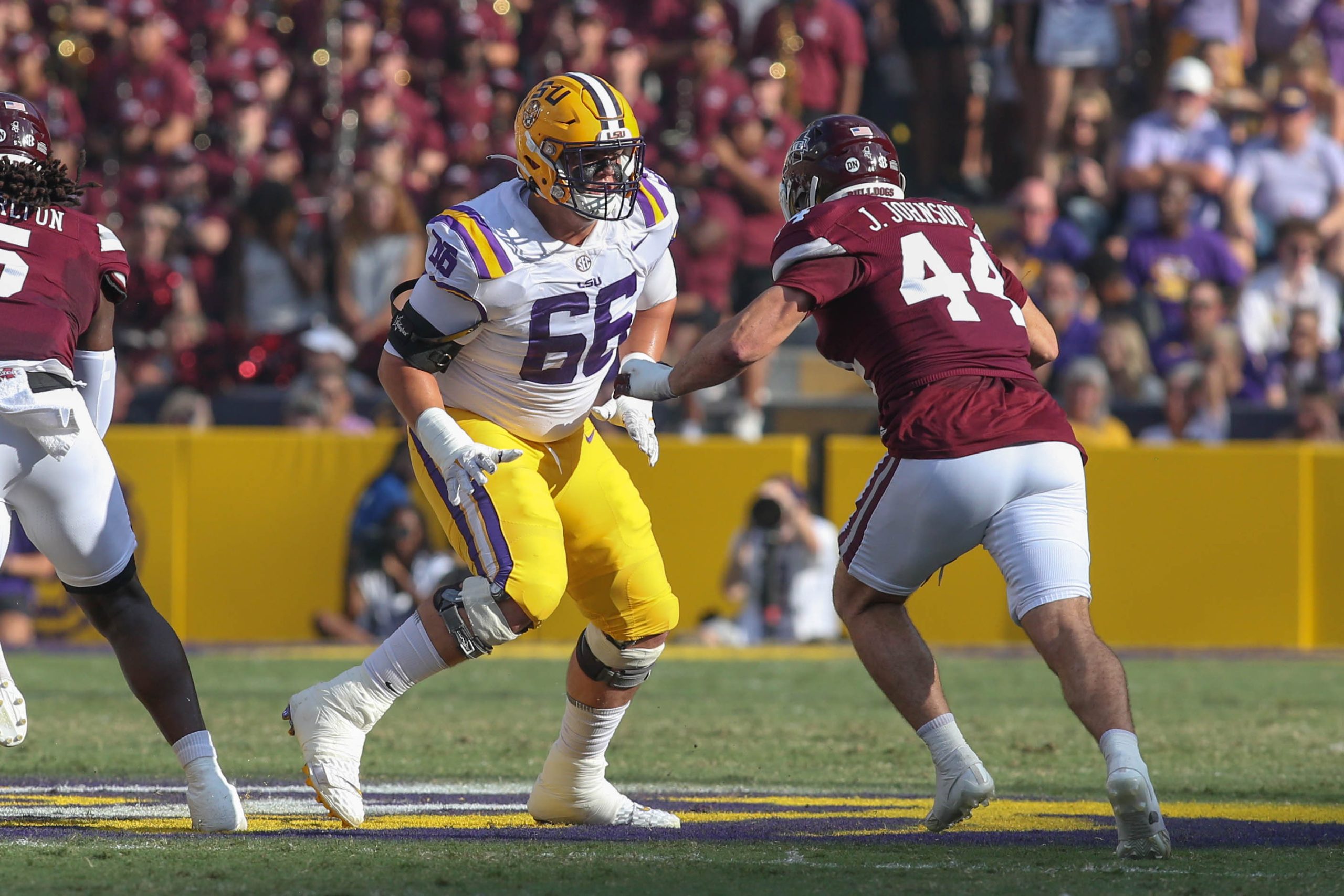 LSU football coach Brian Kelly said Wednesday that freshman left offensive tackle Will Campbell was released from the hospital Monday and has returned to practice.
Kelly, speaking during Wednesday's SEC Coaches' Teleconference, said Campbell, who required hospitalization Friday after becoming dehydrated during the team's walk-through practice for Tennessee, had cleared further testing and practiced with the team Tuesday. The native of Monroe is expected to practice again Wednesday and play in Saturday's 6 p.m. game at Florida.
Kelly stopped short of saying Campbell would move back into his starting spot at left tackle that he held for the first five weeks of the season. He was replaced during the 40-13 loss to Tennessee by Anthony Bradford, formerly the team's starter at right offensive guard.
The Tigers also played the majority of the final three quarters against the Volunteers without sophomore left offensive guard Garrett Dellinger who suffered a Grade 2 MCL sprain of the right knee and is expected to miss the team's next two games. He was replaced last week by Xavier Hill, but Kelly hasn't given the entire makeup of this week's starting offensive line.
Here's what else Kelly had to say:
Opening statement:
"We're looking forward to obviously playing at Florida, coming back from a disappointing loss last week. The guys were excited about the opportunity. Obviously, they've had an opportunity to work hard this week, and look forward to the challenge. Another SEC opponent which again proposes all kinds of problems. Great quarterback. Coach (Billy) Napier is an outstanding football coach, and our guys are excited about the challenge."
On value of player-only meetings?
"You're going have a lot of emotions after a loss. The most important emotion is that they care and this team cares, and they care about the things necessary that go to winning more. The line is long for those people that want to win. The line is not quite as long for those that are willing to do the things necessary to win. And these guys want to do the things necessary to win, and so that's what they're asking. They want to know what they can do, to be better to continue to work towards our processes. Being excellent. Being average is not good enough, so I applaud them. I think it's outstanding that they have the right emotions. It's not one where they're pointing fingers. They want to be accountable and be the best version of themselves. That's a good thing."
Your thoughts of what you've learned coaching in the SEC?
"Good players. Great coaching. Great venues. It's always a challenge, it'll be a challenge in The Swamp with just an incredible fan base and a great atmosphere. You've got to be ready for the distractions, but you got to be ready for outstanding personnel across the board. And that's the great thing about it. That's why I wanted to coach in the SEC. I think it's the best conference in college football and you get challenged each and every week. And if you love college football, and you love doing this, there's not a better place to be."

Anything that may have caught you by surprise thus far?
"I just think that the margin for error is so small. That you can be doing some good things, but if you're not doing everything well, you can't hide from it, and you'll get exposed. Average is going to get you beat around here. You can't just take good golf shots around here. I'm in the SEC, if that's an analogy that you can understand. What I mean is that you've got to play really well, and you've got to do some things that allow you to win, and you can't beat yourself. This past weekend, we did too many things that put us in a very difficult position to win. The SEC kind of heightens that on a play-by-play basis."
On the qualities Jayden Daniels showed to win starting job? Did you see progress against Tennessee?
"There was definitely a step in the right direction. What he did to separate himself was the experience of playing the position. He didn't make a lot of mistakes, was really good with the football. Obviously from our standpoint, he had a little bit of an edge over Garrett (Nussmeier) and did a really good job as well. But just felt like with his experience, and his percentage completion throughout camp, he deserved that. We felt like we had the best chance to win with him. Obviously, it (Tennessee game) was a disappointing loss, but you can't pin it on Jayden Daniels. That was a team loss, and everybody was accountable, including the coaches in that loss. He needs to continue to step forward. This is a big game for him as well going on the road, managing our offense in a very difficult environment. We've got to see that progression. We've got to see that improvement again this week as well."

On familiarity of recent LSU-Florida rivalry?
"It's the one game that we cross over, it's always on the schedule. That creates a rivalry in itself when it's a game that you play every year, so I know our guys look forward to it. There's been some close and exciting games year in and year out. I am learning more and more about the different games, and the rivalries and the history of each game as I sit here with more days as the head coach here at LSU."

On Florida quarterback Anthony Richardson who played well in last year's LSU game?
"It was a breakout performance for last year. A young quarterback that played very well on the road, that says a lot. That gave him a lot of confidence to continue to grow. I said this earlier in the week of my press conference, there's some similarities between him and (Tennessee's) Hendon Hooker in terms of size and physicality, his ability to throw the football. These are similar quarterbacks and they're talking about Hooker as a Heisman Trophy candidate. He's got incredible skill. We're going to have to do a great job of containing him. They've got an outstanding offensive line that protects him very well and allows him to run the football which gives him the opportunity to basically have a balanced offense and throw the football."