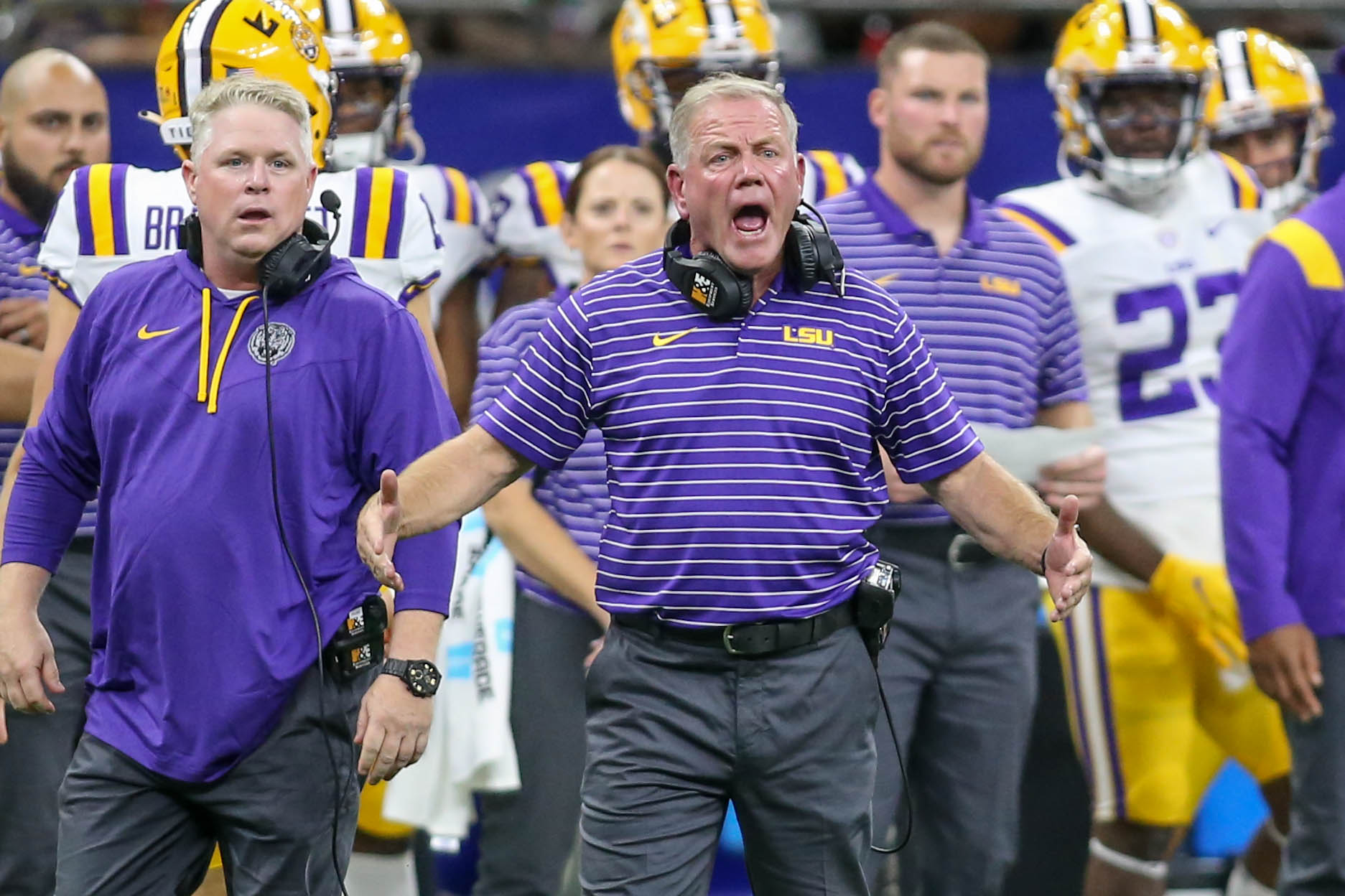 The odds are that the LSU season so far is going not much different than Brian
Kelly thought it would when he took the LSU head coaching job last December.

Coaches know from looking and the fact he loaded up on transfer portal players
underscored the feeling. While doing that – and LSU was impressive with the
number and quality of players it reeled in that way – made fans all the more hopeful,
Kelly has known all along this season was going to be a hard road, break even or somewhere just on either side.

Of course, he can't say that, which is why he sank into coach speak after a 40-13 loss to Tennessee Oct. 9 in broad daylight and on Tiger Stadium turf.

"Well, that was not what we had planned or expected," Kelly said. "We expected to play much better than
that. That's the group we have, "and we've got to coach them better."

Cue the recitation of Kelly's Lottery-haul salary. Ten million dollars annually (or 100 if you are going for the bigger effect of the entire contract) for this? Fans were throwing it all over the Twitter verse as in "100 million and they're not coaching well enough?"

It was pretty cagey of LSU to put out a release the day before that the Kelly family was pledging $1 million to the Tiger Athletic Foundation for an improved training room and recovery suite.

The Kelly family? How much is Brian chipping in? He may need the recovery suite pretty soon.

Actually, this season has been all very predictable.
LSU has beaten the teams it should beat. Florida State was a tossup and ended up pretty close to dead even.
But these days, LSU resides in the middle of the pack of the SEC. There are winnable games remaining on the schedule, including Oct. 15 at Florida, which has, incredibly, managed to lose to bad LSU teams the last two seasons. Arkansas and Texas A&M can be had and so should Alabama-Birmingham, although that's one that would scare me.
Tennessee, after years of muddling around with a rogue's gallery of coaches, finally seems to have struck gold with Josh Heupel. The Vols are good and clearly a threat to reigning national champion Georgia in the SEC's Eastern Division.
We'll get a better idea of how much when they play host to Alabama on Oct. 15.

But don't expect LSU to muddle around nearly as long as the Rocky Toppers. After a year of laying the groundwork – his groundwork – Kelly should be able to turn the program quickly. It's much easier now with the transfer portal, but he's showing some good recruiting strength early on.

And remember, all the other teams in the SEC are undergoing big turnover and nobody knows who might leave which program. Teams can go south just as easily as rising up. Everyone but Alabama, that is, and it can't last forever there.
Kelly would never say it, but this season was going to be a throwaway with the condition it was left in by the previous coach, who walked away with a national championship and life-changing payoff.
LSU has talent at quarterback, on the field and in the wings. Skill players are still signing on. Linemen are on the way and the key is having depth at every position. Depth is what is killing the Tigers right now with all the injuries they've had and there's nothing Kelly can do about that.

He might have to make some changes on his staff, perhaps the special teams coach, but not likely. Special teams problems are often attributable to depth issues, although the trouble against Tennessee started with one of the most sure-handed Tigers muffing the opening kickoff into the hands of the Volunteers.

The clue to Kelly's future is to see how he holds this group together and how they close out the season. If they finish strong, it indicates the roots of a program culture are in place and only need time to grow.

Did you see what Texas A&M did?
Two upset losses in the first half of the season and the Aggies were two yards from beating No. 1 Alabama. Speaking of which, I hope LSU fans aren't still pining for Jimbo Fisher, who muffed his golden opportunity with a horrendous play call. I guess Aggie fans are thinking to themselves, "9.5 million for that?"

Kelly can show his ability by keeping his team motivated. His first assignment is to light a fire under Kayshon Boutte, who exhibited the same bad body language playing the Vols that I saw throughout the Florida State game. He dropped his first target and didn't look like he was hustling on the crucial failed fourth-down play that came up inches short.
At this point, there is no miracle fix. Having a winning record and getting to a bowl game is the best result for this year's team, sort of like the 2018 team that blossomed into a national champion.
But Tiger fans have to keep the faith and look to the future.
"We don't have anybody walking through that door that's going to change this football team dramatically," Kelly said. "We have to focus on ourselves as coaches and do the things necessary to make this team better."