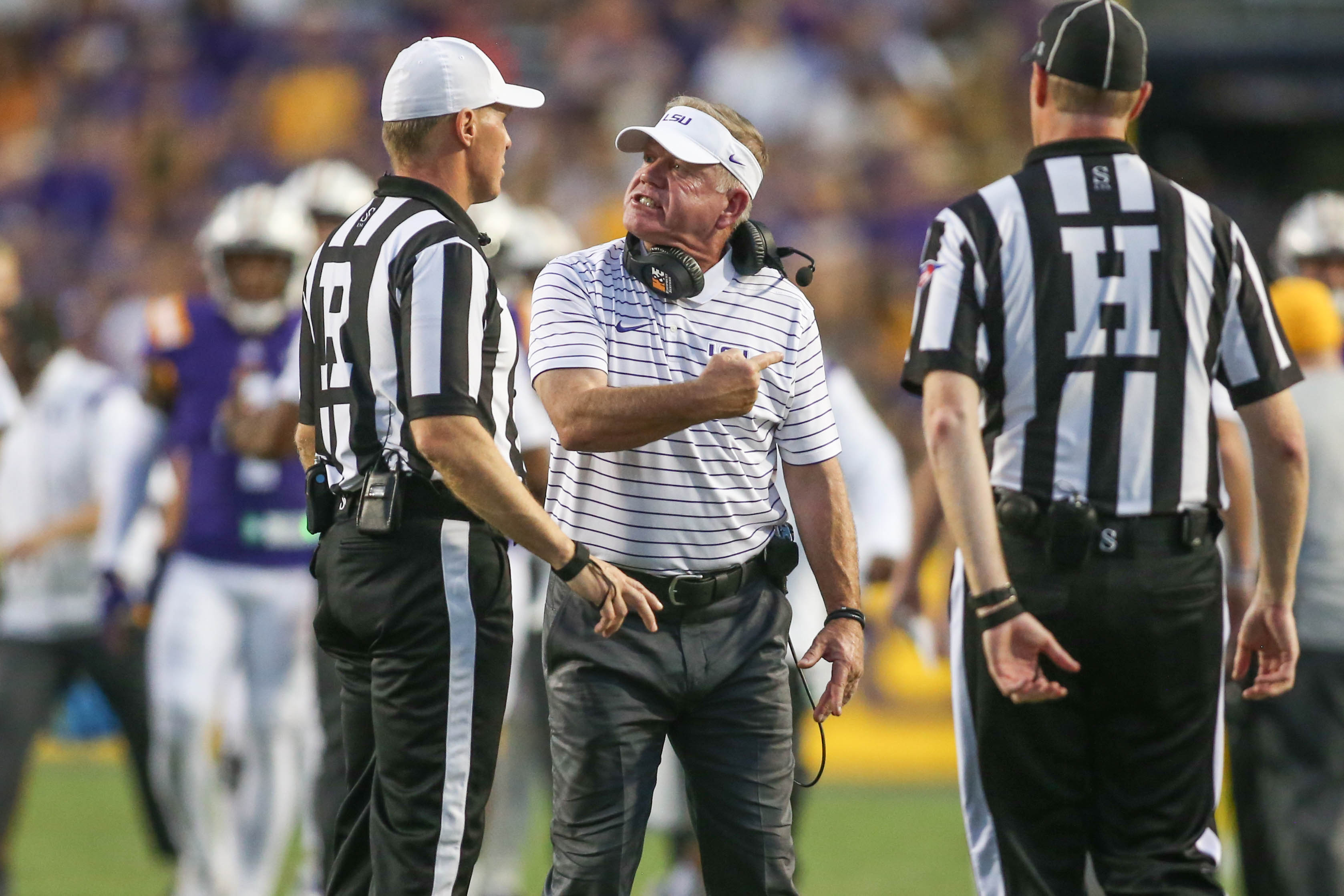 LSU's patchwork offense line will be tasked with some more patching up to do this week.
First-year football coach Brian Kelly, who lost two starters at left tackle and left guard during the course of Saturday's 40-13 home loss to Tennessee, said during his weekly news conference that freshman Will Campbell was expected to be released from the hospital on Monday.
Whether Campbell, who started in the team's first five games of the season, would be able to return to Saturday's game at Florida was uncertain. The Monroe native suffered from dehydration during the team's walk-through practice on Friday and spent the weekend undergoing tests in the hospital.
"Things are trending in a positive direction for Will, so we're really pleased," Kelly said.
Junior Anthony Bradford, the team's starter at right guard, replaced Campbell in the starting lineup at left tackle and Miles Frazier started in Bradford's spot at right guard against Tennessee. The Tigers, early in the second quarter, lost the services of starting left guard Garrett Dellinger to a knee injury.
Kelly said Dellinger, who had surgery to repair a fractured hand after the New Mexico game, was diagnosed with a "Grade 2 strain of the MCL" in his right knee and faces up to a two-week absence that would lead into the team's open date. Dellinger was replaced by sophomore Xavier Hill for the remainder of Saturday's game.
Kelly lightheartedly said he was pondering what his team's sixth different offensive line grouping this season will look like for Saturday's 6 p.m. kickoff at Florida.
The game will be televised by ESPN and broadcast locally by 98.1-FM.
"I can tell you right now as I stand here, we've got four guys that we know for sure (that will start) and then the rest, we'll have to figure out," Kelly said. "We really like Bradford inside. We lose a lot in terms of his physicality when we move him out to tackle. The ideal situation would be to get him back inside, but we're going to have to see how this thing plays out during the week. I wish I could give you a better answer, but that's all we've got right now.
Here's what else Kelly had to say:
Opening statement:
"Certainly, that was not anything that we want to put up there as a performance to be duplicated. But, the fact of the matter is, Tennessee played well. We did not start very well. Our attention to detail, the fundamentals clearly have to get better. We've got to coach our team better. If you look at it in its entirety, a number of little things here and there. We certainly can't start the way we did, as I mentioned, in terms of spotting a really good team 10 points. Guys battled, but again, you have to play clean against a Top 10 team, we did not do that. You got what you deserved in a game like that. If you don't play smart football, if you don't play clean, you're going to get what you deserve. Hats off to Tennessee.
The great part about it is you get to flip the script and get back to work, which we do that today and get ready for a trip to Gainesville and a very difficult place to play on the road in playing Florida, a team that also picked up a good win last week against Missouri. Both first-year head coaches certainly looking for consistency with their team. This is a really talented football team on offense. Clearly, (they) have an outstanding quarterback (Anthony Richardson). Very similar to (Tennessee's) Hendon Hooker that we saw this weekend. Great size, strong arm, and he is very dangerous. Skilled quarterback. Outstanding running backs, (Montrell) Johnson and (Trevor) Etienne both game-breakers. The strength to me on this Florida team is the offensive line. That will be the challenge They can run the football, and they have proven it. I think they're averaging six yards-plus running the football. We're going against an excellent offensive line. We're going to have to rise to that challenge certainly. From a defensive perspective, I really like the linebacker (Ventrell) Miller. Extremely athletic, big defensive line. I think (Jaydon) Hill was the SEC Player of the Week, had two interceptions … a talented SEC defense.
Offensively, we're going to have to be much more balanced than we were, but we'll go back to work. We're right in the middle of our process. We're working at it every single day, and it's a journey. I'm excited to be on it. Our guys are working hard to get better every single day. We'll get back to work at it this week to bring more of the traits necessary. There's a lot of talent in this league. You can't just win on talent. You've got to win with playing smart. You've got to have a great attitude. You've got to have great focus. Those traits we'll keep working on and look forward to bringing them, and we'll need to bring them to the swamp this weekend."
On self-scouting yourself?
"I think it's a lot more about recognizing your players and what you can do to put them in better positions as you get a chance to know your players even more. I think that's where good coaching and good assessment comes in. Then, how are they retaining knowledge? Everybody learns differently. Is it walk-throughs? Is it whiteboard teaching? Is it more film study? I think we have to look at our teaching. And if it's not being retained, it falls on us as coaches, teachers, and educators to make sure. It can't be, 'well, he is just not getting it'. We have to look at and find out how can they get that and apply it and take it to the field."
On play Saturday of Harold Perkins?
"Last week was not a position where the game was a spread game. You've got two receivers that are out on the numbers. Harold would have had to be standing out on the numbers playing the game as the Sam (linebacker). We were in a nickel situation. We would have had to change his position back to inside linebacker for that game; we weren't going to do that. This is a game that suits him really well. You'll see a lot of Harold Perkins this weekend."
Reaction to getting first touchdown from Kayshon Boutte?
"You always want to see your guys do well. In particular, Kayshon, who is really trying to do everything he can to be successful and help our team. You're obviously excited. You want to see more for him. No doubt, I think everybody was happy for him."
On trying to start fast against Florida after another slow start last week?
"I just wish I could give you a better answer. I thought we were prepared. The guys were excited as we were coming out to the field. I don't know that I would do anything different. We have to execute better. That's the way we started the game. We don't catch a ball that we feel like in most instances that's a catch that – although it wasn't an easy catch – we had to go about 12 yards to get it. That's one that we normally make. On a punt return, we've got guys in position. It is what it is, we got off to a slow start again. We'll keep talking about how important it is, but that's execution more than being lethargic and disinterested. That group was ready to play, but you still have to execute. Execution is in special teams; and in those two instances in particular, obviously it let us down."
On early mistakes Saturday muting Tiger Stadium crowd?
"No doubt. I talked to our team about it. I said listen, 'one of the advantages that we have is we have a home crowd here. So, let's get them working for you'. But, again, this is a process for our guys. We're learning. They're understanding that they have to bring more than just talent to the field. We'll keep working at it. What we have to do better is we have to be more purposeful, more intentional, and we'll keep working at it during week."
On solutions helping offensive side?
"Where were the problem areas? The problem areas were, we moved the football between the 20s, but we didn't score in scoring zones. So, if you really want to break it down, we have to critically analyze key third and fourth down situations, and really red zone, high red zone. It's not really about plays, as much as it's execution in those critical moments. Really probably spend more time during the week in those critical situations in third and fourth down and how we can support the group in that situation as well. We've got some new players on the offensive line. Maybe we have to do some more things. Maybe we have to move the pocket, maybe we have to protect with seven, do some things like that as well. I think it's really more about situational offense than it is adding anything. As a matter of fact, I think we probably have to take some things out because we have to execute at a higher level. And maybe less is more, and maybe that's what we to look at."
On persistent problems in special teams?
"The areas that are pretty clear — you watched the game, right? We have to field the football, and we have to tackle in space. Those are clearly areas that we have to be able to get guys to perform at that level. Do we need to spend more time individually on things? Do we need to demand more from the individuals that are actually out there? There isn't a whole group of other guys that are ready to play. I mean, we're playing front line (players). We've got a starting linebacker on our punt return team, and we have one of our best receivers returning kickoff. It's not like we've got the JV team out there. These are our best guys, and we just have to stick with it and work at getting better."
After a game like that, do you look at personnel, scheme or play calling?
"We're right around the halfway point. We're six games into it. Everybody knows their strengths and weaknesses, and then everybody knows your own strengths and weaknesses because you've been self-scouting. I think it's important at this time of the season that you start to look at the areas that people want to attack, and you have to be creative. You have to be able to say, OK, 'they're going to attack us here. What's our answer? How are we going to help our players in this particular situation, whether it be offense, defense, or special teams? Are we better served with a 42-yard punt with a 4.6 hang time than a 58-yard punt that stretches our coverage'? All of those things have to be considered across the board from offense, defense, and special teams. That's where you go back and look at it critically and say, 'how can we help our football team'?
On Walker Howard's growth since the spring?
"I would say every day that he is with us, there's more knowledge because I'm in the meetings with the quarterbacks. He has a great football knowledge. He is mentally strong. He believes he is better than every quarterback we have, which is awesome. I love that. I don't mean that in any way other than he just has that kind of make-up, which is what you want. He respects everybody in the room. But he continues to develop, and we have a good feeling about him."
On using more seven-man protections on offensive line?
"We ran some on Saturday, and it was pretty effective. Look, you're giving something up to get something there. You really have to put a lot on your receivers. They've got to find a way to get open. It's not a panacea. You can pick your spots and do a little bit of seven-man protection, but you also have to be able to get the ball out of your hands if you are being pressured, and your sixth man has to hold up as well. I don't want to make too much of it, other than kind of what the question was posed is that as coaches we have to do a better job as well. We're going to look at everything that we can do to help our football team continue to get better."
On whether your tight ends have helped in pass blocking?
"I think in the passing game they have been – look, you're looking for complimentary receivers within the group of receivers that we have, and they have been that maybe a little bit more.We still have a ways to go in the blocking. So that's an area that is going to have to continue to grow and continue to develop with that group."
On ability handle crowd noise on road?
"I think we'll be OK. I think crowd noise has been OK for us. We seem to be a little bit more focused and locked in when we get that. You hate to talk in terms of when you turn the music on, and you get real loud, the guys pay attention more. But the fact of the matter is they did a nice job in their preparation for Auburn. And they're going to have to do that here for Florida because it's a crazy environment. They're going to have to be locked in this week."
On being 4-2 after lopsided loss to Tennessee?
"There's going to be a lot of emotions, and emotion is part of what happens after a win or a loss. What you have to make sure is that you have the right emotions. The right emotions is that our guys care. Then redirect them into caring about the right things. The line is long for those that want to win. The line is usually shorter for the line that says, 'are you willing to do the things necessary to win'?  That line is always a little shorter. We just have to make sure that our guys are going to continue to do the little things necessary to win, and that's all. We want them to have emotions. They should be angry. They should be upset, but we have to redirect those emotions into caring about winning. We're just six weeks into the season. This process is a process. I know that's going to be a terrible quote for everybody, but that's the reality of it. I'm OK with that, and we'll continue to work on getting to where we need to get to."
On having a firm understanding of team when he took over?
"Let's be honest, I really didn't know the roster until I got a chance to examine the roster. I got a glimpse of it during the (Texas) bowl prep and then saw where we were at and knew that we had some work to do. All I really cared about is that the guys wanted to do the work necessary, and they have. We're going to have some more good days, and we're going to have some more bad days. This isn't the first time that I'm going to have to stand in front of you, and we're going to have to answer a lot of questions about why didn't we do this. That is all part of this. But, the fact of the matter, is we're in the middle of teaching guys new habits, a new way of thinking, a new way of doing things. They want to do it, but it's hard, but they're committed to doing it."
Your level of concern after allowing more than 200 yards rushing to Tennessee?
"It's (Florida) a good offensive line. I think we have a good defensive line. I think we have a good scheme. We're going to have to play better than we did last week, I think we're capable of doing that. That's why you play these games. That's why you prepare. We have to prepare really well. We have to play better than we played last week or we're going to give up too many yards and we're going to have a hard time winning the game. I have confidence in our group. I think they're going to respond. I don't think that there's any reason to think that there are any factors out there that this football team is not going to play well this coming weekend, and I expect them to."