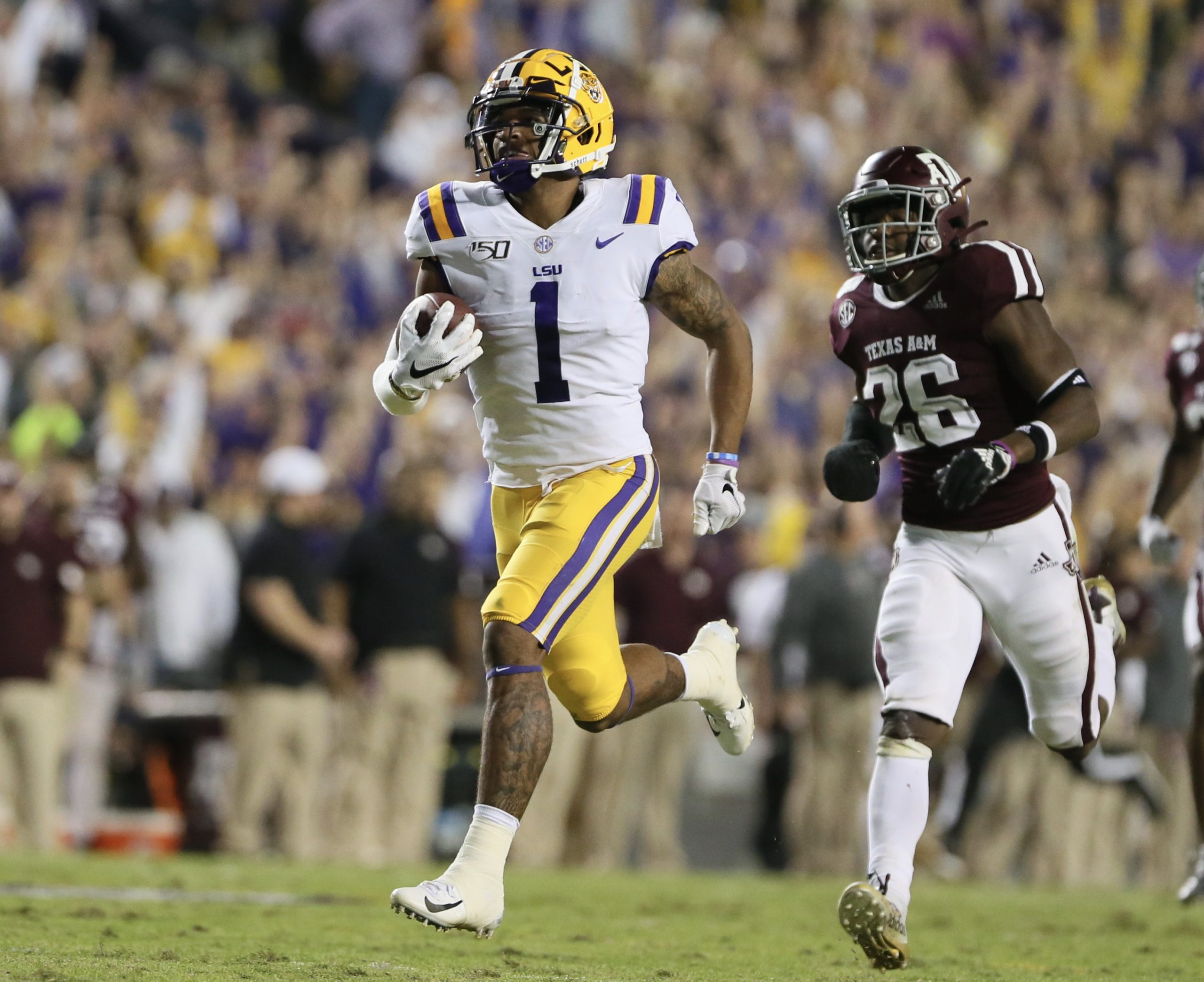 ATLANTA – Joe Burrow and the rest of the unbeaten LSU Tigers walked on the Mercedes-Benz Stadium artificial turf here for a late Friday afternoon practice.
They looked relaxed, focused and like they belonged in Saturday's 28th annual SEC championship game against Georgia.
This unblemished 12-0 season, powered by one of the best offenses in SEC history, is a stunner to everyone but the Tigers themselves.
"This isn't a surprise," said Burrow, the first player in SEC history to throw for 4,000 yards and 40 touchdowns in a season. "We knew we'd be here."
But did he really believe that LSU, ranked No. 1 by the AP and Coaches and No. 2 by the College Football Committee, would average 48.6 points per game? Or that he'd complete 78.6 percent of his passes, on pace for an NCAA record? Or that he'd be surrounded by two 1,000-yard receivers, a 1,000-yard rusher and a tight end who has set an LSU season pass receptions record for a tight end?
He had inkling because Burrow understands excellence, working together and understanding each other takes time.
"It's a long process and it doesn't happen overnight," said Burrow, the Ohio State graduate transfer quarterback who came to LSU in the summer of 2018. "They (his receivers) didn't trust you right away, you didn't trust them right away. It's a long process of people seeing your hard work and building trust on and off the field. I think we're as close as any team I've ever been around."
A succession of events – LSU's no-huddle offense in its 40-32 Fiesta Bowl win over UCF last January led by Burrow's 394 yards and four TDs, the willingness of offensive coordinator Steve Ensminger to mesh new passing game coordinator Joe Brady's spread/RPO ideas and unparalleled upperclassmen leadership – set the Tigers on their season of destiny course.
"If weren't 12-0 right now, we'd be pretty disappointed," Burrow said. "I knew the kind of players we had coming back. We knew if we worked hard, we could do exactly what we've been doing."
Burrow made sure he and his teammates put in more than enough sweat equity this past summer in "volunteer workouts."
"Joe was, for the most part, the coordinator of it for the offense for us," LSU running back Clyde Edwards-Helaire said. "Anything that he wanted to get done, any route, anything that he saw in the playbook that he felt we needed to work on and run, we did."
The player-only practices involved all the team during the week. But Saturdays, any group that thought it needed specific work showed up.
Burrow was a tough task master. Having everyone there spoke volumes to him.
"If you know where somebody's going to be on a Saturday morning in June, you know where they're going to be on a Saturday evening in the fall," Burrow said.
He sought perfection.
On Saturday, Burrow practiced four routes each with his receivers, two for each side of the field. The receivers ran routes until Burrow was satisfied with what he saw.
In doing so, Burrow not only raised a level of expectation but created confidence and a connection with pass catchers that has allowed him to make accurate throws in tight windows.
The result is 21 different Tigers have caught passes this season, including the aforementioned 1,000-yard seasons by wide receivers Ja'Marr Chase (70 for 1,457 yards, 17 TDs) and Justin Jefferson (81 for 1,092, 13 TDs) as well as tight end Thaddeus Moss (36 for 423, 1 TD).
And there's Edwards-Helaire, whose 35 catches (for 338 yards, 1 TD) is the second most in a season for an LSU running back since Garry James' school record 50 in 1985.
"Anything from pass play in the backfield to routes out of the backfield to routes outside was my biggest thing," Edwards-Helaire said. "I ran routes with our receivers, picking at them, trying to get insight on how they run routes, which benefited me this year."
The summer workouts were a mix of business and bonding. Helaire-Edwards' dog chased after him one day when he ran routes.
The offensive line led the team in most canines at workouts. There was Adrian Magee's bulldog named Taz that chased Badara Traore across the practice field. Damien Lewis' three pit bulls made a weight room appearance.
In the midst of the endless pass routes, offensive line bag drills and a barking dog every now and then, a confident team emerged eager for the season to start.
"Everybody is just running around having a good time, just kind of embracing it all and understanding we had something special and we knew we had something special," Edwards-Helaire said. "Some things that might take people hours, we were able to accomplish in 30, 45 minutes and get everything executed and down the exact way that we want it.
"We created a bond early on, and it only gets stronger week to week."