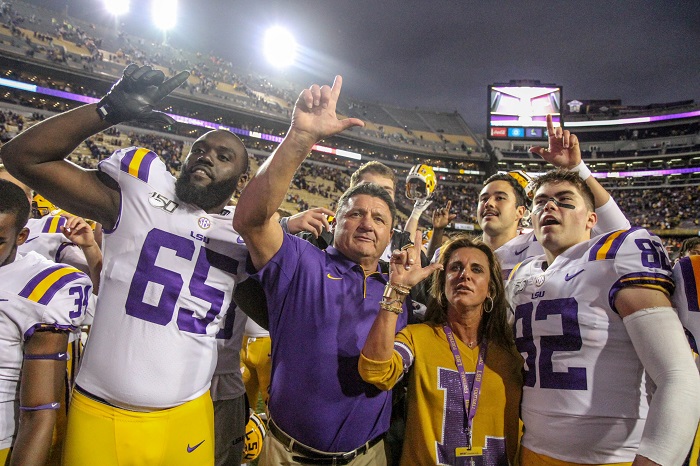 ATLANTA – LSU's Ed Orgeron and Georgia's Kirby Smart met with the media here at Mercedes-Benz Stadium to give one final preview of Saturday's 28th annual SEC championship game between the unbeaten Tigers and once-beaten Bulldogs.
Here's a selection of their thoughts on various subjects:
LSU's Ed Orgeron
On Georgia
"This is the most physical team we've played. I think this is the most complete team on both line of scrimmages, on offensive line and defensive line. They like to hit. They play fast. Their running back hits the hole to make you miss. Quarterback makes some great decisions. But it all starts with their defense. They're only giving up ten points per game. They're very stingy.
"We've got to win the line of scrimmage on both sides of the football. They're very athletic. They get 11 hats to the football."
On his relationship with Joe Burrow
"Joe and I are very close. I don't have to say much to Joe. I want to give you an example. Derek Ponamsky, who does a tremendous job for us, told me last night that Joe's mama and daddy was calling him, and he wouldn't answer the phone. I wanted to know what's going on. Well, Joe's phone broke, and the mom and dad said, we're going to get you one. He said, I don't need a phone. I got a game to play this week. So that goes to show you the focus and the leadership of that young man and what he's done. He wants to win. That's his biggest attribute."
On why LSU's offense works
"I feel like it all starts with the offensive line. Like I said before, Lloyd Cushenberry has been the leader there. James Cregg has been the MVP. We've played with second team tackles, first team tackles, and guys rotating in and out. They're going to have to protect. This is a good blitzing team. This is a good four-man rush team. So, I think that's where it starts.
"When you look at Joe Brady and Steve Ensminger, the plays that they call, getting them in the right defenses against the right coverages, and then the playmaking ability of our skill players, receivers and running backs are some of the best in the country."
On changing the offense
"After the spring, I felt good about where we were going, and Steve and I and Joe have always had constant communication about what we want to run, how we want it to look like. I'll tell you this now, Joe Brady has brought a lot of confidence, and his ability to install this spread offense with Steve Ensminger. We don't have any 12 personnel. We don't have a fullback, 21 personnel. In some ways, it was hard to let go.
"The thing I didn't want to let go was the physicality of LSU. I still wanted to run the football and be physical, and they've done that. So I can't complain about anything the offense has done. I think those guys have been phenomenal."
On getting to the SEC championship game
"When I got hired, I said I knew this was the standard, and we wanted to get there. It took us three years to get here. I do believe that you can see the process down the road. There was a couple of good decisions, a couple of decisions that wasn't so good, but thankfully they gave me the time to get it right, and I feel like we're on the right track right now.
"Hopefully, this is just the beginning. Obviously, we have a great quarterback in Joe Burrow. We have to find a great quarterback for the future. I do believe I have the right coaching staff in place. I think most of the pieces are in place to have a successful run."
On playing in the SEC title game
"This team is focused. This team has goals. We never talked about anything else. Obviously, beating Alabama was huge, going undefeated 12-0, but to win the SEC Championship is a goal of this football team. They're very focused. They've worked very hard for this."
Georgia's Kirby Smart
On Joe Burrow's primary receivers Ja'Marr Chase, Justin Jefferson and Clyde-Edwards Helaire
"They've got a lot of guys they can throw it to. The three you mentioned are tremendous, and they're really good at getting those three guys the ball, but they have so many weapons. If you just so happen to cover them all, Joe Burrow is one heck of an athlete, and he can hurt you with his feet."
On Ed Orgeron
"In the coaching profession, everyone has respect for Coach O. Number one, he's a great person. He's fun to be around. He's an elite recruiter. I remember as a young coach the first time I ever heard of Coach O, you would hear stories, and they were just crazy stories. I mean, you heard all these things, and he's got such a charisma about him and a character about him that you enjoy being around him. I have the great fortune at every SEC meeting of having F on my left, Florida, and L on my right, Louisiana, so I get to sit between those two guys. It's definitely a big contrast. I enjoy getting to visit with Coach O."
On Joe Burrow
"Pretty amazing the talent he has and how much he has developed. It goes to show you that a lot of these quarterbacks, they get better and better and better, and when the perfect quarterback meets the perfect system with some really good skill players around it, that's what you combine to get." our team.
On Clyde Edwards-Helaire
"Clyde Edwards-Helaire is one of the best backs I've seen in this conference. He's got a presence about him, an ability to run pass routes, to break tackles. He does a tremendous job. They use him really well. He complements what they do because he is a pass receiver and he's a tremendous runner."
On the difference between LSU this season and last season
"Extremely different. You can see remnants, some hollow elements, but the unique thing now is they're really just doing anything they want to do. Outside of maybe the Auburn game, they did whatever they wanted to do whereas last year they were probably a little bit more predictable, and they wanted to be a little more run oriented."
On LSU's offense
"It's not a complicated system that they do. What it is, it is some tremendous chess pieces that are doing it. When you add together a quarterback, a back, an offensive line that has five returning starters and an unbelievable group of wide receivers, you can do a lot of things and be successful.
"What they're doing is putting a package together that matches exactly what you need, an athletic quarterback that can move around the pocket, that can make plays, extend plays, scrambles for first downs left and right. But then on top of that, you've got a guy that can make good decisions where he's getting five outs every play and using the weapons he has.
"They don't sit there and beat people with scheme now. They don't go out there and say, okay, we're going to scheme this. They run very similar plays from different formations, but they're highly, highly efficient at doing this.
"They score a lot of points throughout the game. I do think they find good matchups, find adjustments, find things they can do."
On LSU's defense
"They have an incredible group of guys who have played better and better and better. You can tell they're playing with a chip on their shoulder. The last two or three weeks, they have pass rushed with a different dynamic. They're using their athletic guys to rush the passer. They've got a tremendous secondary."