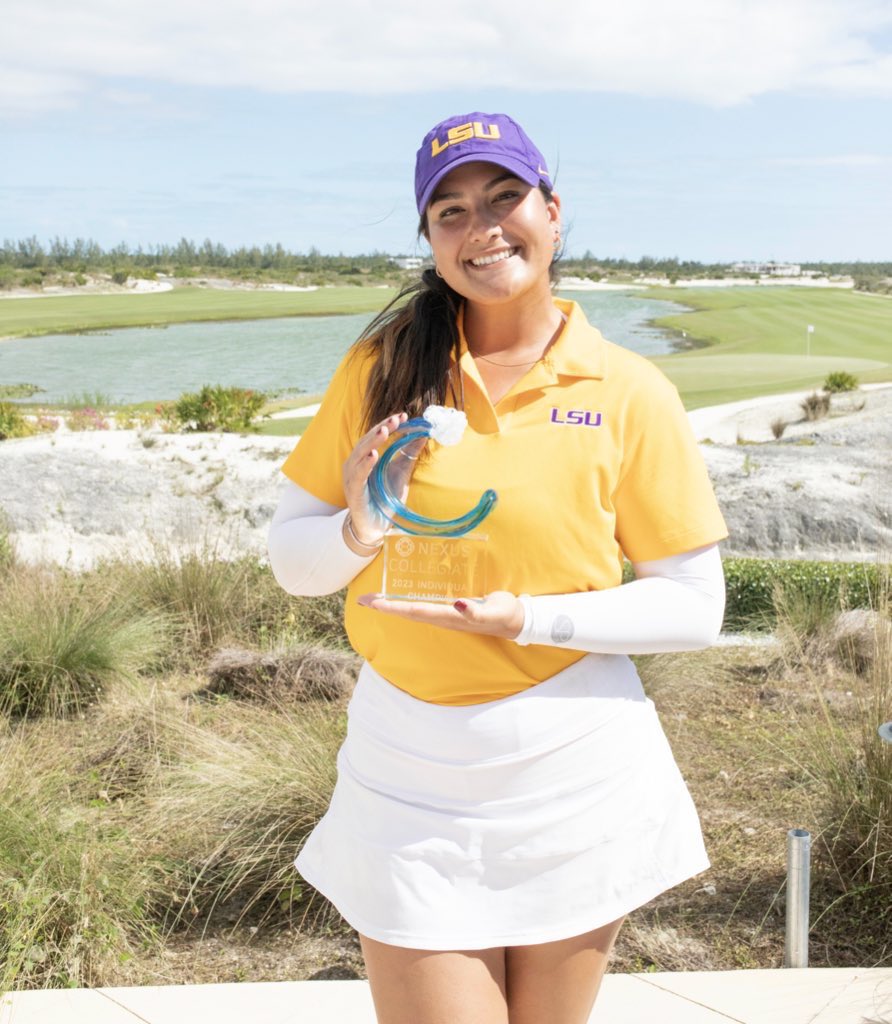 LSU senior women's golfer Latanna Stone finished first in 2023 Nexus Collegiate event at the Albany Golf Club in New Providence, Bahamas.
Stone recorded rounds of 68 and 70 over the tournament's finals 36 holes following an even-par 72 for a 6-under par 210. She won by five shots over Wake Forest's Lauren Walsh for her ninth career top-five finish.
Stone and Walsh were the only golfers in the field of 63 to break par.
LSU's team, guided by coach Garrett Runion, posted its best round Wednesday with a 2-over 290, finished second behind team champion Wake Forest.
The Tigers finished at 18-over 882 with rounds of 305, 287 and 290.
"I am very happy for Latanna and her first career college individual title," Runion said. "She played extremely well on a course the ladies said was one of the toughest, if not the toughest, they played in college golf with the wind condition. To finally get that monkey off her back and post a win was special. I know she was happy and her teammates were genuinely happy as well. Hopefully she can continue that trend as well as we continue play the next two weeks."
Stone's final round started with bogeys on the second and fourth holes, dropping her back to 2-under for the tournament but she never lost control of the lead in the tournament. She then birdied four par four holes in the final 12 holes, the seventh, the 13th, the 14th and the closing hole of the event. That's 18th hole proved to be the second toughest of the tournament, playing at just over half-a-stroke over par.
Stone finished the tournament 4-under par for the par 4 holes, the best in the field, and second best on the par 5s at 5-under par. She led the field in birdies with 14 (five each of the first two days and four in the final round).
LSU also had two other players in the top 10 with Aine Donegan finishing in a tie for seventh place (5-over 221) and senior Ingrid Linblad (6-over 222) was 10th.
"The last two days were really good if you look at it and the conditions," said Coach Runion. "I was very pleased with the way we bounced back and continued our trend of our second and third rounds being our stronger rounds."