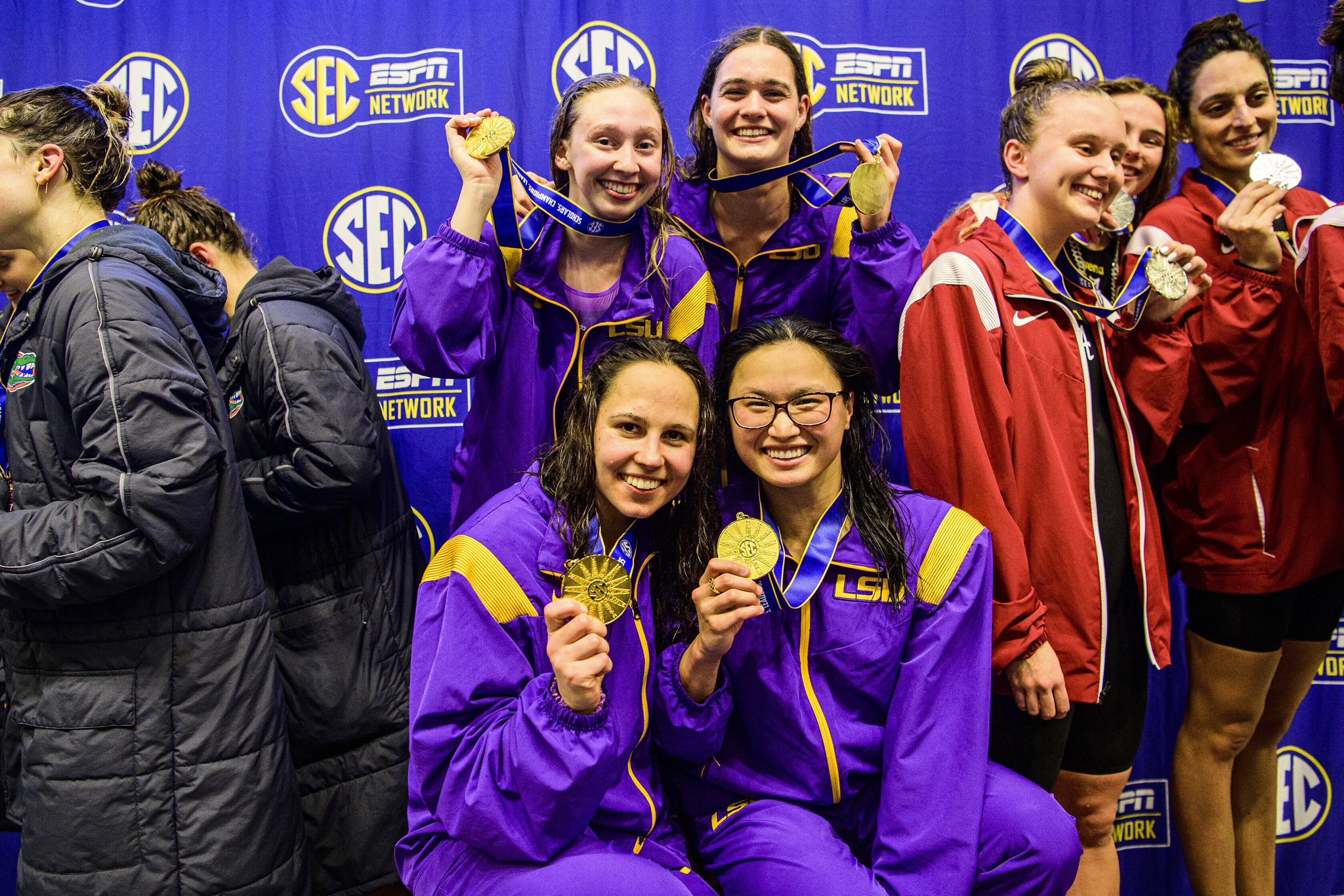 BRYAN-COLLEGE STATION, Texas – LSU's Maggie MacNeil captured an individual gold medal and was part of an historic 200-meter free relay gold medal to highlight the team's performance Wednesday in the SEC Championships at Texas A&M's Rec Center Natatorium.
MacNeil won the 50-free (20.98) and teamed with Katarina Milutinovich, Peyton Curry and Michaela de Villiers to win the 200-yard free relay in a school-record time of 1 minute, 26.70 seconds. The quartet became the first team from LSU to win the event since 1986. Their gold medal was also the first by any Tiger woman at the SEC meet since 2015.
During the second leg of the event, MacNeil put together the second-fastest 50-free split in history with a 20.44.
"The women's relay was a great TEAM effort," LSU swimming coach Rick Bishop said. "Our women have been working together with that relay title on their minds. The Tiger Women wanted to achieve a team relay title not just for the current group but for all of the Tiger women of the past. It was a great moment to have a Tiger relay atop the podium again."
MacNeil's time in the 50-free was also an SEC Championships record, a facility record and was the third fastest in college history.
"Maggie is a great swimmer that can do amazing things in the pool," Bishop said. "The fire of belief that she has shared with her teammates is what truly makes her special. A team victory in the relay is more dear to Maggie than her individual performances. We are looking forward to some continued great racing from both the Tiger Men and Women as we go through the rest of the week."
In a single day, the women's team showed how resilient it was, and it paid off on the leaderboard.
Those performances helped LSU to second place women's team race with 378 points after two days. Florida leads with 502 points.
LSU's men finished in ninth in the 200-yard free relay with a time of 1:17.86, bettering the time set earlier in the season. For the 500-yard free, Jenna Bridges qualified for the 'B' final with a time of 4:43.24, which broke her own school record.
On the diving side, LSU competed in the women's one-meter where Chiara Pellacani earned bronze for her second medal of the meet.
In the men's 50-yard free, Olympian Brooks Curry took sixth place in the final with a time of 18.99.