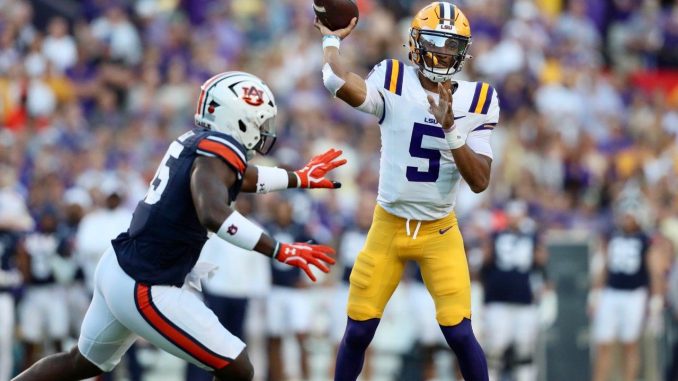 LSU quarterback Jayden Daniels continued to put up Heisman Trophy-like numbers on Saturday as the senior accumulated 418 yards of total offense – the most-ever for an LSU player against Auburn – in the 48-18 victory in Tiger Stadium.
The win over Auburn moved the Tigers to 5-2 overall and 4-1 in conference play. LSU, ranked No. 19 in both national polls this week, returns to action on Saturday hosting Army for Homecoming in Tiger Stadium. Kickoff is scheduled for 6:30 p.m. and the game will be televised on the SEC Network.
Daniels leads the nation in total offense through seven games, averaging 401.3 yards a contest. He has four games with 400 or more total yards, which is the second-most in a season in school history, trailing only Heisman Trophy winner Joe Burrow, who did it six times in 2019.
Daniels, who has been named SEC Offensive Player of the Week three times this year, leads the SEC and ranks No. 2 in the nation in passing TDs (22) and touchdowns responsible for (26). He also stands atop the SEC in passing yards per game (327.7), pass efficiency, and he's No. 7 in the league in rushing yards per game (73.6).
Daniels goes into the Army contest having completed 152-of-208 passes for 2,294 yards, 22 touchdowns and only three interceptions. He's directed an LSU offense that has topped the 500-yard mark in a school-record six consecutive games, bettering the previous mark of five set twice in 2019.
He set the school-record for consecutive games accounting for at least four TDs at five straight contest and last week, he became the first player in LSU history to pass for 5,000-yards and rush for 1,000-yards in a career. In his 21 game LSU career, Daniels has thrown for 5,207 yards and rushed for 1,400 yards. He's also accounted for 54 touchdowns as a Tiger, which stands at No. 5 on LSU's all-time list.
Wide receiver Malik Nabers leads the nation in receiving yards with 860, while teammate Brian Thomas is tied for the national lead in TD receptions with nine. Nabers ranks No. 2 in the SEC and No. 7 in the nation in receptions with 52. He's also third in the league and No. 11 nationally in TD receptions with seven.
Nabers goes into the Army game ranked No. 8 in school history in career receptions (152) and No. 9 in receiving yards (2,294). He's on pace to join Josh Reed (2000 and 2001) as the only players in LSU history to have two 1,000-yard seasons. Last year, Nabers had 1,017 receiving yards.
Nabers and Thomas rank as the SEC top receiving duo, combining for 91 receptions for 1,470 yards and 16 touchdowns. Thomas has 39 receptions for 610 yards and nine TDs. He's fifth in the SEC in both receptions and receiving yards.
As a unit, LSU's offense ranks among the Top 10 nationally in seven categories. The Tigers lead the SEC and rank No. 2 in the nation in total offense (550.4), first downs per game (27.7) and third-down conversions (57.5 pct.). LSU is No. 3 nationally in scoring (45.3), No 4. in pass efficiency (188.0 rating), No. 7 in passing yards (337.7) and No. 10 in rushing yards (214.6).
LSU is one of only two teams nationally – other is Oregon – to rank among the Top 10 in both rushing and passing yards per game.