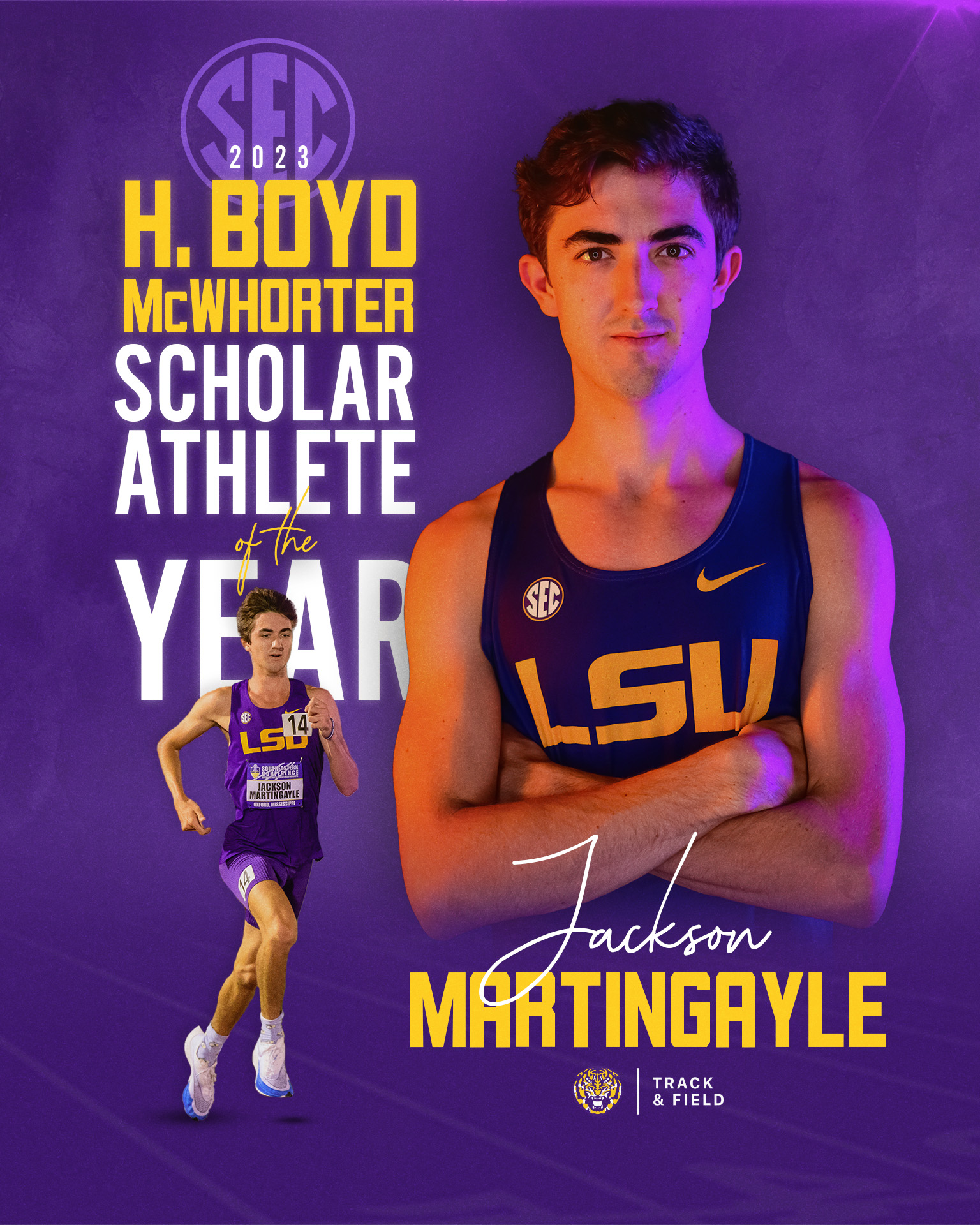 LSU cross country and track and field's Jackson Martingayle has been named the 2022-23 Southeastern Conference H. Boyd McWhorter Scholar-Athlete of the Year, Commissioner Greg Sankey announced on Tuesday morning.
Martingayle becomes the third LSU track and field athlete to garner the most prestigious honor the SEC gives out each May joining last year's winner, Lisa Gunnarson (2022), and Mikael Olander (1989).
"This is a dream come true for me." Martingayle said. "It's amazing to be recognized like this for all of my hard work over the last few years. As someone who arrived as a preferred walk-on, receiving the same award as some of the phenomenal former student-athletes to walk through LSU like Lisa Gunnarsson, Skylar Mars, Mikael Olander and many more is a huge honor."
Martingayle was chosen by a committee of Faculty Athletics Representatives from SEC universities and will receive a $20,000 post-graduate scholarship. Georgia's Callie Dickinson (swimming & dive) was named the women's H. Boyd McWhorter Scholar-Athlete of the Year.
"This is the most honorable award that a student-athlete in the SEC can receive," LSU track coach Dennis Shaver said. "Our goal is to provide our student-athletes with the resources to achieve their full potential in the classroom and in competition. We are so proud of what Jackson has accomplished during his time at LSU and we know he has a very bright future ahead of him."
A five-time SEC Academic honor roll member, Martingayle has been a member of the LSU track and field and cross-country programs since 2019. The senior has excelled in the classroom and on the track ever since arriving to Baton Rouge from Virginia Beach.
Jackson currently holds an impressive 4.08 GPA and will be graduating with a degree in Natural Resource Ecology & Management this spring.
"Jackson has been the quintessential definition of a student-athlete," said LSU cross country coach Houston Franks. "He is someone that has approached his collegiate career as if he literally had two full-time jobs. Jackson was our cross-country runner of the year this past season and is on LSU's all-time top-10 performance lists multiple times. He will be graduating in four years on campus with an amazing GPA with numerous academic awards like the Tiger Twelve and now, the H. Boyd McWhorter Scholar-Athlete of the Year award. He is an amazing young man."
The four-time LSU honor roll member holds two top-10 times on LSU's all-time track and field performance lists. His outdoor PB 10,000-meter time of 30:15.43 from earlier this season ranks 10th in LSU history. He also clocked another top-10 time in the indoor 5000-meter earlier this year with 14:25.35. Jackson has competed in 47 meets for LSU and has finished in the top-10 of his events 21 times.
In cross country, Martingayle is a two-time qualifier for NCAA Division I Cross Country South Regional.
Martingayle becomes the ninth LSU athlete to garner the award joining Mikael Olander (track & field/1989), Michael Blanchard (football/1995), Martin Nyberg (swimming/1996), Lisette Lee (women's golf/2000), Rudy Niswanger (football/2006), Kelly Quinn (volleyball/2018), and Skylar Mays (men's basketball/2020), Lisa Gunnarsson (track & field/2022).