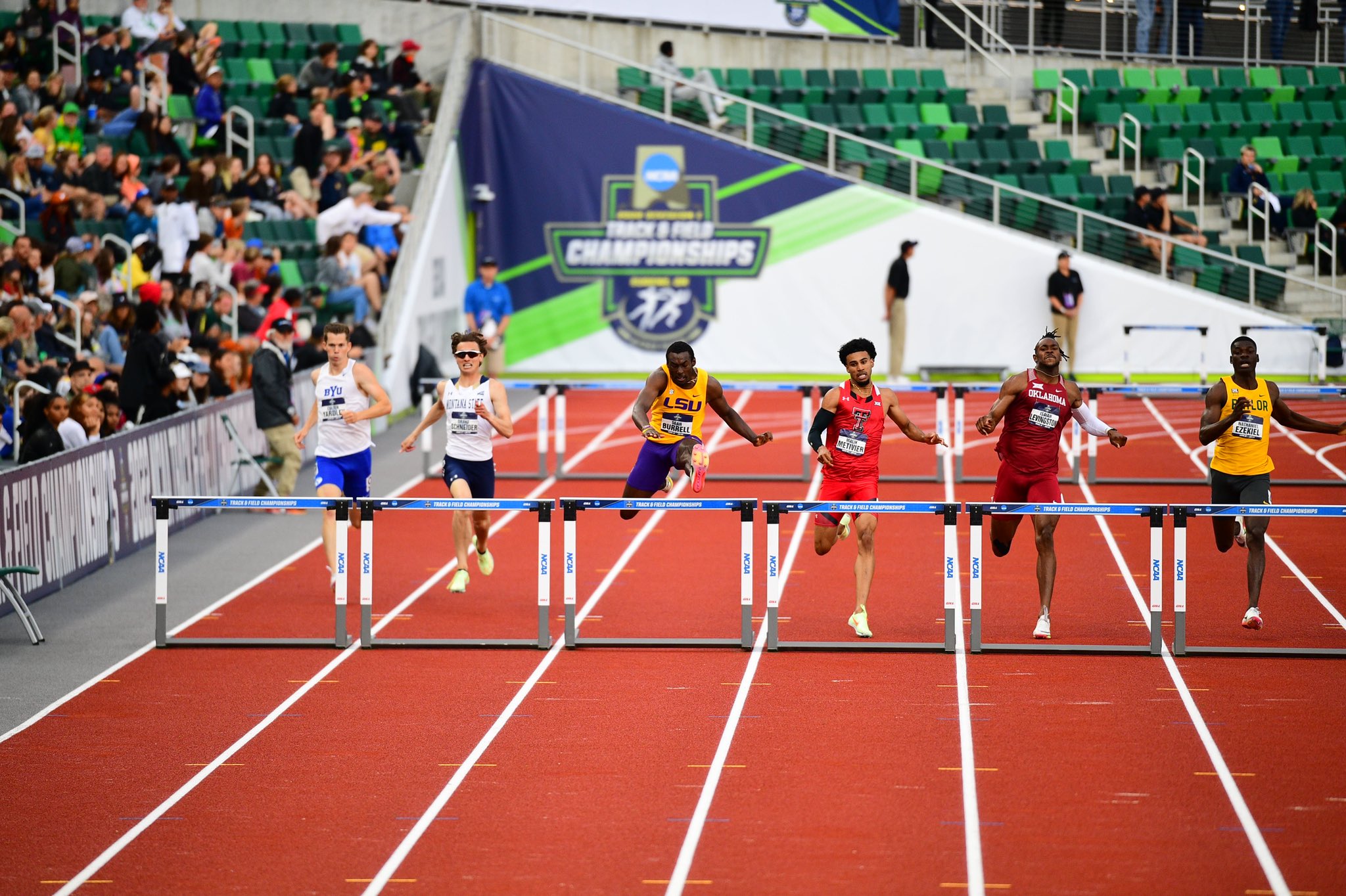 Veteran LSU track and field coach Dennis Shaver begins his 18th season looking to point both his indoor teams in a different direction this season.
While championships have been customary during his tenure, the Tigers were more in a transition stage a year ago with the women finishing fifth at the NCAA Indoor Championships, while the men tied for 24th.
"You've got to be healthy," Shaver said. "Yeah, we want to win. That's the goal. Everybody's got to be at their best when it counts the most and last year, I think was somewhat of a rebuilding year. This year I think we've built it back up a little bit better, and have a little more diversity in the team than we had last year.
"That's probably on both genders to be honest with you. And I think that's going to allow us to have a respectable indoor season, but I think you'll find out we're a better outdoor team."
LSU has the building blocks in place to make such a move a reality.
The Tigers return proven leaders, both on the track and in the field, to improve on last season's Southeastern Conference finishes of fourth for the women and eighth for the men.
LSU opens its 2023 season on Friday with its own Purple Tiger Invitational and will continue to build until the Feb. 24-25 SEC Indoor Championships in Fayetteville, Arkansas and March 10-11 NCAA Indoor Championships in Albuquerque, New Mexico.
Zachary product Sean "Squirrel" Burrell, who was named to the 2023 Bowerman Watch List, has a pair of NCAA 400-meter outdoor championships to his credit. The junior will look to set the tone for the team in his specialty and also run a leg on the 4×400 relay unit.
"He's had a lot of great success we're looking forward to him continuing," Shaver said. "He's had a great fall and he's been working hard."
Another athlete with local ties is senior sprinter Dorian Camel of Scotlandville High School. At last year's SEC Indoor meet, he was fifth in the 200 (20.90) and seventh in the 60 meters (6.68).
Camel's also a member of the Tigers' 4×400 relay team along with Burrell and junior DaMarcus Fleming also gives the Tigers another solid sprinter in the 100.
Sophomore Apalos Edwards was fifth in the NCAA Outdoor triple jump with a personal best of 53-2. He was fifth in the SEC Indoors triple jump (52-10 ¼) and seventh in the long jump (24-8 ¼) and will combine with North Carolina A&T transfer Brandon Hicklin to bolster LSU in the jumps area.
LSU will be able to rely on junior John Mayer and senior transfer Claudio Romero of Virginia, who enrolls in school in January, for production in the discus.
Meyer had a PR of 65-4 to finish third in last year's SEC Indoor meet and was fifth. Romero captured the NCAA Outdoors discus title (217-1) and is a two-time Atlantic Coast Conference champion in the event.
Junior distance runner Davis Bove, who redshirted during the cross country season, returns to join senior transfer Alex Selles of Enghienless-Bains, France, who has run a best of 1:46.8 in the 800.
Shaver believes his women's team will thrive on the track, especially in the sprints, hurdles and relays.
Junior Alia Armstrong, who was fourth in the World Outdoor Championships last summer in the 100 hurdles, is the defending SEC champion in the 60 meters (7.11).
"We're fortunate to have Alia Armstrong back," Shaver said. "To have her return was a blessing for us."
Armstrong's one of the foundational parts of this year's team along with senior sprinter Favour Ofili.
Ofili's a multi-talented athlete that placed in three events at last year's NCAA Indoor meet: second in the 200 (22.50), seventh in the 60 meters (7.25) and seventh in the 4×400 relay (3:31.81.) Ofili, who was second in the SEC Indoors 200 and tied for third in the 60 meters, is one of three returnees in the 4×400 event along with sophomores Michaela Rose and Garriel White.
Shaver touted the arrival of U20 champion Brianna Lyston of Portmore, Jamaica in January and freshman signee Kennedi Sanders in the 100, 200 and 400 meters. He's also excited about fellow freshman sprinter Tima Godbless of Nigeria, who will enroll in January, and hurdles transfer Shani'a Bellamy of Coastal Carolina.
Junior Morgan Smalls was fifth in the long jump (20-6 ¼) at the NCAA Indoors last season and expected to key LSU's jump group.
After successful cross country seasons junior Lorena Rangel Batres and Rose are expected to lead LSU's distance corps along with junior Cindy Bourdier, who also ran cross country.
"I feel very strongly that we have a really good women's team," Shaver said. "How they're going to rank up to the SEC and NCAA? It's probably a little better NCAA team and then SEC team because we don't have any throwers. We don't have that event area covered this year. So, we're going to fix that for next year."
2023 Indoor Schedule
January
13 – LSU Purple Tiger; 20 – At Red Raider Open, Lubbock, Texas; 27-28 – At Razorback Invitational, Fayetteville, Ark.
February
3-4 – At New Mexico Collegiate Classic, Albuquerque, N.M.; 10-11 – At Music City Challenge, Nashville, Tenn., 10-11 – At Tyson Invitational, Fayetteville, Ark.; 17 – LSU Twilight; 24-25 – At SEC Championships, Fayetteville, Ark.
March
10-11 – At NCAA Championships, Albuquerque, N.M.