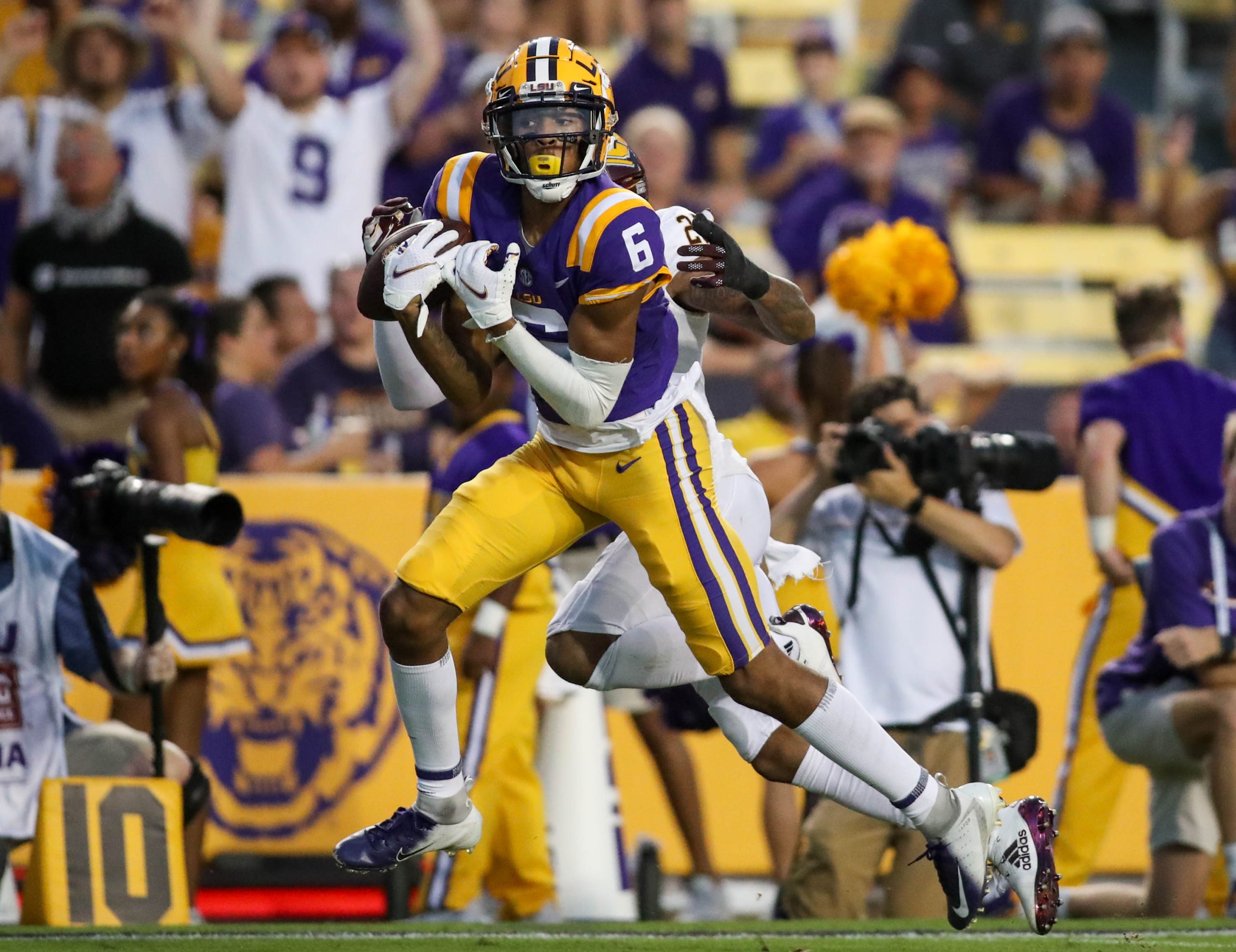 To some observers, LSU's wide receiver corps have been more of a one-man show than a well-versed group.
The Tigers were able to put the band together for one memorable performance with four different receivers catching five of quarterback Max Johnson's touchdowns during Saturday's 49-21 non-conference victory over Central Michigan in Tiger Stadium.
"It's getting there," LSU head football coach Ed Orgeron said of the development of the wide receiver group. "I've seen those guys make some tremendous plays. We have designed plays to get them all the ball. Malik Nabers probably had the best camp of them all and he was hurt. Chris Hilton can make plays. We're going to share the ball, get it around to them. We're going to play them and play them all."
Johnson enjoyed his best game of the season, completing 26 of 35 passes for 372 yards to a varied cast of characters instead of having to rely solely on leading man Kayshon Boutte.
Johnson sprayed around his completions to five different receivers with Boutte leading the way with six grabs in eight targets for 44 yards and a touchdown.
"I think putting Kayshon in the slot allowed us open up some other things for the other receivers," Johnson said. "Just putting our guys in space and trying to get them the ball it what we were trying to do throughout the game."
Freshman Deion Smith, a former player of the year in Mississippi, introduced himself to Tiger Stadium with a career-high five grabs on six targets for 135 yards and a pair of touchdowns.
"He reminds me of Justin Jefferson in a lot of ways," Orgeron said of Smith. "Good route runner. Great body control. Has deceptive speed. He can get off press (coverage) and has good hands."
Fellow freshman Jack Bech, the team's third-leading receiver coming into the game, had five catches on nine targets for 81 yards and his first career touchdown.
The biggest contribution, though, may have arguably come from junior Devonta Lee, whose career has been in a state of flux since his arrival at LSU three years ago. The former standout at Amite has transitioned between offense and defense but after his career-best performance with five catches on six targets for 41 yards and a touchdown vs. CMU, he apparently has found a home at receiver.
Johnson's completions went for: 10+ yards (seven), 20+ (two), 30+ (two) and 40+ (two). LSU averaged nearly 15 yards per completion.
After establishing his credentials as a top-flight receiver in LSU's final two games last season, Boutte was the team's leading receiver coming into the game with 14 catches for 179 yards and five touchdowns.
The rest of the Tigers receivers had combined for one touchdown catch with Trey Palmer, who was out against CMU with an injury, registering a score in last week's 34-7 win over McNeese State.
Moreover, this season, Smith had two catches for 13 yards, Brian Thomas Jr. one grab for 18 yards and Lee entered the game without a pass reception.
Johnson's touchdown passes came in a variety of ways, being able to display the talents of all of his wide receivers – a group that possesses the depth Orgeron touted throughout fall camp.
"It was fun to see them do it in Tiger Stadium," Orgeron said of Smith and Bech. "I've been seeing them do it in practice and they finally got their chance. Deion was the No. 1 player in the state of Mississippi and has done a tremendous job for us. He's only going to get better. Jack Bech is a baller. He practices hard every day. He wants the ball. Those guys are going to be great players for us along with Malik Nabers and Chris Hilton."
Both of Smith's touchdowns came in the first quarter when LSU built a commanding 21-0 lead. The 6-foot-3 product of Jackson, Miss. won a 50/50 ball against 5-11 cornerback Donte Kent for a 28-yard score.
He was also able to win another one on matchup with cornerback Dishon McNary for a 40-yard TD with 1:52 left in the opening quarter for a 21-0 advantage.
Boutte got into the scoring mix with his sixth touchdown of the season, taking a push pass from Johnson on a jet sweep and covered two yards by getting inside the pylon to make it 28-7 just past the midway point of the third quarter.
Through two games this season, Bech had proven to be an adept route runner underneath the defense, but the freshman from St. Thomas More showed that he could also stretch the field.
He got a step on CMU safety Trey Jones, contorted his body and extended his right hand to bring in a 20-yard TD grab in the right corner of the end zone. Lee capped LSU's longest drive of the game – 93 yards in 9 plays – when he got inside position on a 21-yard post pattern that resulted in a 42-7 cushion.
"Max threw a perfect ball up right where it needed to be," Bech said. "The defender was holding my left hand, so I had to go with one (hand) and I made it work. It was surreal to be able to do that and do that in Tiger Stadium. All my of teammates coming behind and hearing the crowd go crazy, it was a dream come true."