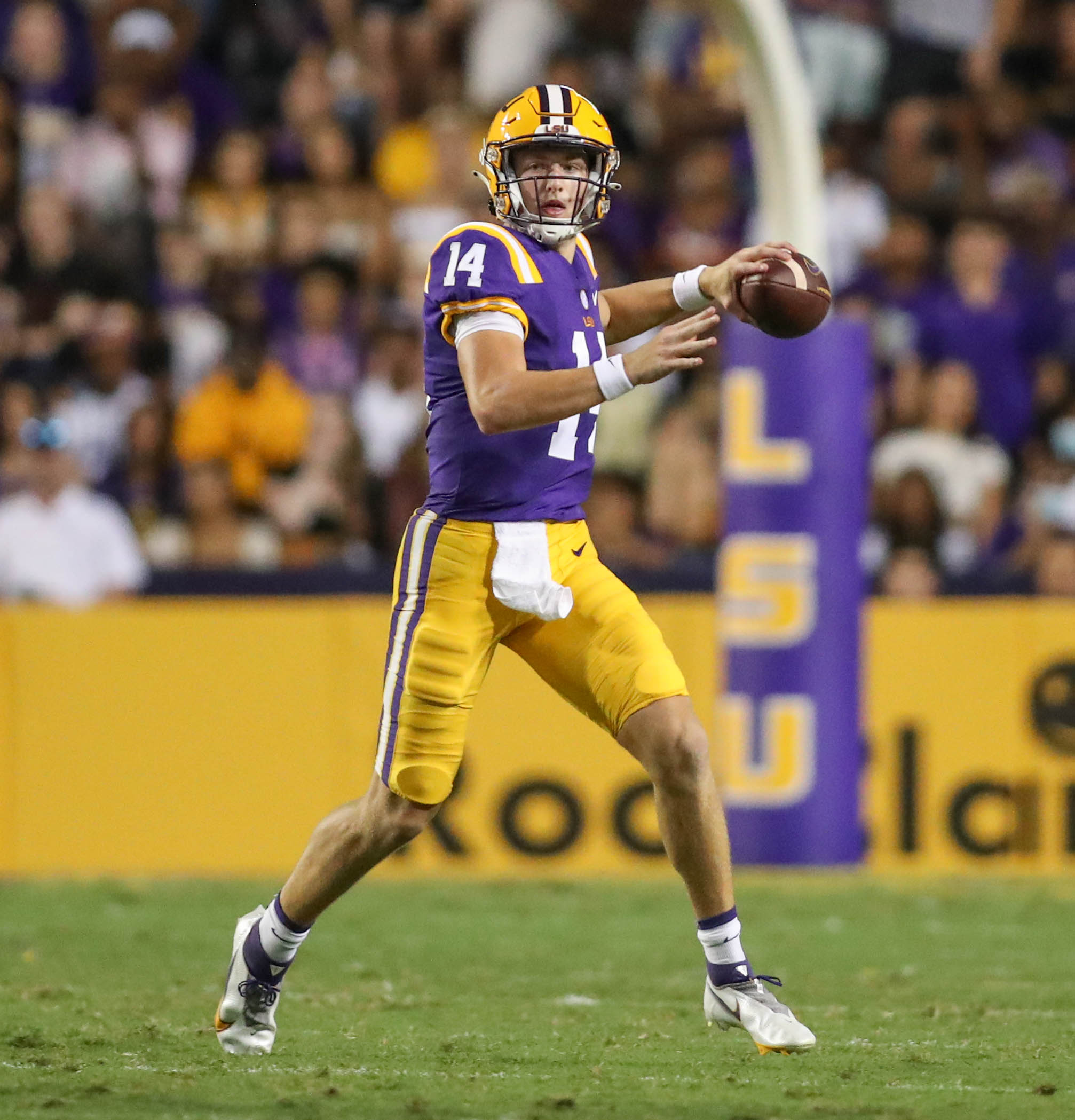 For the first time this season, LSU quarterback Max Johnson gave Tigers' All-American placekicker Cade York the night off from kicking field goals.
And for an LSU offense that has struggled to find its stride, the plethora of touchdowns were a welcome sight.
Johnson threw for 372 yards and a career-best five TDs to four different receivers in a 49-21 Tiger Stadium rout of Central Michigan on Saturday.
The Tigers (2-1) rolled for a season high 484 yards total offense with six scoring drives 63 yards or longer including two of plus 90 yards.
Defensively, LSU's only major bust of the game was allowing CMU's second-quarter 78-yard TD pass from quarterback Jacob Sirmon to wide receiver JaCorey Sullivan.
The visiting Chippewas (1-2) of the Mid-American Conference also scored on safety Devonni Reed's 20-yard interception return of a Johnson pass late in the third quarter. It stopped a string of 21 straight LSU points
The Tigers had 15 tackles for losses including five sacks and forced two turnovers, including a 33-yard TD fumble return by linebacker Andre Anthony on CMU's first possession of the game.
LSU All-American cornerback Derek Stingley played his best game of the young season. He had four tackles (three solo), 1½ tackles for loss and caused the fumble that Anthony returned for a 14-0 lead with the game less than five minutes old.
The Tigers' offense operated considerably smoother and more efficiently as LSU greatly reduced its "check with me" audibles that had players staring at the sideline waiting for offensive coordinator Jake Peetz to change the play.
Johnson guided LSU's first nine series before calling it a night after throwing his pick-6 to CMU's Reed with 5:41 left in the third quarter.
He finished 26 of 35, with 13 completions for 272 yards and three TDs going to the Tigers' Fab Four receiving corps of Deion Smith, Jack Bech, Brian Thomas Jr. and Malik Nabors.
LSU opens SEC play at Mississippi State next Saturday at 11 a.m. The Bulldogs (2-1) lost at Memphis 31-29 on Saturday after an SEC officiating crew blew a call that allowed Memphis to return a punt 94 yards for a touchdown.
The league issued a statement saying the ball should have been placed at the Memphis 6 because the back judge blew his whistle and signaled the play was dead where he thought MSU had downed the punt. The league failed to review the call, which would have been corrected at that point.