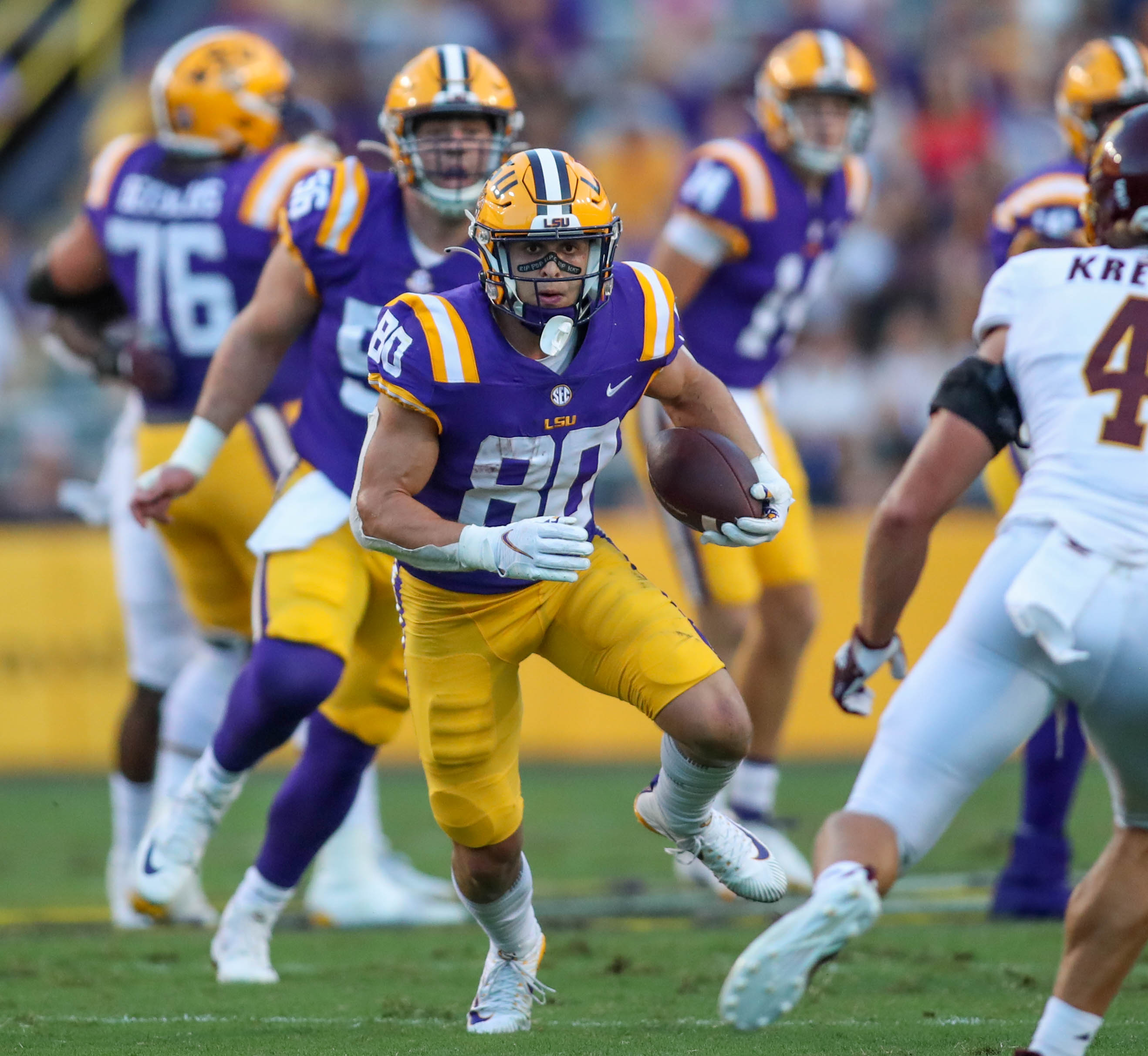 It took the first two agonizing Saturdays of the 2021 college football season for LSU coach Ed Orgeron to accept why his team went from being ranked No. 13 to looking so disjointed it appeared it wasn't reading the same playbook much less being on the same page.
But suddenly this past week as the Tigers prepared to play Central Michigan in the last of LSU's September non-conference battles before diving Sept. 25 into the SEC gauntlet at Mississippi State, it seemed as if Coach O saw the light.
And thankfully, it didn't shine on LSU's 2019 national championship trophy and the perfect 15-0 season which Orgeron and LSU fans have clung to like Leonardo DiCaprio desperately gripping a lifeboat as the character Jack Dawson in the movie "Titanic."
"I told our team," Orgeron said, "that `this isn't about Central Michigan, this is about us, our identity. Who we're going to be and what are the things that we are going to do well as a football team?'"
Orgeron believes he saw some of those elements in the 2-1 Tigers' 49-21 victory over CMU Saturday night in Tiger Stadium.
He witnessed sophomore quarterback Max Johnson in a quicker tempo offense get in a throwing rhythm and take LSU's offense 92 yards in four plays in 45 seconds for a TD just before halftime.
"Just going fast allowed us (LSU's offense) to get lined up (quicker) and them (CMU) not," said Johnson, who finished with 372 passing yards and a career-high five touchdowns.
Orgeron saw freshman wide receiver Jack Bech fight off a CMU defender with one hand and make a 20-yard TD catch with his free hand just before falling out of bounds.
"Max threw a perfect ball right where it needed to be," said Bech, who had five catches for 81 yards. "The defender was holding my left hand, so I had to go up with one (to catch the pass). Made it work."
On CMU's first offensive series, Orgeron was fired up when he watched LSU junior All-American cornerback Derek Stingley Jr. force a fumble with a violent tackle of CMU's Darius Bracey. The ball was scooped and returned 33 yards for TD by Tigers' linebacker Andre Anthony.
"Coming into this game, we knew we were going to have to stop the run game and hit the running backs," said Stingley, who had four tackles (three solo), 1½ tackles for loss and that forced fumble "That's what was on my mind the whole time."
Johnson's hot hand and almost length of field TD drive in a blink had a flash of the Tigers' 2019 Heisman Trophy winning QB Joe Burrow.
Bech's ability to adjust his body in mid-air and outduel a defender for 50/50 ball was reminiscent of LSU's 2019 Biletnikoff Award winning receiver JaMarr Chase.
The quick reaction of Stingley Jr. diagnosing a running play and causing a fumble invoked memories of Stingley Jr. as a freshman in 2019 when he was first-team All-American.
Thankfully, Orgeron didn't use any 2019 comparisons in those game-breaking plays or refer to freshman running back Corey Kiner scoring a 5-yard run featuring a carbon copy of 2019 All-SEC LSU running back Clyde Edwards-Helaire's spin move.
In fact, Orgeron shouldn't ever reference 2019 ever again in comparison to any LSU team or individual player. That level of immortal greatness shall forever stand on a pedestal on stilts.
Each team starts anew, discovers its identity and is judged on its own merits.
Love him or hate him, Alabama coach Nick Saban's greatest strength in winning seven national championships (six at Alabama, one in 2003 at LSU when he coached the Tigers from 2000-2004) is that he never looks back.
He doesn't compare his various national championship teams because they all discovered their own identity and adjusted to their strengths and weaknesses.
It's what Orgeron is trying to do after LSU was embarrassed 38-27 by UCLA in the Sept. 4 opener in Los Angeles. The Tigers' uninspiring 34-7 victory of FCS foe McNeese on Sept. 11 cast more doubts that LSU hadn't learned much from the UCLA loss.
Which is why the Tigers had to show tangible improvement vs. CMU, evidence that it wouldn't get swallowed by its eight scheduled SEC opponents who are combined 21-3 after the first three weeks of the season.
LSU's offense, even with slightly improved blocking, seemed energized by the faster pace against the Chippewas.
As Johnson described in an overload of quarterback speak: "Started with some jets and some motion to give them some eye-candy and then we got some uptempo, some warps to get the guys going. Kinda to bring some juice, we took some shots and guys made some great plays."
The Tigers' defense, despite one major breakdown, brought the LSU old-school fearless hitting.
"That's the LSU defense you saw tonight," said Tigers' defensive end BJ Olujari, who had three tackles including 2½ sacks. "The whole game, we just focused on hitting the running back and trying to make him quit."
While exceedingly enthusiastic newbies like Bech believe LSU is ready to take on the world – "They (CMU) felt us and we're going to make every SEC team we play feel us. . .we have a damned good team," he said – Orgeron is taking a tempered approach.
"We took the next step," he said. "We're not there yet. I told our guys,'Let's get better, let's take the next step.' We identified some things last week, practiced, got better.
"This is a team that's going to get better each week. It has to be."