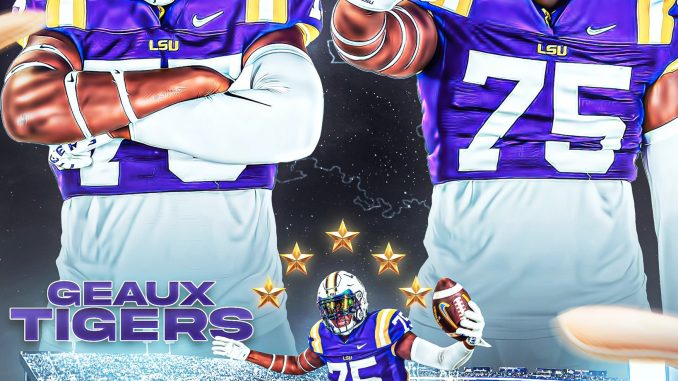 LSU remained in flip mode on the recruiting trail Thursday.
After getting four-star edge rusher CJ Jackson (Georgia Tech) of Tucker, Ga., and cornerbacks PJ Woodland (Mississippi State) of Hattiesburg, Mississippi and Bernard Causey (Ole Miss) of New Orleans-John F. Kennedy to change their original commitments, the Tigers added one more in offensive tackle Weston Davis of Beaumont, Texas-United High.
LSU offensive line coach Brad Davis made a visit to United High to visit with the 6-foot-6, 280-pound Weston Davis, an On3 five-star prospect, on Thursday and the four-month commitment to Texas A&M reversed his course, choosing to pledge to coach Davis and the Tigers.
"I'm home," Weston Davis said on social media afterward.
Weston Davis' commitment boosted LSU to 26 overall in its Class of 2024 and into the Top 10 nationally in both major recruiting services. The Tigers are No. 7 per On3 and No. 9 according to 247 Sports.
"I see that LSU has the best offensive line in the SEC right now," Weston Davis told On3. "Coach Davis is a good coach and he developed the players that he has now."
Davis is the nation's No. 18 overall prospect, No. 3 offensive tackle and No. 4 player in Texas. According to 247 Sports, he's a four-star prospect and the No. 12 ranked offensive tackle.
Davis, also a standout basketball player at United High, narrowed down his choices between Texas A&M, LSU, Oklahoma, Oklahoma State and TCU when he chose the Aggies on June 26.
Davis was one of three Texas A&M commitments that were in attendance for the LSU-Auburn game on Oct. 14.
LSU now has five offensive linemen committed in its current class with John Ehret's Khayree Lee, Ethan Calloway of Mooresville, N.C., Ory Williams of San Marcos, Texas and Joseph Cryer of Natchitoches Central.
"I love the coaching staff, especially coach Davis. "Man, it's family there for sure. They plan on using me like Emery (Jones) and Will (Campbell)."