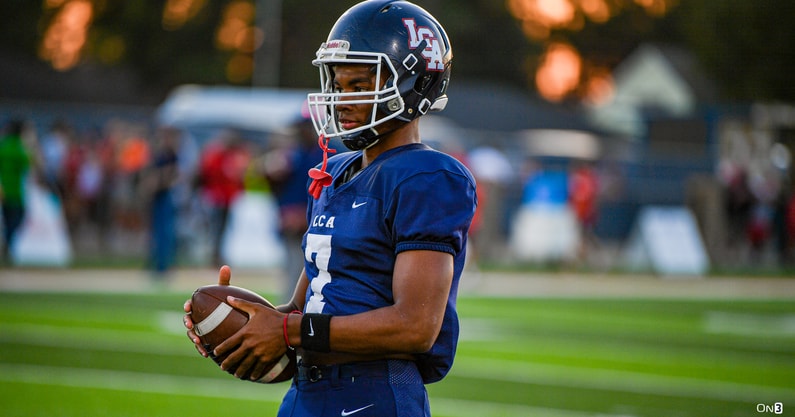 Lafayette Christian Academy's Ju'Juan Johnson's used to taking the ball and running through and around opposing defenses.
Less than a month after rescinding his commitment on April 23, Johnson took the initiative Monday to take an unofficial visit to LSU where he delivered an updated pledge to second-year coach Brian Kelly.
"It was really just the hometown, staying in Louisiana is great," Johnson said on the Jordy Culotta Show. "To be able to be part of that Louisiana culture, it is a great thing for me to stay in the boot. I love the culture over here and the vibe I get from down here. There are so many things so I might as well stay and learn some more."
The 5-foot-11, 190-pound Johnson, who originally committed to Colorado on Feb. 4, became the 15th commitment in LSU's nationally ranked Class of 2024. The Tigers current class is ranked as high as fifth by 247Sports and Rivals.com
The addition of the four-star Johnson, a quarterback in high school that's projected to play cornerback in college, is the eighth prospect from Louisiana to select the Tigers and third cornerback. He joins Warren Easton's Wallace Foster and Zion Ferguson of Gainesville, Georgia.
LSU continues to try and secure its state's borders with Johnson's commitment, the state's No. 7 prospect by On3Sports. He chose the Tigers over Florida and Alabama.
Johnson, whose lead recruiter at LSU is cornerbacks coach Robert Steeples, said he also figures into the Tigers' plans at punt returner.
LSU was among Johnson's finalists in December when he reduced his finalists to four schools that also included Colorado, Georgia and Florida.
He's quarterbacked LCA the past three years, leading the Crusaders to a runner-up finish in Division II last season after a state title in '20 and runner-up showing in '21 in Division III.
Johnson wrapped up one of more the spectacular seasons last year when LCA dropped a 52-48 decision to St. Thomas More in the state final. He combined for 5,487 yards and 60 touchdowns, passing for 4,140 yards and 43 TDs, and adding another 1,347 and 17 scores on the ground.
In the state final, where he was voted LCA's game MVP, Johnson totaled 586 yards and five touchdowns on 67 offensive snaps.
Johnson helped LCA reach the state final with an astounding performance in the state semifinals against district foe Teurlings Catholic, combining for 649 yards and nine touchdowns in a 68-46 victory. He passed for 473 yards and 6 TDs and rushed for 176 and an additional three scores.