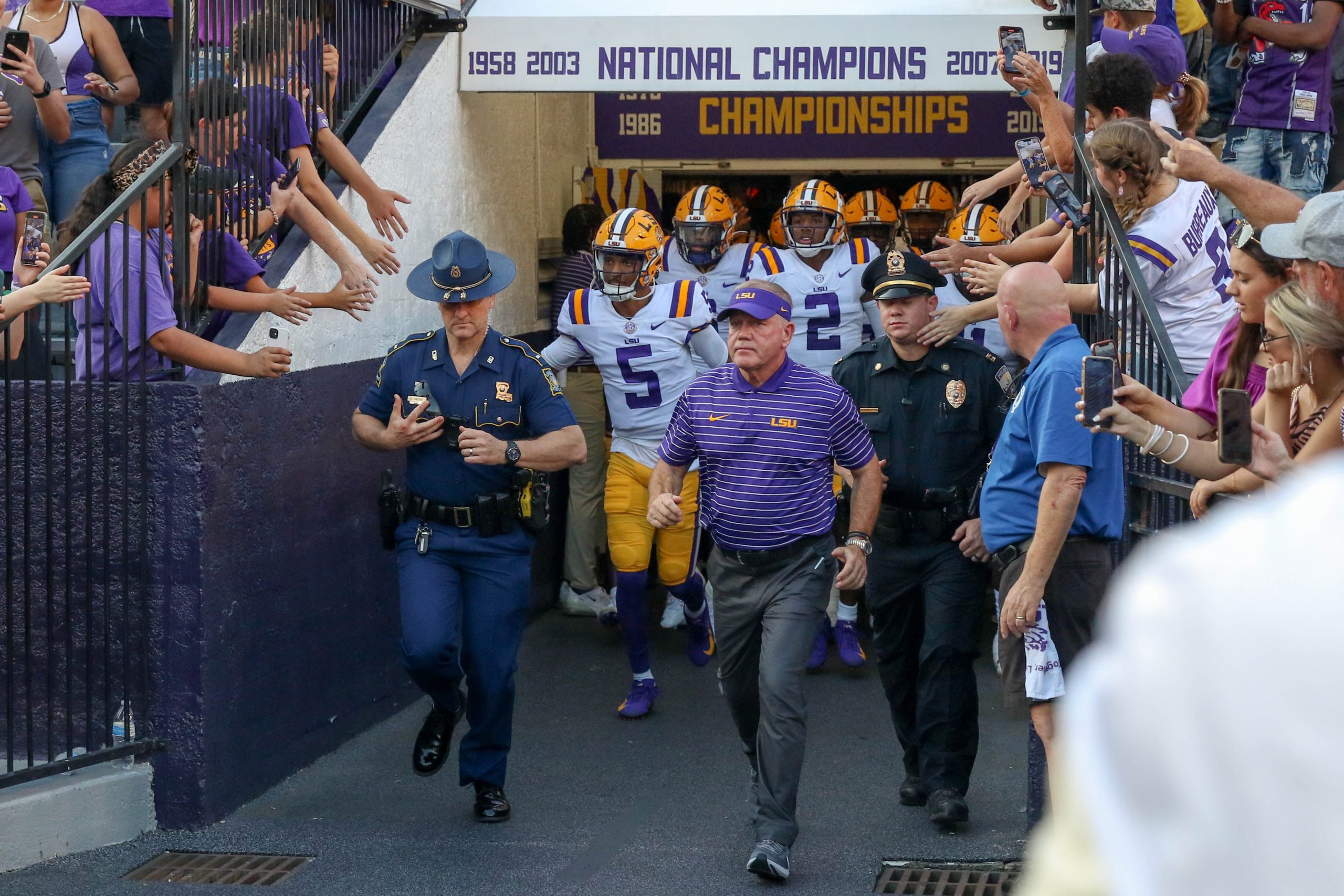 LSU first-year football coach Brian Kelly has time to discover the passion of his fan base when it comes to Alabama week.
But when it comes to the No. 18 Tigers (6-2, 4-1 in SEC) hosting the No. 6 Crimson Tide (7-1, 4-1) at 6 p.m. in Tiger Stadium on Nov. 5, you don't have to remind Kelly of the game's ramifications between the co-leaders in the Southeastern Conference's West Division.
"Heck, yeah, that's fine," Kelly said of the game's early buildup on Wednesday's SEC Coaches' Teleconference. "That's why I came to LSU, but there's more to come. This will obviously be an exciting atmosphere. But you know, I don't want our fans to think that this is the first and last event like this at Tiger Stadium.
"We expect to be playing a lot of these games. But we're excited," Kelly added. "I told our players you created this by what you've done on the field. And, you know, it's a privilege to play these games. Let's take the time to welcome that opportunity. And obviously, we get a chance to reset this weekend and get ready to prepare for the privilege of playing in Tiger Stadium."
LSU positioned itself for the chance to gain sole possession of the SEC West with consecutive wins at Florida (45-35) and last week at home against Ole Miss (45-20).
The Tigers knocked the Rebels from the ranks of the unbeaten and the SEC lead which will go to the LSU-Alabama winner with the Tigers having two league games left – both on the road – remaining against Arkansas and Texas A&M.
Here's what else Kelly had to say:
Opening statement:
"This is a recovery week for us. And using it obviously to do some self-scouting, recruiting and for our players, we get on the field a couple of times, we get in the weight room and then kind of reset mentally and physically. We've had a long month with four SEC opponents. That is a difficult run for anybody and to get this opportunity allows us now, to prepare ourselves for another run of four consecutive games that are going to challenge us. Really looking to accomplish a little bit more of the mental and physical reset than anything else with this off week."
On whether you will personally recruit in state this week?
"I will not be on the road. My assistants we'll be doing it. I'll be doing a lot of my work from the office here in terms of calls and certainly texting and doing those things. It's sometimes hard for me to get out to enough (games) and if I do to one or two, then somebody feels like they've been left out in that situation. We felt strategically that it would be best if I just tried to get to as many recruits through the phone and through texting. We're still going to be here and get a chance to meet with all of them as well."
On whether Jayden Daniels is a work in progress?
"No, I think there's still work to be done. I think pocket presence continues to be something that we're working on. Read progressions, all those things. He knows he's done a great job of being probably his biggest critic, being a guy that won't be excited about the progress he's made as well. There's definitely room for him to continue to grow and he knows that. And he's going to need to do that against the next opponent in Alabama and the kind of defense that they bring."

On play of senior defensive back Jay Ward?
"Jay Ward's been around the football. He and Sage (Ryan) have been playing that nickel for us. We moved them down from the safety to the nickel position. He's an outstanding football player and obviously we love his ability to get out there and impact the game. He's an outstanding tackler. That's probably his biggest strength."

Injury updates on Major Burns, John Emery Jr. and Jack Bech?
"Major will be non-contact for the rest of the week and then he'll be cleared for Monday, so we're excited about that for Major. So, he is in the game plan to play against Alabama. Jack is going to stay around here; he's not going to go home. He'll be here all weekend preparing. I asked him yesterday, 'what's you're feeling about Alabama'? He has no doubt he'll be playing, so I think that's the mentality that he has. And Emory's got the Achilles tendon strain, and I think he's probably day to day."
On specific defensive adjustments to "cover" up weaknesses previously mentioned?
"I think what I was referring to is that we overcoach sometimes. I think we get into the weeds of it and think too much about, 'well, I don't know if this guy can match up against this guy'? And the fact of the matter, he can and sometimes we just need to take a step back and let our players play. And I think that's kind of was what I was referring to more than anything else. These are your guys, go and let them play and then if you find out during the game you need to make some adjustments, go ahead, make those particular adjustments. But I think we go into it sometimes and don't let those guys just go and play and make the adjustments after the fact."

On whether this team's 6-2 record has been a surprise?
"I don't know if surprise is the right word as much as you know when you take over a job, you know that there's challenges you don't know. You don't know how your team is going to be able to get to that level quick enough. And I think what's surprising to me is that our guys have been able to adapt to an entirely new system of doing things in such a short period of time. I never looked at it as well, 'I'll be surprised in November if we're playing meaningful games.' They were all going to be meaningful games in some sense. So, I guess what I'm surprised about is how well these guys have adapted to such a change, and how we do things on a day-to-day basis."
On reasons for poor starts that have led to being outscored 54-10 in first quarter in SEC play?
"We've looked at virtually everything, from the bus ride in, to what we serve for pregame meal. We think it's much more mental than it is physical, and we just need to really focus on not making those mental mistakes early on in games. Because we know physically, we're able to do the things necessary to be successful, but clearly, we can't continue to do that. Thank God they don't call the game after the first quarter, or we wouldn't be where we are. We have to get off to a better start in this last third of the season."
On being involved on either side of fans rushing the field?
"I've been on teams where the fans have stormed onto the field and it's never an easy situation because it is a bit chaotic, and you don't know exactly what's going on. First and foremost, you're being rushed off the field generally by security or police and you don't have a great perspective of it. It's one of those things where that's why you fine heavily when people rush the field because there's so many unexpected things that can happen. I don't think there's a script for it. I think from my perspective I think that anytime those things happen, you have to be extremely aware of your surroundings and make sure you get to safety."