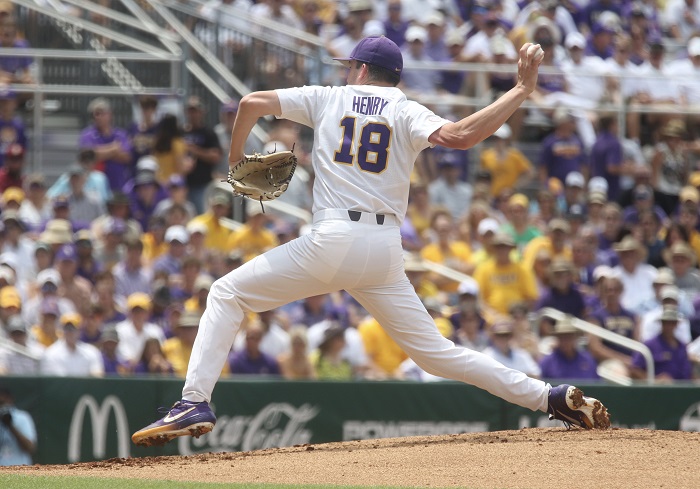 Cole Henry calmly strolled off the mound after snapping off a 12-6 curveball to end the second inning with a strikeout.
The star freshman did not return for a third inning.
LSU sent Todd Peterson to the bullpen after Henry needed 31 pitches to finish a laborious second inning. LSU coach Paul Mainieri pulled him two innings into the Baton Rouge Super Regional opener against Florida State.
"It was heartbreaking to have to take him out of the game," Mainieri said.
Mainieri went to Henry after the inning and asked how he felt. The answer was exactly what Mainieri feared.
Details remain scarce at this point, but Henry told Mainieri the truth after the second inning: he began to feel discomfort after the first inning and it got worse from there.
"He pointed to his arm, and I'm not going to take any more chances with the kid when he tells you that," Mainieri said. "There was no decision to be made. He had to come out of the game."
LSU went on to lose the game 6-4, but things actually could've been worse considering when Henry had to come out.
A heroic performance from Todd Peterson saved the rest of the bullpen for the two do-or-die games that LSU hopes to win. Peterson threw a season-high 79 pitches over 4.1 innings of two-run relief to hold the lead.
Mainieri confirmed every reliever except for Peterson will be available for game two on Sunday. Trent Vietmeier (25 pitches) and Zack Hess (27 pitches) were the other taxed relievers.
"Thank goodness he did," Mainieri said. "That saved our bullpen more than it would have been if we would've had to take him out after an inning or two. I think we'll be ok for tomorrow."
Photo by Jonathan Mailhes