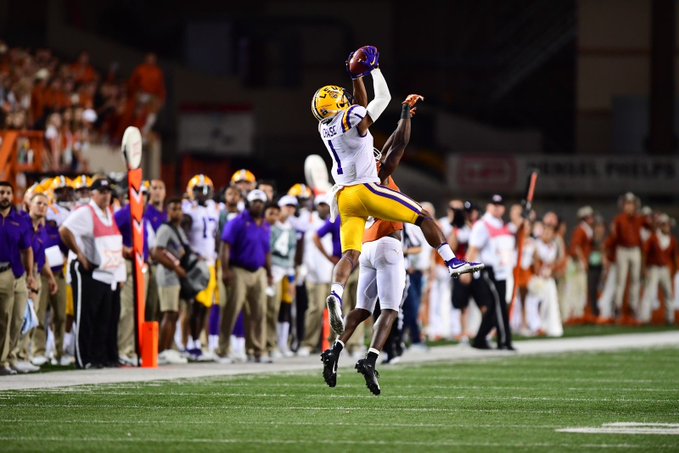 Unbeaten LSU held serve Tuesday night in the third week of the College Football Playoff rankings, staying at No. 1 ahead of unbeatens Ohio State and defending national champion Clemson at Nos. 2 and 3 respectively.
One-loss Georgia, which has already clinched the SEC Eastern Division championship and a spot in the league championship game Dec. 7, was again No. 4.
Once-beaten Alabama stayed at No. 5, despite losing quarterback Tua Tagovailoa for the season with a dislocated shoulder. One-losses Pac-12 teams Oregon and Utah are No. 6 and No. 7.
"LSU remains impressive with its powerful offense," CFP chairman Rob Mullens said. "They have three wins against teams in the (current CFP) top 25."
Mullens explained Tagovailoa's injury hasn't affected Alabama's resume yet.
"We do not project, we do not look forward," Mullens said. "Our charge is to rank the teams based on their body of work through week 12, and that's what we did. Obviously, we'll watch the games moving forward and
evaluate them after that."
"We are aware of who's available in what games, and we make an evaluation based on watching the games and the results."
The committee's toughest discussion involved Alabama, Oregon and Utah.
"Well, sure. I mean, teams 5 through 7, obviously when you look at Alabama, outstanding play," Mullens said. "Their only loss is to the No. 1 team in the country, and in every other game they've had convincing wins.
"Oregon is a team that's won nine in a row, good road wins against ranked Southern Cal, at Washington, quality quarterback play, undefeated in the conference, only loss on a neutral field to Auburn.
And then Utah, really strong defense, only loss is to No. 23 USC, and that's what separated them from Oregon, and when they lost to USC, Zack Moss, their elite running back, missed most of that game."