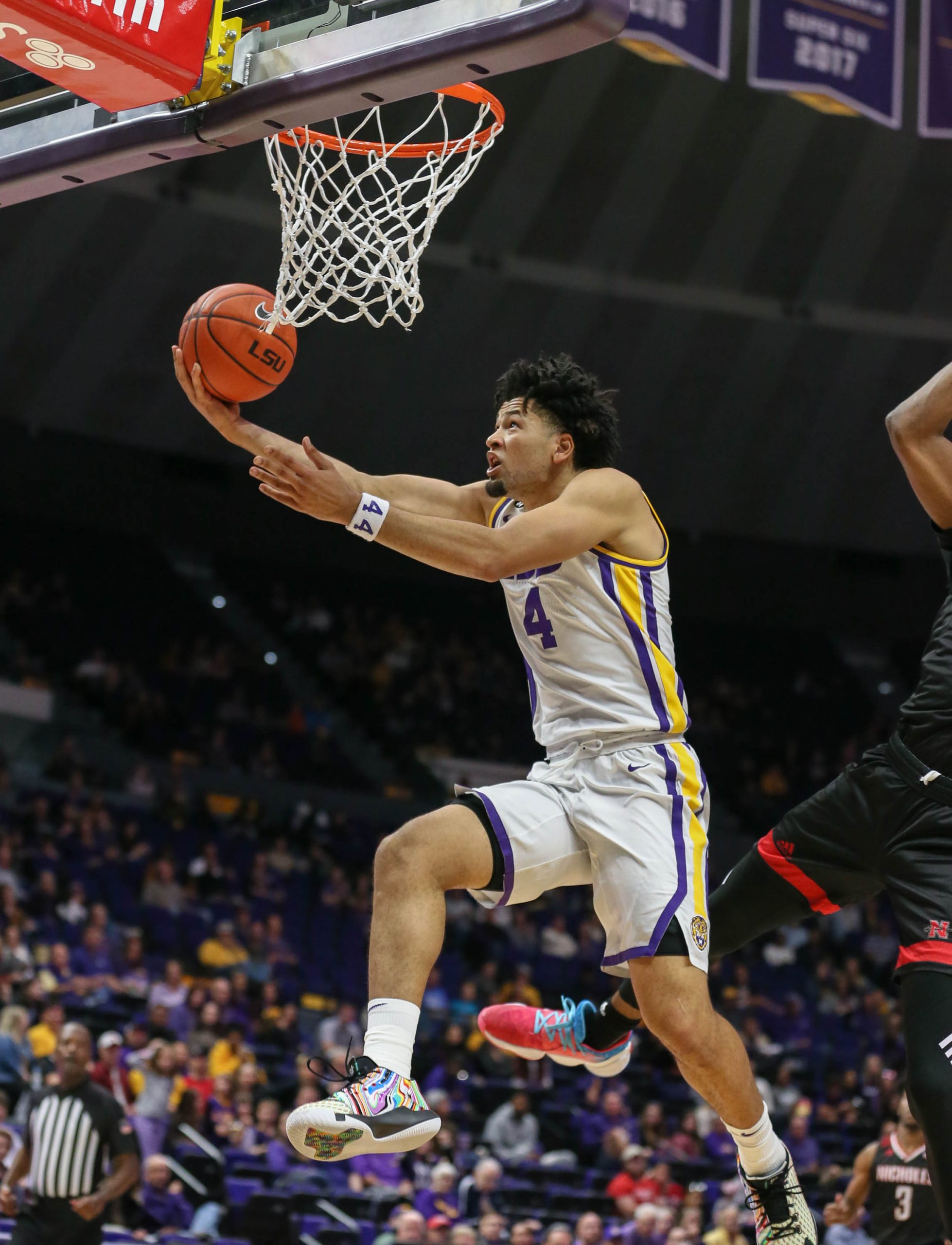 It looked like it might get ugly, but once the LSU basketball team found its rhythm there was no slowing down.
The Tigers (3-1) missed its first nine field-goal attempts of the game before relying on its post play to thrash visiting UMBC (4-1) in a 77-50 victory in the PMAC.
UMBC dominated the start of the game, jumping out to a 9-1 lead early, taking advantage of the Tigers' shooting woes.
But once LSU's shots started falling, they never really stopped as the Tigers proceeded to go on a 29-6 run to end the half and converting its last 10 field goal attempts of the half to take a 39-23 lead into the break.
Sparking that run was a 12-minute stretch in which LSU did not commit a single turnover, a huge improvement as the Tigers entered the game with more turnovers per game than all but one school in the country.
"It was good," said LSU head coach Will Wade. "We had three turnovers at the first media break. We had six turnovers in the first half and one of them was when we had two guys fighting for a rebound, which I can live with that turnover. The other one was the offensive foul on (Trendon) Watford where the guy came to his back. In the second half, we had some inexperienced guys in there and we didn't do some things we needed to do. Like I said, I thought we made progress."
LSU's domination stretched into the second half and Wade opted to play extended minutes without starting guards Javonte Smart and Skylar Mays.
Bench players like Marshall Graves, James Bishop and Courtese Cooper got significant playing time.
Charles Manning led the Tigers in scoring with 16 points as LSU's sixth man.
It was a quiet 16 points, as even Manning didn't realize he led the team in scoring until being told by reporters after the game.
"I didn't even know until he just told me,"  Just staying aggressive, staying in attack mode, trying to get to rim, and finding my spots is the key. Coach was telling me to stay in attack mode at all times and that's kind of what I did.  Getting to my spots and making those shots allowed me to help my team. Adjusting to the new role off of the bench isn't really a big deal to me as long as I'm helping my team win."
Wade said that Manning's cerebral approach to the game makes him an ideal sixth man, even if the junior-college transfer would naturally rather start the game on the court.
"I don't know if he will admit this, but I think coming off the bench has helped him," Wade said. "I think he is such a smart player, he is such a cerebral player, he is able to see things when he is out there. It is almost like because he can see things and he knows what is going on once he gets in there, he can just pounce. He knows exactly what the weaknesses are, he knows exactly where to drive and he knows exactly what needs to happen defensively. He can just go. I think that has been very helpful."
Despite failing to record a single stat in four minutes of play in the first half, Bishop finished the game with a nice stat line that included 9 points and 3 assists.
Darius Days finished the game with a double-double after tallying 10 points and 10 rebounds in just 21 minutes of play.
This marked the second time he has achieved that feat in his career, the first coming just a few days prior in LSU's XXXX victory against Nicholls State on Saturday.
"It felt great and I wouldn't have it if it wasn't for my teammates," Days said. "I hit a back-door cut, Javonte (Smart) saw me, and hit me with a back-door pass where I made the layup and got the and-one.  On the other side, Charles (Manning) hit me with a pass and I got another layup with the and-one.  I wouldn't have gotten that double double if it wasn't for them."

The Tigers limited the Retreivers' leading scorer Darnell Rogers to 3 of 12 shooting for 6 points. UMBC shot a lowly 5 of 32 from the 3-point line on the night.
LSU will now travel to Jamaica to participate in the Jamaica Classic in which it will face off against No. 15 Utah State and Rhode Island at the Montego Bay Convention Centre.