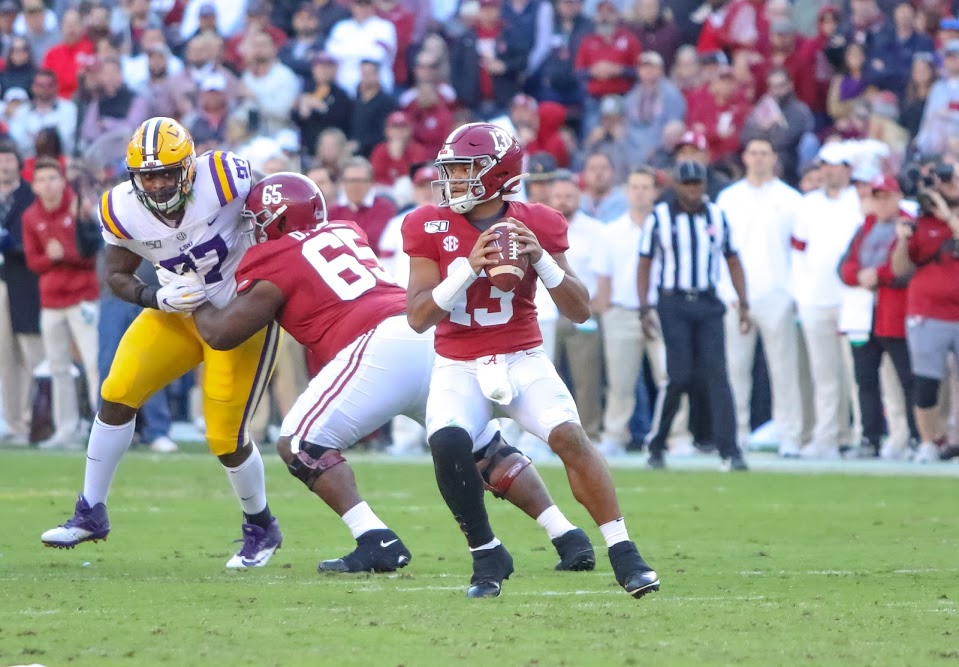 Nick Saban's legacy has taken a hit in the last two weeks. His gifted quarterback passed for 418 yards playing on one good leg against LSU. Ordinarily, the heroic Tua Tagovailoa comeback story would be enough to propel the Tide to victory at Bryant-Denny. But Alabama surrendered 46 points in a defeat to Joe Burrow and the Tigers, a setback of sweeping implications for the program in Tuscaloosa.
Saban went to the well once too often and sent his wounded warrior back on the field against a Mississippi State team that could not have beaten a Crimson Tide unit with 76-year-old Joe Namath at quarterback. The high risk strategy of playing Tagovailoa a few weeks after surgery on a gimpy ankle exposes the win at all cost mentality at athletic factories where in 39 states, a college football or basketball coach is the highest paid state employee.
Tua's college career ended with a dislocated hip against Mississippi State, and the result is that his NFL marketability is impaired by serious injury that could have been avoided.
This is a lesson for LSU's Joe Burrow, who has all but wrapped up Heisman Trophy voting with a five touchdown, 489-yard performance in LSU's 58-37 track meet triumph at Oxford. Burrow, who voiced support for a California law that will allow players to receive payments for endorsements, has little to gain by continuing to play college football.
The LSU passer is already a legend in TigerTown and risks a Tua-like injury if he remains a student-athlete for five more games. If it were solely the decision of lawyers and agents, Burrow would sit out the remainder of this campaign and toss the baton to Myles Brennan.
Ed Orgeron has frequently sung the praises of Brennan, so this is an opportunity for Burrow's understudy to enhance his professional stock by leading LSU to a national title while Burrow does nothing to suppress his rising stock as the prospective top pick in the NFL Draft.
Unless, NCAA powers start compensating performers like Burrow with seven-figure contracts to match the salaries of their coaches, there is good reason for those standouts to assess the risk of playing for nothing and risking everything.
Fortunately for LSU fans who have become accustomed to Burrow's cartoonish numbers, he is too competitive to stop now. For those who understand that college football is a big business first and a campus sport second, Tua's fate proves that athletes sometimes depart the collegiate field with blood and broken bones and future earning potential diminished by a zeal to feel the roar of the crowd one more time.
Ernest James Gaines: Jan. 15, 1933-Nov. 5, 2019
One of Louisiana's great treasures died on Nov. 5. The magnificent writer Ernest Gaines was unresponsive when his wife, Dianne, tried to wake him at their elegant home in Oscar near False River. Gaines returned to the land near his birthplace as an adult after penning classic works such as The Autobiography of Miss Jane Pittman, A Gathering of Old Men, and A Lesson before Dying at his apartment in San Francisco at the corner of Golden Gate Avenue and Divisidero Street.
His stories offered vivid and uncanny descriptions of people in a state that Gaines left at age 15 in 1948 for opportunities in the American West that were unavailable in his native Louisiana. Along the path to reigning as a literary immortal, Gaines served in the U.S. Army, was a star sprinter at San Francisco State University and at age 31, had his first book, Catherine Carmier, published after many years of rejections.
Ernest did not marry until he was 60 and remarked that he found his Catherine Carmier in Dianne Saulney, a lawyer from Miami who was reared in New Orleans. She was with him through the final 26 years of his life.
In the early 1980s, Gaines was appointed as writer in residence at USL where the Gaines Center is now a major part of the campus. He lamented that a generation earlier he would have not have been welcome on campus without a mop in his hand.
Gaines loved sports and reminisced about his days in the Bay Area. There he would complete his writing for the day in time to see Willie Mays, Willie McCovey and Juan Marichal play for the Giants. The team moved to San Francisco in 1958.
Gaines persuaded Henry Aaron to tape a testimonial tribute to Barry Bonds when the San Francisco outfielder broke Hank's career home run record in 2007. Aaron graciously offered congratulations after reading an essay from Ernest in the Atlanta Journal-Constitution. Aaron honored Bonds despite pleas from others to boycott any recognition for the slugger tainted by steroid use.
Ernest was impressed with progress in his native South and leaves us with a story much like his creation of Jane Pittman. Her life was chronicled in his signature work from her youth as a slave at the end of the Civil War to the end of her journey at the start of the Vietnam War.
LSU did not feature its first African-American varsity football player until 1972 when Gaines was 39 years old. When he died this month at 86, the rosters of LSU and other SEC powers were filled with Black gladiators.
The celebrated African-American sociologist Harry Edwards smiled recently as he said "Watching LSU and Alabama play football is like watching Ghana face Nigeria."
Based on photographs in the latest LSU game program, the breakdown of the current LSU team shows 81 Blacks and 23 Whites for a percentage 78 percent for African-American players.
Bregman Close in MVP Balloting
Alexander David Bregman narrowly missed being named the American League Most Valuable Player. The Houston Astros third baseman and LSU icon lost a close race for MVP honors to the Angels' Mike Trout, who outpointed Bregman 17-13 to win the award for a third time.
In his fourth MLB season, Bregman hit 41 homers with 112 runs batted, a .295 batting average, 119 walks and 122 runs scored. Trout missed 28 games due to injury, but hit 45 home runs and led the AL in slugging and on base percentage.
Despite the runner-up position, Bregman is solidly ensconced among the top ten players in the game at age 24. In 1,905 career at bats, Bregman has 99 home runs for the Astros. At LSU, he homered 21 times in 786 at bats.
With a $100 million, five-year contract that keeps Bregman in Houston through 2024, the Astros are placing high value on the man chosen as the second pick of the first round of the 2015 MLB free agent draft.
Bregman joins Albert Belle for the highest finish in MVP balloting by a former LSU star. Belle was robbed of the award in his best season. For the Cleveland Indians in 1995, Belle became the only player in history to produce 50 homers and doubles in the same season and led Boston's Mo Vaughn by significant margins in most offensive statistics.
Vaughn was the MVP thanks to 12 first place votes from sportswriters to eleven for Belle.