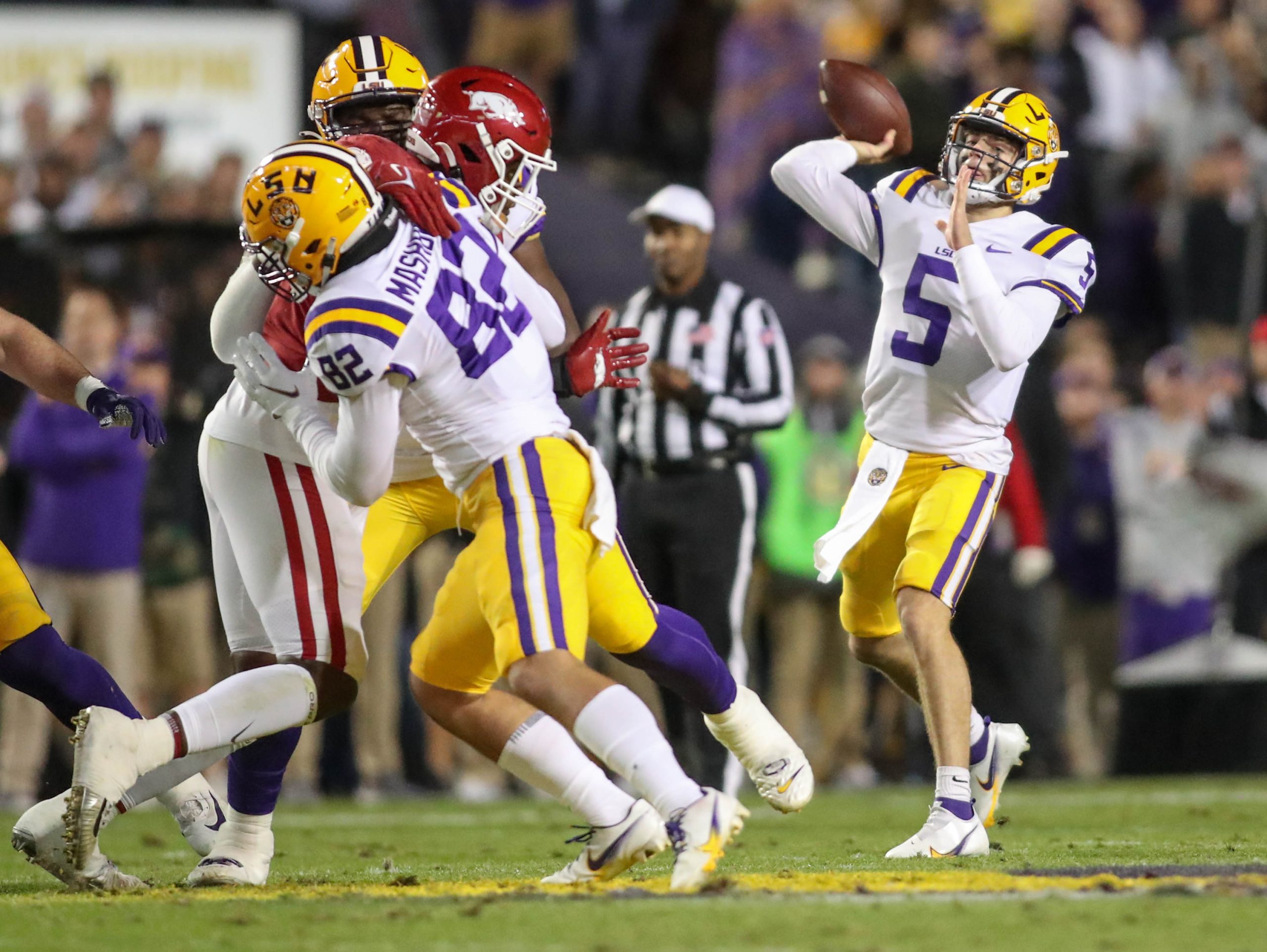 LSU had grabbed its first lead of the game in the first half of Saturday's game against No. 25 Arkansas when true freshman quarterback Garrett Nussmeier completed consecutive passes totaling 35 yards down to the Razorbacks' 18-yard line.
Instead of continuing to ride Nussmeier's hot hand into the end zone and a potential two-touchdown lead, LSU inserted leading rusher Ty Davis-Price into the game at wildcat quarterback where on first down, the junior mishandled the snap which resulted in a turnover with a fumble.
It was a play call – the first of its kind for Davis-Price this season – that also left LSU head football coach Ed Orgeron scratching his head following his team's 16-13 overtime loss Saturday in Tiger Stadium.
"I don't think it was very good for us to put Ty Davis back there," Orgeron said. "Wildcat, we never did it all year and we caused a fumble, and we could have gone up 17-3. Wish I could have had that call back."
Not only was the play selection questionable, especially with a young quarterback like Nussmeier starting to settle into a rhythm, but it appeared the Tigers (4-6 overall, 2-5) were also starting to gain traction offensively once Nussmeier replaced starter Max Johnson who didn't reappear after the first two series of the game.
"Too many mistakes," Orgeron said. "Three turnovers on offense. Get down to the red zone and don't score again."
Orgeron reopened the team's quarterback competition this week in practice after LSU pushed No. 2 Alabama to the brink a week ago in a 20-14 setback.
The Tigers had reached the Crimson Tide's 8-yard line in the fourth quarter of that game but was unable to get into the end zone or score points, leaving themselves trailing by six points with seven minutes to play.
Not only did LSU turn the ball over three times, including a key interception from Nussmeier on a fade route to Devonte Lee in the end zone in overtime, but the Tigers failed to score any points the rest of the way when reaching the Razorback's 40-yard line or closer.
"It was obvious last week, we're 1-3 in the red zone," Orgeron said. "We called wildcat. We've just got to be smarter than that. We've got to be smarter with the football. We were on 8-yard line against Alabama last week. We had the No. 2 team on the ropes, and we don't score. If you're going to be at LSU you've got to do that. That's the way it is."
LSU's offense generated 308 yards with 42 carries for 108 yards rushing. Davis-Price led the Tigers with 28 attempts for 106 yards but didn't find the end zone.
Orgeron's experiment at quarterback produced mixed results with a combined 21 of 37 passing for 200 yards with two interceptions and a touchdown.
Nussmeier, who led the final 12 series of regulation and overtime, completed 18 of 31 attempts for 179 yards with a touchdown and two interceptions – both of which led to a pair of field goals from Arkansas' Cam Little who hit the game-winner from 37 yards following Montaric Brown's interception in overtime.
"It was a great play call; that is on me," Nussmeier said. "I have to make the play and be smarter in overtime. I can't turn the ball over; we kick a field goal, and we keep playing. That is on me, and I'll take it any day of the week."
Johnson's night was over after the first two series of the game that resulted in a pair of punts. He completed 3 of 6 passes for 21 yards.
"We're going to look at it," Orgeron said of his evaluation of the quarterback position. "We're trying. We're trying everything. Garrett made some good plays and then he didn't make some good plays. Max made some good plays, didn't make some good plays. I don't think you can put it all on the quarterback. We have to look at everything and encompass it and what we're doing and go from there."
LSU scored all 13 of its points with Nussmeier in the game.
Placekicker Cade York kicked a 34-yard field goal that tied the game at 3-3 after taking over at midfield Davis-Price went 21 yards to Arkansas' 29.
Nussmeier showed off his athleticism on first down, getting out of trouble of an oncoming rusher. He spun to his left and spotted wide receiver Jack Bech in the end zone where the freshman went up and made the catch, got his left foot down near the end line for a 29-yard touchdown and 10-3 lead on the first play of the second quarter.
York was short on a 55-yard attempt at the 8:23 mark of the third quarter when Arkansas took a 13-10 lead with 10 points over the final six minutes of the third quarter.
LSU's offense had 133 yards in the first half and only gained 38 yards in the third quarter that included Nussmeier's interception at Arkansas' 37-yard line.
The Tigers enjoyed one of their longest drives of the game, covering 48 yards in 12 plays and took nearly 4 ½ minutes off the clock, but the drive stalled at the Razorbacks' 27 and resulted in York's game-tying 27-yard field goal with 10:53 to go in regulation.
LSU also ended its next drive at Arkansas' 38 when Nussmeier, who faced pressure, threw behind Trey Palmer on fourth-and-three with 5:58 still showing.
"It doesn't always come down to one play," Orgeron said. "There were a lot of chances we had to make plays to win this game. We have to find a way to do it. They did, we didn't."