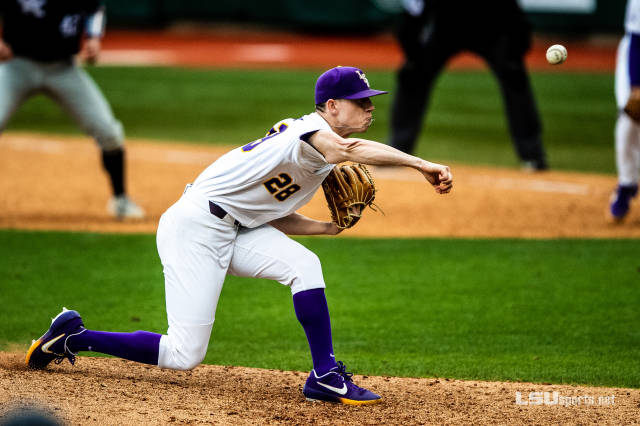 HOOVER, Ala. — Event security staff descended on the reserved seats and Twitter was ablaze trying to figure out if the infamous Vanderbilt Whistler had been forcibly removed from the premises.
He hadn't, but rather had been forced to move back a section, where he continued to whistle as Vanderbilt continued to rake.
That kerfuffle was the height of the drama in the SEC Tournament Semifinals.
LSU ran out of pitching and magic in running into a well-rested juggernaut in Vanderbilt. The No. 1 Commodores homered tree times to eliminate the weary Tigers 13-4 at the Hoover Met on Saturday afternoon.
"Today didn't go the way of the Tigers," LSU coach Paul Mainieri said. "I think Vanderbilt had a lot to do with that. They've got an excellent baseball team."
Despite the lopsided ending, LSU leaves Hoover with their heads held high after winning three games in an improbable run that began way back on Tuesday.
It started with a come-for-behind win against South Carolina in the single elimination opener. Then came the historic heartbreak of the 17-inning marathon against Mississippi State, which LSU rebounded from to survive Auburn in walk-off fashion.
That set up a rematch with Mississippi State that looked a lot like the Vanderbilt matchup on paper. It was also a romp, but with LSU being the one doing the romping.
"Nothing really to hang our heads about," Josh Smith said. "I thought we played pretty well this week. We beat Mississippi State, a top-five team in the country, and we could've beaten them twice."
LSU will now bus back to Baton Rouge and eagerly await Sunday's announcement of the 16 NCAA Tournament host sites. That announcement is set for 7:30 p.m. Sunday with the full bracket being released on Monday.
Recent projections from D1Baseball and Baseball America have LSU securely among the hosting line after Friday's romp of Mississippi State.
"We came in not knowing if we were going to host or not," Smith said. "If you told me we'd win three games and have a chance to host, I'd be completely fine with that. I think we came here and did what we needed to do."
"Whatever happens happens," Antoine Duplantis added. "We won three games this week. We did, hopefully, what we needed to do. And if not, that's alright to. Either way, I think this team is ready for a postseason run."
Mainieri had better pitching options than he did the night before, but his tired staff wasn't able to hold down Vanderbilt's loaded lineup.
Vanderbilt tagged Devin Fontenot for three runs in the second inning. Eric Walker made a surprise relief appearance in the third and served up home run No. 26 to JJ Bleday. Ethan Paul took Will Ropill deep for a two-run shot in the fourth.
Zack Hess and Matt Beck were also available to pitch. Hess, Walker and Beck all went to Mainieri's hotel room on Friday night and asked to be part of the game.
Walker got in for an inning instead of doing his usual side work between starts. Hess and Beck were available, but there was no reason to further tax them as the game quickly got out of hand.
"Once the score got to be what it was early, there was no use using Hess or Beck," Mainieri said. "So we gave the young kids a chance to pitch, and I thought they did pretty ok."
LSU meanwhile put runners on base in every inning against Vanderbilt right-hander Kumar Rocker but was unable to do much damage. The Tigers finally got on the board with a run in the fifth inning, but the rally came to an end with a baserunning blunder by Smith that took a run off the board.
Vanderbilt proceeded to break the game open for good in the sixth inning with six runs. Ty Duvall delivered the big blow with a two-out, three-run blast to right off Ripoll.
At that point LSU must've known it was time to go home and rest up for the NCAA Tournament. A couple days of rest before beginning regional preparations will serve the Tigers well after a long week in Hoover.
"It's always disappointing when you get eliminated from a tournament, so you can't be very happy right now," Mainieri said. "But like I told the kids, we're not going to let this one day take away from what we did this week."