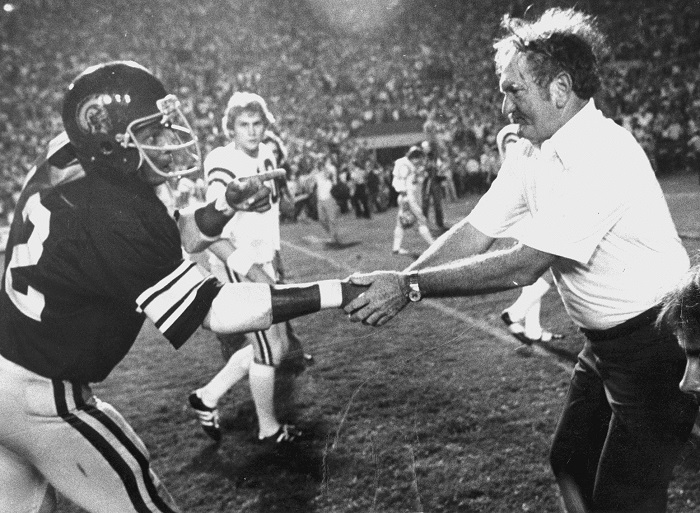 Benjy Thibodeaux is the classic, homegrown former LSU football player, right down to his surname.
His hometown, Rayne, in the heart of Acadiana, is notable for its annual Frog Festival. As a youth, Thibodeaux's summers were spent riding horses and driving tractors on his family's farm in Eunice.
When LSU called with a scholarship offer, there was no thinking about it.
He hasn't lived in Louisiana since 1985. Thibodeaux has spent the last 35 years in banking and finance, most of it in Atlanta, which is a crossroads for SEC football fans. Many of the 4 million or so residents have allegiance to one of the 14 schools.
When LSU loses a league game, Thibodeaux catches what can be politely called grief — although he uses a different term – from those fan friends. And if he should mention that he once wore the purple and gold uniform, a quick internet search leads to the eternal question.
"You're famous for something," they say. "Did you do it?"
The reference is to perhaps the most infamous penalty in LSU history. Forty years ago, Thibodeaux was flagged for a third-down facemask penalty that aided greatly the game-winning drive in the Tigers 17-12 loss to No. 1-ranked USC on Sept. 29, 1979.
It wasn't just a near miss against a top team. The Trojans had what still might be the most talented team to play in Tiger Stadium, one with 12 future NFL first round picks and 31 drafted overall. Pro Football Hall of Famers Ronnie Lott, Marcus Allen and Anthony Munoz suited up that night.
A 12-point underdog, LSU had USC on the ropes all night, with a 12-3 lead entering the fourth quarter, in front of a packed house. Many consider it the loudest night in Tiger Stadium's illustrious history of creating atmosphere through the stratosphere.
It's one of the few losses any LSU fan would admit to recalling with a hint of fondness.
As crushing as it was to one of the participants who left an ocean of blood, sweat and tears on the turf that night, Thibodeaux almost revels in the memory of the play.
"I'd like to give a shout out to the internet for keeping that alive," he said, tongue-in-cheek, in a phone interview. "I always try to take adversity with a little bit of humor.
"Infamy is better than anonymity. I get to be infamous. You have to keep it in context."
For the record, no, Thibodeaux does not think he did it. With that, he's in agreement with almost any LSU fan that remembers the play. Even the opposing coach, John Robinson, now working as an LSU football analyst, says the call was "marginal."
Seven plays later, the Trojans scored on an 8-yard pass from Paul McDonald to Kevin Williams with 32 seconds remaining. LSU had two shots into the end zone fall incomplete to close the game.
In his book, "It Never Rains in Tiger Stadium," author and former Tiger center John Ed Bradley recounts his final meeting with that LSU team's coach Charley McClendon, who brought up the game and the play.
"Coach," Bradley told McClendon, who was dying of cancer, "Benjy Thibodeaux didn't facemask anybody."
Long time coming
It was the kind of intersectional, marquee matchup rare for those days. Since then, such games have become creatures of the TV age with this season's LSU-Texas matchup as a prime example.
USC had won it's ninth national title the previous year. No. 20 LSU moved into the rankings after routs of Colorado and Rice, but the subtext was the season as a farewell tour for McClendon and staff, whose contracts were not renewed.
It was a special game for a special season, none of which was lost on the LSU family. The excitement on campus and in the Baton Rouge community was palpable, and the attention at practice laser-focused.
"If you played somebody that wasn't ranked, it was tough to get them to listen," former Tiger defensive line coach Lynn LeBlanc said. "When we played USC, everybody was listening. They were very attentive."
Players understood there was a threat of being run out of their home stadium, but they weren't conceding anything.
"We were sure we were going to win that game because they (coaches) were sure we were going to win the game," special teams ace Rusty Brown said. "Everybody gave 110 percent. During the game, nobody sat on the bench. It was the best week of preparation I can remember."
LSU fans were also at their best, even before kickoff. Robinson estimates there were 500 at the airport Friday heckling his team as it came off the plane. When the USC bus pulled up to Tiger Stadium for a walk-through it was confronted by a mass of students.
"They wouldn't let us off the bus," Robinson said.
Robinson expected noise at kickoff but wasn't prepared for what unfolded. The Trojans couldn't hear throughout the game, which affected their timing and led to three turnovers.
"The biggest factor was the noise," Robinson said. "We just couldn't hear. My experience said the beginning of the game would be noisy, but it would settle down and they'd all get a hot dog. It wasn't that way at all. It was loud throughout."
The game was not on national TV, although a USC network put out a telecast in California. Tickets were a tough get and 78,322 showed up, then the second largest crowd in stadium history.
"I called the plays in the huddle, I yelled, but I couldn't hear my own voice," linebacker Tommy Frizzell said. "They couldn't hear either. You could feel the noise (vibrations) the whole game."
Said Thibodeaux: "In my four years at LSU that was the one game I heard the crowd. It was the loudest ever."
LSU would need the help. On Thursday before the game starting cornerback James Britt suffered a broken hand in practice, prompting McClendon to make a major defensive change. LSU played an eight-man front with redshirt freshman nose guard Greg Bowser inserted as an extra lineman.
Bowser didn't get the word until noon on game day that he'd get his first start before a crowd bigger than his hometown of Baldwin, La.
"When I got to the meeting, coach LeBlanc said, 'Oh, by the way, you're starting'," Bowser recalled. "In those days they cut off the phones in Broussard Hall on gameday, so I was trying find a way to let my family know.
"The stadium was unbelievable. That was the most memorable night of my career. It still gets loud but never like that night."
The game
The teams traded first quarter interceptions and the visitors parlayed theirs into a field goal for an early lead. LSU soon took the lead on a 60-yard drive in the second quarter. Current LSU offensive coordinator Steve Ensminger connected with Carlos Carson and Tracy Porter for 15-yard gains and Jude Hernandez bolted for 24 yards to set up LSU's only touchdown.
In what might have been the first ever four-wide receiver set in LSU history, third string running back Leroid Jones was lined up in the middle of a trips formation to the left. He ran a slant over the middle and Ensminger fired a quick pass for a 13-yard scoring play.
A fumbled snap foiled the PAT attempt but Don Barthel added a field goal and LSU fans were delirious with a 9-3 halftime lead.
LSU surrendered ground between the 20s all night. Tailback Charles White, who would go on to win the Heisman Trophy, carried 31 times for 185 yards, but the defense stiffened in the red zone. USC lost All American offensive tackle Anthony Munoz to an injury but still put together a line with high NFL draft picks.
"They were huge, bigger than what I was used to," Bowser said. "Munoz was the biggest man I'd ever seen. They weren't that fast or physical but just big so you couldn't get around them. The backs would be by you in a hurry."
Victory moved closer to LSU's grasp when the Trojans' 15-play drive to start the second half ended in a missed field goal. With runs of 37 by Jones and 12 by Hernandez, LSU had a first down on the USC 2. But the Tigers got pushed back and had to settle for a field goal and a 12-3 lead after three quarters.
USC finally cracked the end zone with 9:54 left when White scored from the 4 to make it 12-10.
Again, opportunity slipped away when LSU's Alvin Thomas recovered a fumble by Allen at the USC 26. A 15-yard offensive pass interference penalty forced a punt, setting the stage for the winning drive and game's key play.
On third and 9 from the USC 26 and less than four minutes to play, McDonald dropped back to pass. Thibodeaux was double-teamed by Don Mosebar and Roy Foster. His receivers covered, McDonald stepped up in the pocket and he tried to duck under Thibodeaux, who had broken free.
Thibodeaux reached back toward McDonald and his left hand raked McDonald's facemask, turning McDonald's head slightly. Demetri Williams tackled McDonald whose desperation lateral went to offensive tackle Keith Van Horne, but the play was blown dead.
Thibodeaux's body language told the story. He was hoping it wasn't going to be called. The rule at that time requires the face mask to be grabbed, Robinson said.
"It's not like I held on and his head got jerked to the ground," Thibodeaux said. "It was going to be fourth down. I was sitting there in stunned silence as to what was going to happen. We had a great opportunity to close out the game perhaps. There was a feeling, 'Oh, they're going to do this to us.' We could have still won the game. It was like, 'Damn, let's keep playing'."
What was worse, Mosebar and Foster both rose up before the snap, which McClendon assumed accounted for the flag for a false start.
"At worst it should have been offsetting penalties and replay of the down," LeBlanc said. "Or no play."
USC drove to the LSU 8 and called timeout with 37 seconds left. Diminutive wide receiver Kevin Williams lined up at tight end on the left, a formation LSU had well-scouted.
"We knew the play was going to Williams," Frizzell said. "We practiced that all week."
True to plan, Frizzell pointed to Brown prior to the snap. McDonald rolled left as end John Adams bumped Williams, who made a beeline for the front corner of the end zone. McDonald released the ball quickly and Williams beat safety Marquis Quinn to the end zone.
LSU nearly survived the gut punch. A 15-yard penalty on the kickoff put the Tigers at their 42 and Ensminger hit tight end Robert DeLee with a 28-yard pass, one of two passes he caught that season. LSU called timeout with eight seconds left and Ensminger's next throw went off Willie Turner's outstretched hands in the back of the end zone.
LSU had one more shot, but cornerback Jeff Fisher broke up a pass for Carson in the end zone on the final play.
Exhausted players collapsed on the field but the fans kept roaring. The cheerleaders started a chorus of 'We are proud of you' cheers to which the fans chimed in for several minutes.
"I felt like a hormonal female teenager who just broke up with her boyfriend," Thibodeaux said. "There was a lot of physical and emotional exhaustion. I always took defeat very hard.
"I remember my family was there. My mother hugged me and then she started crying. We shared that one not only with the other players but the fans as well. The fans were proud of our effort. There was a lot of sobbing."
Brown said he'd never seen McClendon as upset about a referee's call as he was that night. Coach Mac seldom criticized officiating but talked about it at length in his post-game remarks, including a reference to the SEC/Pac 10 split crew.
"I don't think we got one break," McClendon said in his post-game remarks.
But pride in his team was his prevailing feeling.
"I couldn't have asked them to give me more than they did," McClendon said.
The game also left an indelible imprint on the victors.
"That game was big to our players," Robinson said. "Whenever they get together, they say it was the toughest experience they ever had, the hardest game we ever played."
Retrospect
LSU finished that season 7-5 and sent McClendon out with a 34-14 Tangerine Bowl win against Wake Forest. Thibodeaux played one more season for Jerry Stovall, an emergency replacement after newly-hired Bo Rein died in a freak plane crash in January of 1980.
USC finished 11-0-1 after a 21-all tie with Stanford. White went on to rush for 2,050 yards and win the Heisman Trophy. Allen would move to tailback and win the Heisman three years later.
The Trojans finished behind No. 1 Alabama (12-0), which beat LSU 3-0 on the same Tiger Stadium turf in a driving November rain. It was perhaps the most lopsided 3-0 victory ever as LSU never sniffed the end zone.
The 1979 LSU team could console itself that in seven of eight quarters against two No. 1 teams, the Tigers allowed zero touchdowns. They allowed 17 all season and held five teams without a TD.
And if you want some karma, when LSU returned the game five years later, the Tigers thumped the Trojans, 23-3, in the Los Angeles Coliseum. Twenty years after that, LSU edged out USC by a razor-thin metric for a place in the BCS title game against Oklahoma. We all know how that turned out.
It is easily one of the top 10 games played in Tiger stadium and possibly in the top five. It's surely the only LSU loss that can make that claim.
"It hurt big time; it still hurts 40 years later," LeBlanc said. "It hurt me more than any game I was involved with."
For Thibodeaux, it was a missed opportunity at a storybook night in a special season. It was about much more than his one date with infamy.
"For the people that were there, it's hard to say that one of our best games was one we lost," Thibodeaux said. "But there was a magic, mystique, intensity and emotion all tied up in that game in a perfect convergence that night."
Photo courtesy of LSU Sports Information via The Advocate