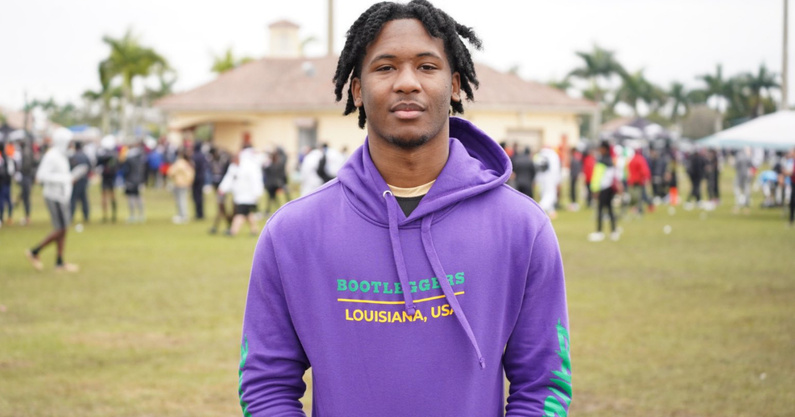 LSU didn't have to extend its reach too far to land the latest commitment in its Class of 2023.
A week after securing three commitments from Baton Rouge-area prospects, pushing the program's current recruiting class inside the top 10 nationally, the Tigers added one of the nation's top athletes Tuesday in four-star wide receiver/defensive back Khai Prean of St. James High School.
The 6-foot, 190-pound Prean, who began his career at Ascension Catholic in Donaldsonville, transferred to Class 3A St. James, which has recently been home to some of the state's top prospects. In 2021 LSU signed St. James' Savion Jones, now a sophomore defensive end.
"I feel great about that one because not too many people get the chance of playing from the home state and representing Louisiana," Prean told On3.com. "I love LSU and they sit high on my list. All schools have a fair shot, but LSU is a school I always wanted."
Prean, who is still awaiting word on his eligibility from the LHSAA, selected LSU over Auburn, Florida State and Mississippi State during a ceremony at his school's auditorium.
"It is also about these schools, in general. Everything is not about football," Prean said before his announcement. "I have to be a student first before playing football. So, I want to find a school that I would also enjoy just being a student at."
LSU increased its total number of commitments to 21, including eight from Louisiana. Depending on where Prean winds up playing, he'll bolster one of two position groups. The Tigers already have three wide receivers committed, led by five-star prospect Shelton Sampson Jr. of Catholic-Baton Rouge. They also have three pledges from cornerbacks that counts one in-state player, Ashton Stamps of Archbishop Rummel in the New Orleans area.
Prean is rated as high as No. 138 overall by Rivals.com, but he is the nation's No. 9 'athlete' by On3Sports and No. 16 by 247Sports. He's also the composite No. 14 player in his home state.
The Tigers are ranked sixth nationally by 247Sports.
"It had to be the relationships," Prean said of LSU's recruiting strength.
"Building a relationship with a coach knowing that you can go to them about anything, and that coach is going to have your back through it all, that means a lot. That's something that goes a long way beyond football."
St. James football coach LaVanta Davis is anxiously awaiting Prean's and expects him to play running back and defensive back while also returning kicks.
"We want to get him the ball anyway we can," Davis said.
Prean was a Class 1A All-State honorable mention selection in 2020, when Ascension Catholic went 7-0 during the regular season and lost 22-21 in the first round of the Division IV state playoffs to Cedar Creek.
The Bulldogs went 8-2 last season with Prean playing running back, safety and kick returner. They advanced to the second round of the playoffs before losing to Ouachita Christian.
Prean, also a sprinter with times of 10.94 in the 100 and 21.7 in the 200 in track, made three unofficial visits to both LSU and Auburn. LSU offered him a scholarship on March 30.