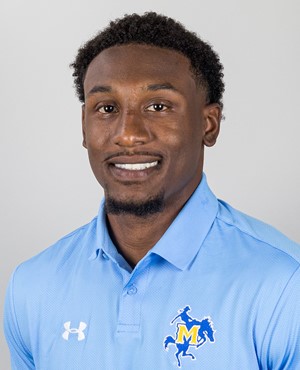 LSU made it a priority under new coach Brian Kelly to stockpile as many defensive backs as possible from the NCAA's transfer portal to help replenish a position of need.
The Tigers were able to strike it rich in January with two transfer players from the New Orleans area, signing of Joe Foucha and Greg Brooks Jr. of Arkansas. They went a step further this month with the addition of New Orleans-area cornerback Colby Richardson, who announced his decision to transfer from McNeese to LSU on his Twitter page.
"Death Valley, here I come," Richardson tweeted.
The 6-foot-1, 185-pound Richardson is a graduate transfer with one year of eligibility remaining.
He entered the transfer portal Jan. 31 and originally committed to Colorado State before deciding to heed a phone call from his former head coach at McNeese, Frank Wilson, now the running backs coach at LSU.
"Coach Frank called me and told me 'Are you interested in flipping your commitment?'" Richardson said during an appearance on ESPN Baton Rouge's After Further Review with Matt Moscona. "I was just excited to even get the call and when I got the call, I already knew what it was."
Richardson also received interest from Wake Forest, Nebraska and Florida State before Wilson contacted his former defensive back. LSU has now picked up six new players in the secondary including such notable names as Jarrick Bernard-Converse (Oklahoma State), Sevyn Banks (Ohio State) and Mekhi Garner (UL).
Richardson was a former two-time, all-district player at McMain High where, as a senior he played quarterback, wide receiver and cornerback. He rushed for 670 yards and five touchdowns and caught 20 passes for 385 yards and 4 TDs in his final season.
Richardson signed with McNeese in 2017 and redshirted his first season. He wound starting in 24 of 27 career games, including a career-best 22 tackles, three pass break-ups, two interceptions and two forced fumbles last season. Among those games last year was one in which he produced three tackles during a 34-7 loss at LSU.
Richardson was named honorable mention All-Southland Conference.
"From all that I've always known about LSU, they've always been known for having a lot of great talent from Louisiana guys," Richardson told Tiger Details.
"So just the opportunity to stay home and put on for your city and state is something that we all dreamed about growing up and in high school. I feel like that's just implanted into players, just growing up die-hard LSU fans, and once you get that opportunity, that's what you want to do. And I feel like that's what we've all been talking about and that's what the whole movement is going to come back to be. And because of Coach Frank, too, being a huge part of recruiting, he's going to make sure a lot of guys stay and play for LSU."