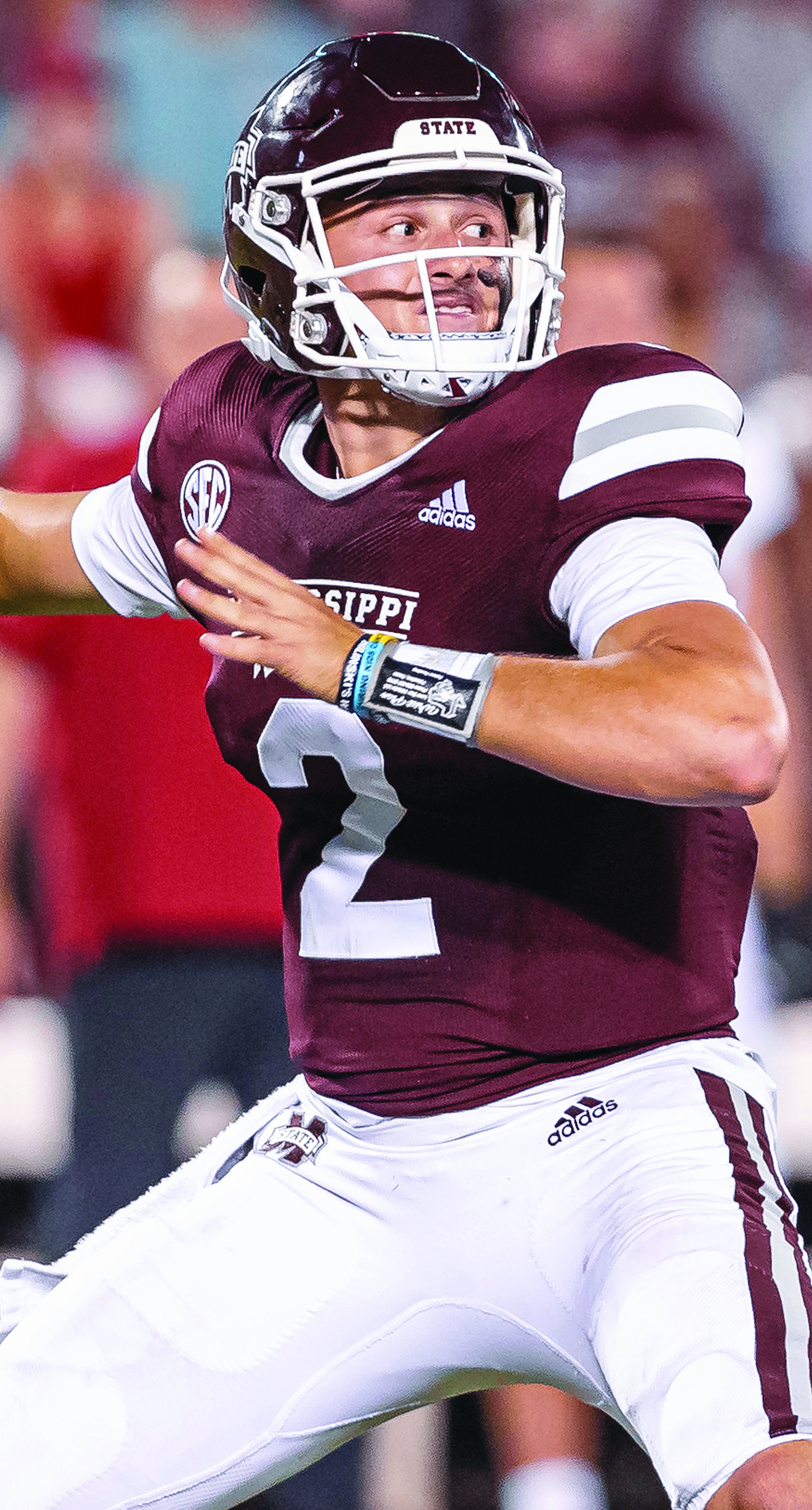 MISSISSIPPI STATE BULLDOGS (2-0)

FACES LSU: Sept. 17 (5 p.m.), Tiger Stadium (Baton Rouge)

HEAD COACH: MIKE LEACH (13-13 at Mississippi State, 152-103 overall)

NUMBER OF HEAD COACHES, 20 SEASONS: Five

2021 RECORD: 7-6 (4-4)
OVERALL RECORD, 10 SEASONS: 74-54
CONFERENCE: SEC
LAST CONFERENCE CHAMPIONSHIP: 1941
SEC TITLE GAME RECORD: 0-1
TOTAL NATIONAL CHAMPIONSHIPS: 0

THIS SEASON: Mississippi State has opened 2022 with consecutive wins over Memphis (49-23) and Arizona (39-17). Quarterback Will Rogers, who threw for 313 yards and 4 TDs against Arizona, is the SEC leader in passing with 763 yards, 9 TDs and a 78% completion percentage. The Bulldogs feature one of the league's more experienced teams with the return of 16 starters.
NAME GAME: "Air Raid" offense master Leach – who previously coached Texas Tech and Washington State – played rugby, not football, as an undergrad at BYU; he earned a law degree from Pepperdine in 1986 … LAQUINSTON SHARP switched from guard to center last season and started all 13 games there, allowing only two sacks in 786 passing snaps … Quarterback WILL ROGERS has started 21 straight games since his true freshman season in 2020 … Mississippi State's defense gets a boost with the return of defensive end JORDAN DAVIS, who missed all last season with a reported ACL tear, but questions persist in the Bulldog secondary, especially with cornerback MARTIN EMERSON, a third-round Cleveland Browns draft choice, off to the NFL
TIDBITS: Mississippi State snapped a two-year stretch of losing seasons – 4-7 in Leach's first year, 6-7 in the second of JOE MOORHEAD'S two years in Starkville – by going 7-6 in 2021 … The Bulldogs were picked to finish sixth in the SEC'S Western Conference, according to a preseason media poll … Mississippi State's last undefeated season was 1940, when it 10-0-1 but lost the SEC championship to Tennessee, which was 5-0 in conference play; one season later, the Bulldogs won their only SEC title.
FUN FACT:
Mississippi State has played in 12 straight bowl games, going 7-5 in that span including a 34-7 loss to Leach's former team – Texas Tech – at the Liberty Bowl in Memphis last season.
INFLUENCER:
WILL ROGERS
QUARTERBACK, 6-6, 215, SENIOR
Rogers led the nation in passing percentage (.739), led the SEC in passing yards per game (364.5) and was third in the FBS in total passing yards (4,739) as a sophomore in 2021. His 4,739 yards were third-most in SEC single-season history, and his 36 touchdown throws tied for seventh-most nationally.