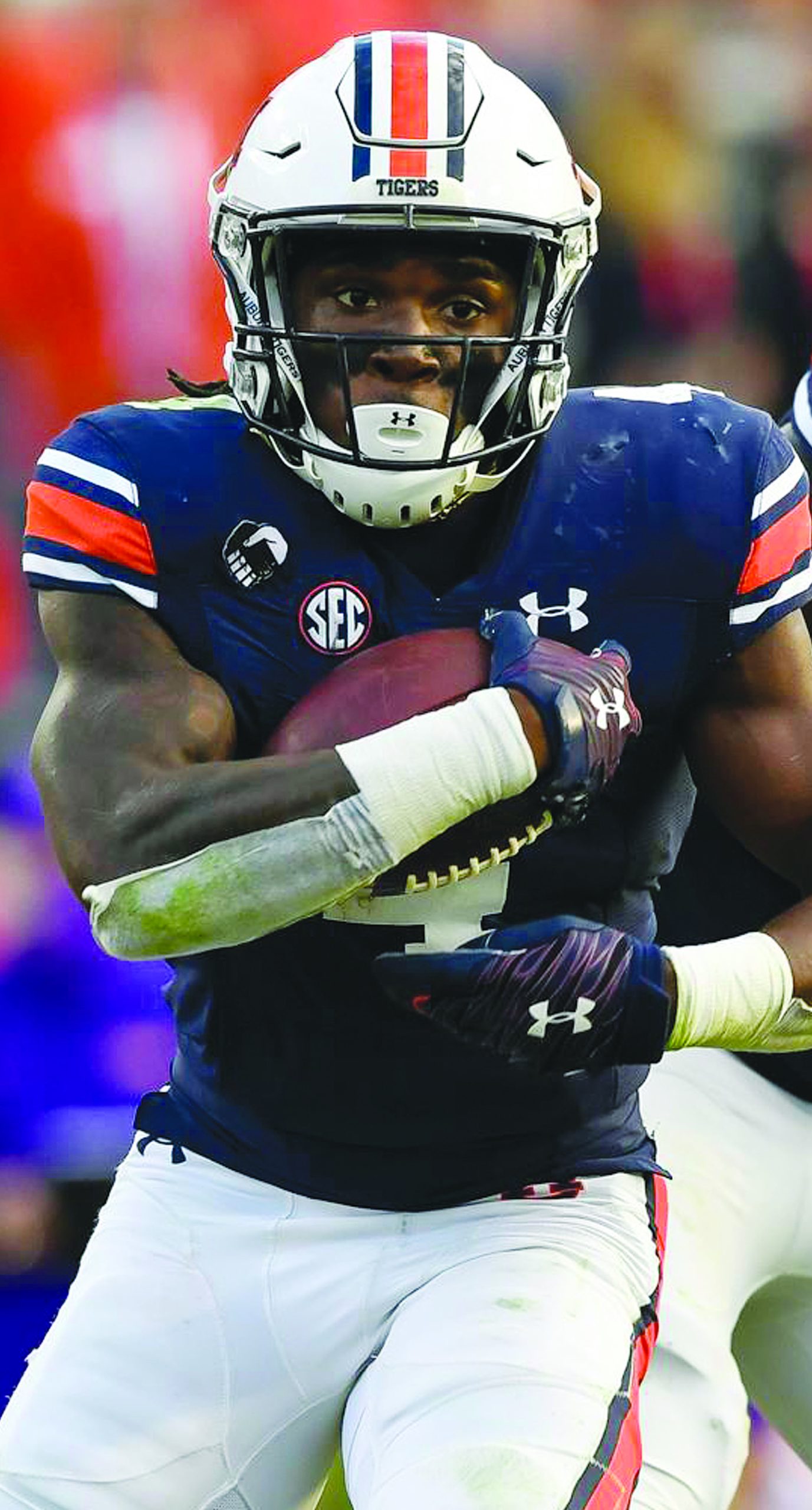 AUBURN TIGERS (3-1, overall, 1-0 SEC
FACES LSU: Oct. 1, Jordan-Hare Stadium (Auburn, Alabama)
HEAD COACH: BRYAN HARSIN (9-8 at Auburn, 85-32 overall)

NUMBER OF HEAD COACHES, 20 SEASONS: Four

2021 RECORD: 6-7 (3-5)
OVERALL RECORD, 10 SEASONS: 85-57
CONFERENCE: SEC

LAST CONFERENCE CHAMPIONSHIP: 2013

SEC TITLE GAME RECORD: 3-3

TOTAL NATIONAL CHAMPIONSHIPS, LAST: 2, 2010

THIS SEASON: A week after getting hammered 41-12 at home by Penn State, Auburn came within an eye-lash of a second straight loss. The Tigers withstood a missed field goal by Missouri in regulation and a fumble into the end zone that resulted in a touchback for a 17-14 win overtime … Because of an injury to T.J. FINLEY, Auburn turned to Oregon transfer ROBBY ASHFORD at quarterback, who accounted for 119 yards of offense and touchdown against Missouri. Running back TANK BIGSBY ranks sixth in the SEC with 57 carries for 281 yards and four TDs and LSU wide receiver transfer Koy Moore has six catches for 100 yards with no touchdowns. Junior linebacker CAM RILEY is the team's leading tackler with 31 stops and senior lineman DERICK HALL has 21 tackles and is the reigning SEC Defensive Lineman of the Week.
NAME GAME: Harsin, who coached Arkansas State in 2013 and at his alma mater Boise State from 2014-20, survived an offseason probe into his program and personal life that had his job status in jeopardy … FINLEY, ASHFORD and ZACH CALZADA, and HOLDEN GERINER began battling in the spring to succeed three-year starting quarterback BO NIX but injuries to Finley and Calzada have cleared a path for Ashford to the starter's role … JOHN SAMUEL SHENKER, a sixth-year senior, set school season records for tight ends with 33 catches for 413 yards last year … Hall nearly declared for the 2022 NFL Draft, then reversed course and stayed; he had nine sacks last season, including three in the Iron Bowl

TIDBITS: Auburn dropped its final five games to end last season, including a 24-22 loss at home to Alabama in the Iron Bowl and a 17-13 loss to Houston at the Birmingham Bowl … The Tigers had an inordinately high number of assistant coaching changes in Harsin's first season, followed by an exodus of players into the transfer portal … The Tigers were picked to finish last in the SEC's seven-team Western Division, according to the league's preseason media poll.
FUN FACT
Auburn has played in each of the last nine postseasons, including its 2013 season BCS national championship game loss to Florida State. The Tigers are 2-6 in bowls since that title game, beating only Purdue in the 2018 Music City Bowl and Memphis in the 2015 Birmingham Bowl.
INFLUENCER
Tank Bigsby, Running back, 6-0, 213, Junior
Bigsby rushed for 1,099 yards and 10 touchdowns last season. The 2020 SEC Fresh- man of the Year has run for 1,933 career yards and 15 TDs. He's already 20th on Auburn's career rushing yardage leaders list, and teams with Jarquez Hunter (593 rushing yards as a freshman) to give the Tigers two legit running threats