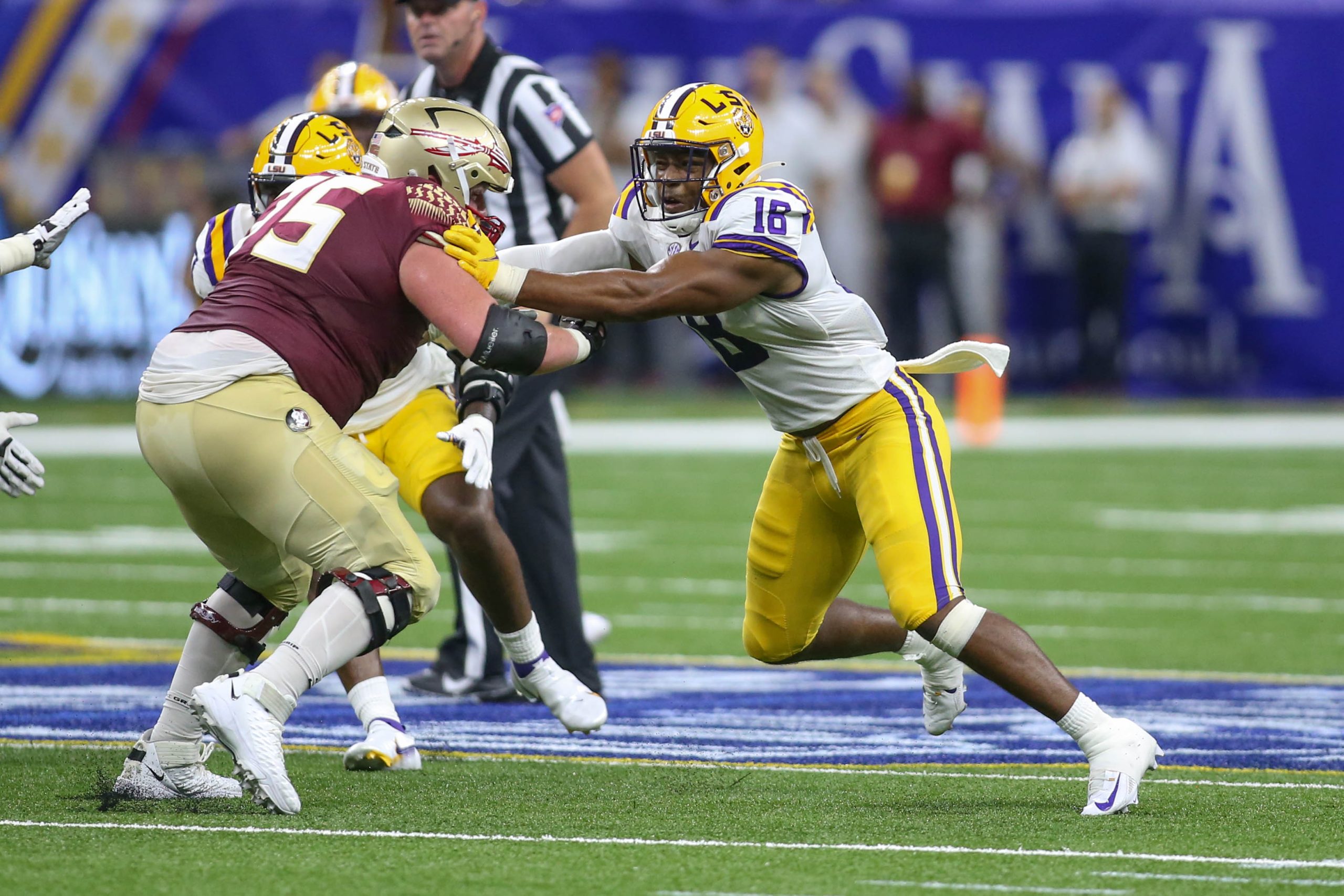 LSU football coach Brian Kelly said his offense will be without two starters when the Tigers (3-1, 1-0 in SEC) venture to Auburn (3-1, 1-0) for Saturday's Southeastern Conference Western Division matchup at Jordan-Hare Stadium.
Kickoff is scheduled for 6 p.m. The game will be televised by ESPN and carried locally by 98.1-FM.
Kelly confirmed that sophomore running back Armoni Goodwin, a native of Alabama, would not play against Auburn because of a hamstring injury suffered in last week's 38-0 win over New Mexico.
"I'd say he's out for this week," Kelly said after Thursday's practice. "It's a substantial injury in the sense that it's going to require more time. Our training staff is amazing. They're trying everything but he's definitely out for this week."

Goodwin is LSU's second-leading rusher behind quarterback Jayden Daniels with 34 carries for 199 yards and a team-best five touchdowns and 30 points scored.
The Tigers have relied on a running back-by-committee approach through four weeks and will continue to rotate John Emery Jr. (20-77), Josh Williams (11-45, 2 TDs) and Noah Cain (28-168, 4 TDs).
Kelly also confirmed that starting left guard Garrett Dellinger, who had surgery to repair a broken hard Tuesday, is also out of the game. He didn't disclose Dellinger's replacement which could either be Anthony Bradford or Tre'Mond Shorts.
LSU's first-year coach said senior nickel back Jay Ward has practiced all week and is expected to start and junior defensive end BJ Ojulari, who missed the New Mexico game with a knee injury, should be in the lineup against Auburn.
Here's what else Kelly had to say:
Opening statement:
"A good week of preparation for a SEC West opponent in Auburn. First week on first game on the road. Our guys are certainly excited about the opportunity. One more day of preparation tomorrow, and then we're on the road and looks like the weather is going to be a little bit better, too. Obviously, a lot of people went through some very difficult times in Florida and our players have checked with all of their families and they are safe. Our thoughts and prayers go out to everybody in the state of Florida, and all those that are going to be probably feeling the effects of (Hurricane) Ian up the (East) coast as well. Our thoughts and prayers are with them."

On your offensive line's preparation for Auburn's talented defensive line?
"We know we've got a challenge in front of us. They're talented, they're athletic. You know this is a SEC defensive line and then when you watch film, you know. You respect what they can do. They can rush the passer, they're physical against the run. We'll certainly have our hands full. We're playing with two freshmen (Will Campbell and Emery Jones Jr.) tackles. They will certainly be challenged in this game. They've got a few games under their belt, they've got some experience. But they haven't been experienced like this. It'll be a great challenge for freshmen starting on both sides of the ball and playing well."
On the development of your true freshmen starters?
"They were really good players coming in. Certainly, they had the athletic ability, but you need more than just athletic ability to play as a true freshman. You've got to have traits that are past your ability, and all of those guys are extremely coachable. They trust what they're being taught, and then they translate that to the field. I think probably in my career, that's probably the way you get on the field quicker as a freshman is that you can do it mentally. And if you've got the physical traits and you match them with ability to do it mentally, these kids have done that to get on the field."
Reason for sticking with '11' personnel on offense?
"First of all, I'm traditionally going to play the best 11 players and I want to do it with a tight end on the field. If I felt like another tight end gave us the best 11 in that situation, I would play two tight ends. But it's hard to take one of those wide receivers off the field because we're so talented in that area. We're challenged in the running game. If you take one of those tight ends off the field, you can't run the ball as effectively in my system of offense. The tight end allows us that balance in terms of what we're looking for. And to add another tight end would really not be the best personnel groupings that we have based upon the talent the wide receiver position."

Aside from Jayden Daniels playing in tough road environments, how to you best prepare your team?
"You have to duplicate that in practice, and maybe overemphasize. Make it a little bit more difficult, which I think we made it pretty difficult this week with crowd noise. I think you start there, and then I think you have a way to keep things simple and move quickly to limit some of the things that can be part of bringing the crowd into the game. The more you're over-checking and changing things, it brings the crowd into the game. I think there's some things that you can do technically, but I think ya'll know the best way to keep the crowd quiet is to play really well on offense. That's what we hope to do."

How do you prepare to play in a series where strange things have occurred?
"Part of this is building your football team to handle some adversity. This is early in the process for us. We'll be able to handle some adversity along the way and you expect adversity, so we've talked about there's going to be adversity and handling it. And understanding that's going to take place and you just emotionally need to deal with it. Chaos, we haven't gotten to chaos yet, but we'll get there but we're not on that chapter yet."
On combating the crowd with a fast start?
"No doubt. I think consistency on the offensive side of the ball is going to be really important for us and certainly getting off to a good start is. That's every head coach's game plan. I think what's more important is not only getting off to a good start, but playing mistake free, eliminating self-inflicted wounds. We've done a really good job of taking care of the football. If we can continue to do that, and eliminate some of the pre-snap penalties, we're going to be OK. We're getting better at the areas that we need to in terms of efficiency on offense. We're going to have to run the football. We're going to have to have some balance. I think we're kind of rounding into who we are. I think it's important that we continue to be who we are, and that is we haven't turned the football over. We've got to eliminate the pre-snap penalties and then defensively, we've got to be able to stop the run. That's kind of the bigger picture for me."

Aside from being from Louisiana, importance of having Greg Brooks Jr. and Joe Foucha in signing class?
"The defensive backfield was thin, and we needed to address it. It couldn't necessarily just be through a freshman class. We didn't have a whole lot of time to recruit. It was January, late January before we got our (coaching) staff together. I felt like we would really not have an SEC quality secondary if we just relied on freshmen, so that prompted that decision to really lean heavily on a secondary that would be made up of players from the transfer portal."