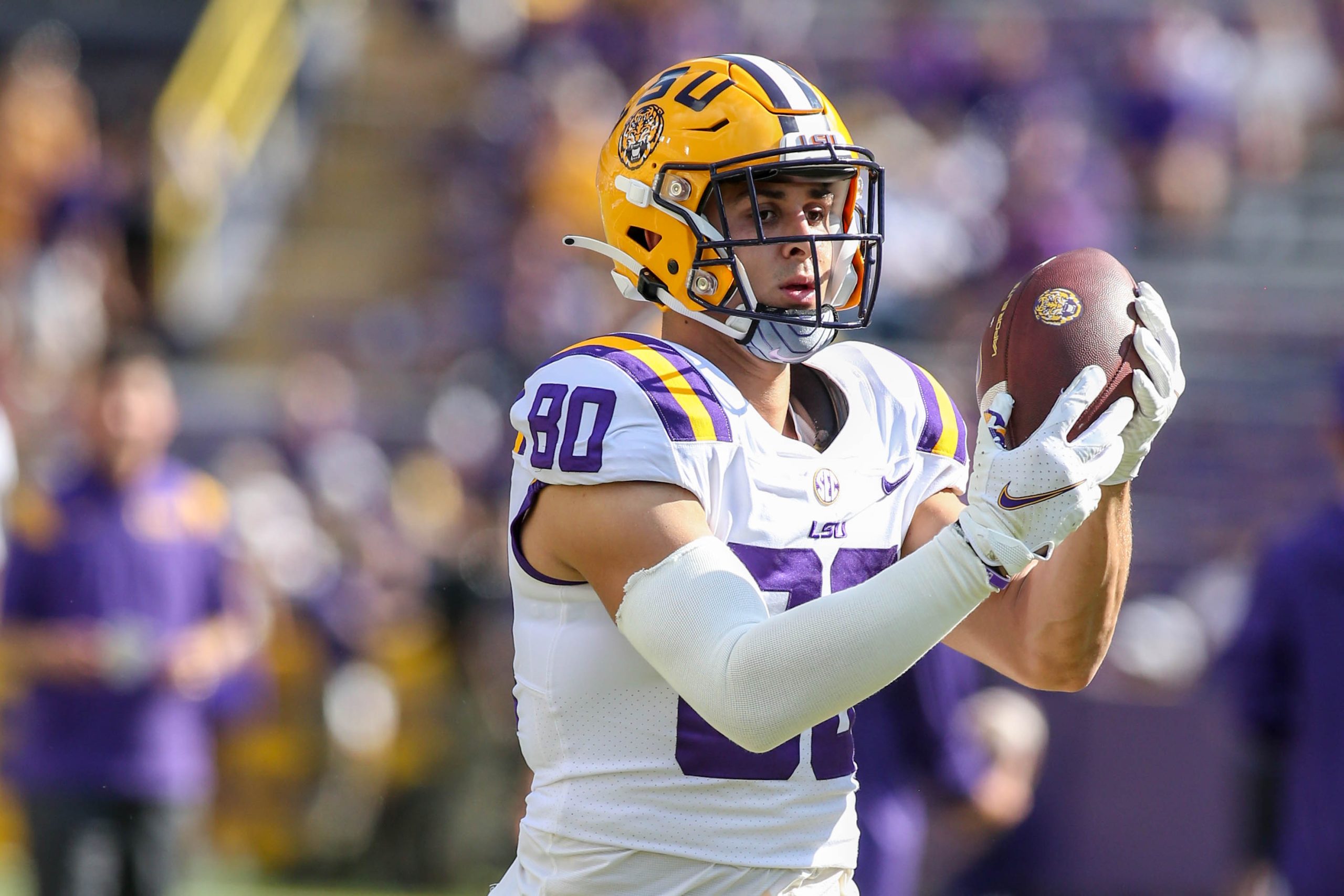 One target, zero catches.
That was the stat line for LSU sophomore wide receiver Jack Bech in last Saturday's 31-16 victory over Mississippi State in the Southeastern Conference opener.
It's something LSU first-year Brian Kelly doesn't want to repeat, starting with Saturday's home non-conference game with New Mexico at 6:30 p.m.
The game will be broadcast by 98.1-FM and carried by ESPN+ and SEC Network+
"And I think quite frankly, as coaches and it starts with me, we've got to get him more involved," Kelly said Wednesday on the SEC Coaches' Teleconference. "And you're going see that's going to begin to take place this weekend. I just think as a coaching staff, we've got some really good players at that position. And we have to do a better job of getting really good players on the field.
"There's got to be a very intentional rotation," Kelly said. "There's got to be competition in practice where guys are competing for playing time. And we've got to reward those guys accordingly. Jack's doing everything he's been asked. There shouldn't be any narrative out there that he hasn't, or he's injured. We have to do a better job as a coaching staff."
Bech, who was slowed in preseason practice by what Kelly said was a stress fracture, has two catches for 22 yards with a touchdown in the Sept. 10 win over Southern.
The standout from St. Thomas More High in Lafayette, who started in seven of 13 games in 2021, emerged for LSU once top target Kayshon Boutte was lost for the season with an ankle injury after the Kentucky game. He wound up with a team-high 43 catches for 489 yards and three touchdowns.
Here's what else Kelly had to say:
Opening statement:
"Obviously excited about the progress we made over the last couple of weeks playing. (It was) A very difficult offense and a very stingy defense with Mississippi State and getting our first SEC win. It's going to be very familiar defense. (New Mexico defensive coordinator) Rocky Long, (New Mexico head coach) Danny Gonzalez, both are from this similar defensive structure, both of them are great defensive coaches. We've got a great challenge with New Mexico and what they do. They keep the points down. They do a really good job. Another challenge for our guys in terms of consistency, that's really been the message this week in terms of preparation. Their mindset, how we want to execute on Saturday. That's really about more than anything else and how we can become a really good program. It's going to be based upon putting together consecutive performances and we'll look to do that this weekend."

On play of Jay Ward?
"He probably didn't play up to his level against Florida State. And I think part of it, is we might not have had him in the right place. We moved him down to the nickel position, which got him closer to the football, and he's really flourished in that position. It's one that allows him to be in the action. It allows him to play close to the football, to the play. He can be a lot more aggressive in man coverage. He's an aggressive player, a really good tackler and I think it really suits his skills. And since we've made that move in week two, he's really played well for us and was the SEC Defensive Player of the Week this past week. He was he was all over the field. I think it was really about putting him in the right position. He played a lot of deep safety, post safety in the first week and although he's certainly capable of doing that, we feel like the best position for him was moving him down to the nickel position."

Will cornerback Sevyn Banks playing this week?
"That is the expectation, we feel like he's right there. And we believe that this is the weekend that he'll finally get some playing time."

On play of Major Burns? On playing a night game at Tiger Stadium?
"Major continues to get better. I would say he's one of those guys on defense that creates a lot of disruption. He plays with great energy, great passion. Is great as a leader, an extremely effective communicator of our defense as well. A guy that is really making great strides for us."
(On Tiger Stadium at night)
"There is absolutely no doubt that playing at home in Tiger Stadium is a decided advantage. The crowd is into it. It is difficult to get your plays off. You feel rushed. I think from an offensive perspective, it definitely is an advantage, and you can feel it while you're in the stadium. We're excited to be back home against New Mexico this weekend. That's for sure."

On improvement of defense which played arguably its best game of season?
"First of all, we've got two transfers playing corner. We've got a transfer playing safety. We lost arguably our best player in Maason Smith, so that's 50% of a new defense going in. It's been a bit of a transition, but you know, BJ (Ojulari) and Ali Gaye are our bookends, that's been really good for us. And then the emergence of veteran guys like Mike Jones, Greg Penn, they've been able to really help us. Mekhi Wingo, another transfer, has been really good. I think you really have to credit the veteran leaders. They have done a really good job of leading, and then the mixture of those transfers really stepping up big. It's been that combination of coming together, and really gaining some trust and continuity together going through the first couple of weeks, so in Week Three, they were able to play really good football."
How much has NCAA's four-game redshirt rule helped in past?
"It does help. I think the first year, we looked at it a lot more carefully in terms of really eyeballing how many games they've played. I think we're less concerned about it now. Because so many of these guys are playing in four years. They're getting their degree, they're moving on. They're going to the NFL in three years. Most of it is if we can play you, we're going to try to play. I think from that perspective, it's good to have the four-game rule in case there is a guy that's on the fence. But by and large, I think most I think most teams that are recruiting in this league, if a freshman is good enough, he's playing."
First time you gave a scholarship to a kicker?
"I go back to my days, probably in the 90s where I took a kicker when I was at Grand Valley State. He was an international student and invested a scholarship where you have 36 scholarships. I invested a tuition scholarship, and he became the all-time leading scorer. I think that really shaped my philosophy, relative to the special teams position, that I was always going to invest in the position. And now it's not just the kicker, it's specialists. The long snapper, he becomes a very important piece of this as well because the consistency. The last thing you want to do is worry about is a bad snap on a punt, field goal or extra point. I think that's evolved to the point where now that's a given scholarship now on your roster of your 85."