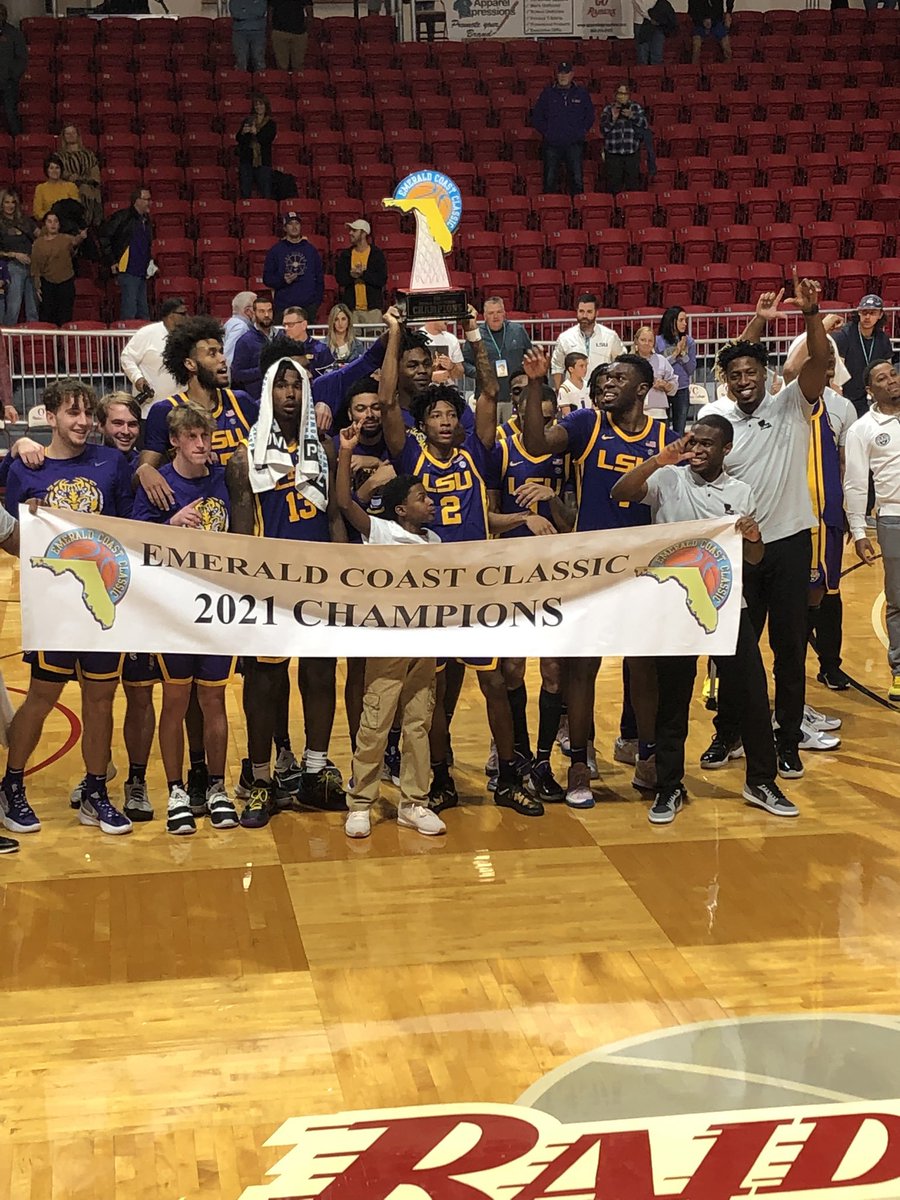 The last time LSU's men's basketball team won an in-season tournament – the 2004 Louisiana Classic – current Tigers' head coach Will Wade was a 22-year oid student manager for the Clemson University basketball team.
A 15-0 LSU run flipped an 11-6 deficit into a 21-11 lead and the unbeaten Tigers led the rest of the way in a 75-61 victory over Wake Forest in the championship game of the Emerald Classic on Saturday in Niceville, Fla.
LSU is 7-0 for the first time since the 2008-09 SEC championship season. Wake Forest fell to 6-1.
"We haven't won one of these in over 15 years, so that was huge for us," Wade said. "Thank our fans who came, we had a home-court advantage on both days. When we come out and they're chanting 'L-S-U,' that gives us a big boost."
LSU sophomore transfer forward Tari Eason was named the tournament's MVP for averaging 14.5 points and 7 rebounds. He made the all-tournament team along with senior Darius Days, who averaged 10 points and 6 rebounds.
Four Tigers scored in double figures vs. Wake Forest, led by freshman center Efton Reid's 14 points on 7-of-9 shooting. Days had 12 points and 6 rebounds, sophomore reserve guard Eric Gaines contributed 11 points and 5 rebounds and freshman forward Alex Fudge had his finest game of the young season with 11 points and a team-high 9 rebounds.
Also, senior transfer point guard Xavier Pinson had 9 points, 5 assists and 7 steals.
"It was all about playing harder than the other team and being feistier and tougher," Wade said. "I thought we were that today. Days got us off to a good start. Tari was consistent all (during the) tournament. Alex Fudge was a difference-maker for us . He got us going in the first half, especially on the offensive end. He was uber-efficient, he was a huge piece for us today as was Pinson."
Wake Forest was led by Daivien Williamson, who had a game-high 20 points, including 14 straight over a five-minute span in the second half. Williamson connected on a career-high 12 free throws while adding four made baskets.
But it wasn't enough to handle LSU's total team effort.
"In the first half, we battled and we stayed in the game," Wake Forest coach Steve Forbes said. "We were turning the ball over and having a hard time making shots, but we were still in it. We played really hard." "Our guys competed but we just couldn't overcome the turnovers. Playing in games like this is good and it's not the end of the world. We have to learn from it."
LSU swings back into action Wednesday with a 7 p.m. home game in the PMAC vs. Ohio. The Tigers then are off for final exams until they play Georgia Tech on Dec. 11 at 5 p.m. in the Holiday Hoopsgiving in Atlanta's State Farm Arena.