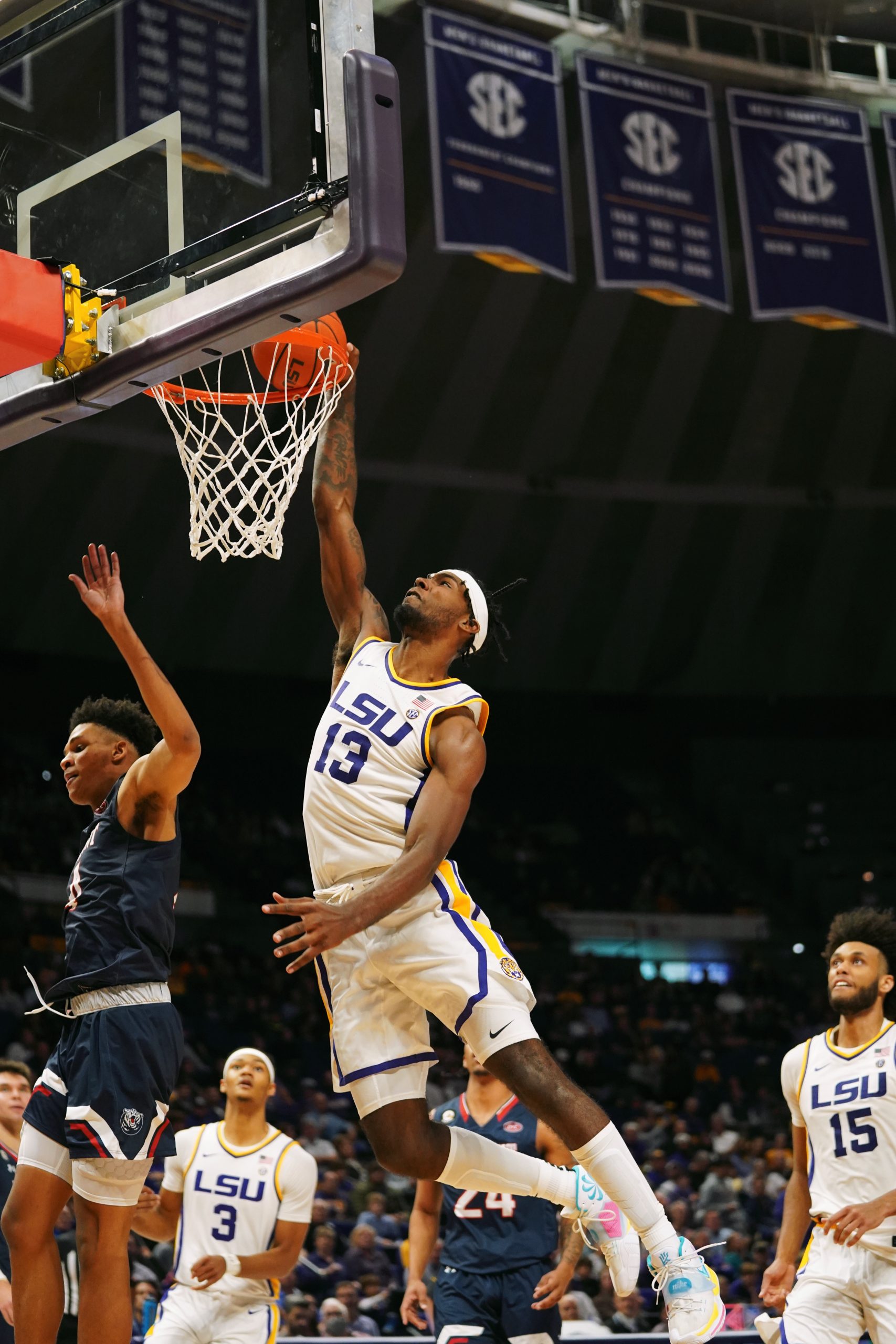 LSU fifth-year men's basketball coach Will Wade likes his 2021-22 team.
He really, really, really likes his 7-0 unbeaten squad, which has seriously been tested just once so far in its non-conference schedule.
Last week, he challenged his team to win the school's first early season holiday tournament in 17 seasons. The Tigers followed orders, winning the Emerald Classic after first disposing of Penn State 58-53 in overtime followed by a 75-61 domination of Wake Forest.
LSU still didn't crack the top 25 in the AP or Coaches polls, checking in at No. 28 both.
"That's how it is at LSU," said Wade, whose Tigers take on Ohio University (6-1) in the Pete Maravich Assembly Center at 7 p.m. Wednesday night. "You've gotta prove it, prove it, prove it, prove it, prove it and prove it again. I tell our guys all the time that nothing is given to you, you've got to go take it. If that's not enough, you've got to do it again. That's just the way it works around here but we like it."
Wednesday's game features $1 general admission tickets in the 300 level. Those tickets are now on sale at LSUTix.net and at the PMAC upper concourse ticket windows beginning at 6 p.m. an hour before Wednesday's tipoff time.
Despite LSU's early success, fueled by defense, balanced scoring in its eight-man rotation and dominating rebounding, Wade has set up his non-conference schedule to get progressively tougher leading to the Tigers' Dec. 29 SEC opener at Auburn.
And he's continuing to nitpick the Tigers' deficiencies, such as too many turnovers in transition.
"We should be turning the ball over once in every 15 possessions in transition and we're turning it over one in every four possessions in transition," Wade said. "We have a numbers advantage (on fast breaks) and we're turning the ball over which can't happen. We left dozens of points on the table this (past) weekend."
Tigers' sophomore forward Tari Eason, who was named MVP of the Emerald Classic, said he and his teammates need to get under control before making a play.
"Sometimes we, including myself, are just a little too eager, a little quick to make a play," said Eason, the transfer from the University of Cincinnati who's averaging 13.9 points and a team-leading 8.3 points in 22.3 minutes off the bench. "We need to settle down."
Though the Tigers are outrebounding opponents 40.1 to 33.1, LSU was outrebounded 34-33 in the win over Wake Forest when the Demon Deacons grabbed 16 offensive rebounds.
"A lot of teams are shooting 3's against us and there are a lot of long loose rebounds that our guards aren't chasing down," Wade said. "I showed (his team) a nice little edit of all of those from this past weekend."
Eason appreciates Wade's relentless pursuit of perfection and attention to detail.
"He's never satisfied, he's just always trying to put us in the right spots," Eason said of Wade. "In practice, he's always working with us, always working on new plays. Even though we're winning doesn't mean we can't stop being better."
Which is Wade's constant point of emphasis and why he isn't living off LSU starting 7-0 for the fourth time in the last 23 seasons.
"I worked for Tommy Amaker (at Harvard)," Wade said, "and when we were winning he'd say `Peacock today, feather duster tomorrow.'
"Our margins of error are very, very thin. We've got to play well every night, we can't take a night off if we want to beat anybody who has a pulse.
"That doesn't mean we're not good. We are good and we've done a lot of great things. But they don't give you anything for what you're doing at the end of the first month of the season. It's a long season and we're still light years from where I think we could be."
Ohio enters Wednesday's game averaging 77.3 points and 31.7 rebounds, while shooting 43. 7 percent from the field, 35.2 percent in 3-pointers and 77.4 percent from the free throw line.
The Bobcats are led by sophomore guard Mark Sears (16.3 points per game), graduate transfer forward Jason Carter (14.8 ppg, 7.5 rpg) and redshirt senior forward Ben Vanderplas (15 ppg, 7 rpg).
After Wednesday's game, the Tigers are off for final exams before resuming play on Dec. 11 vs. Georgia Tech at the Holiday Hoopsgiving in Atlanta.