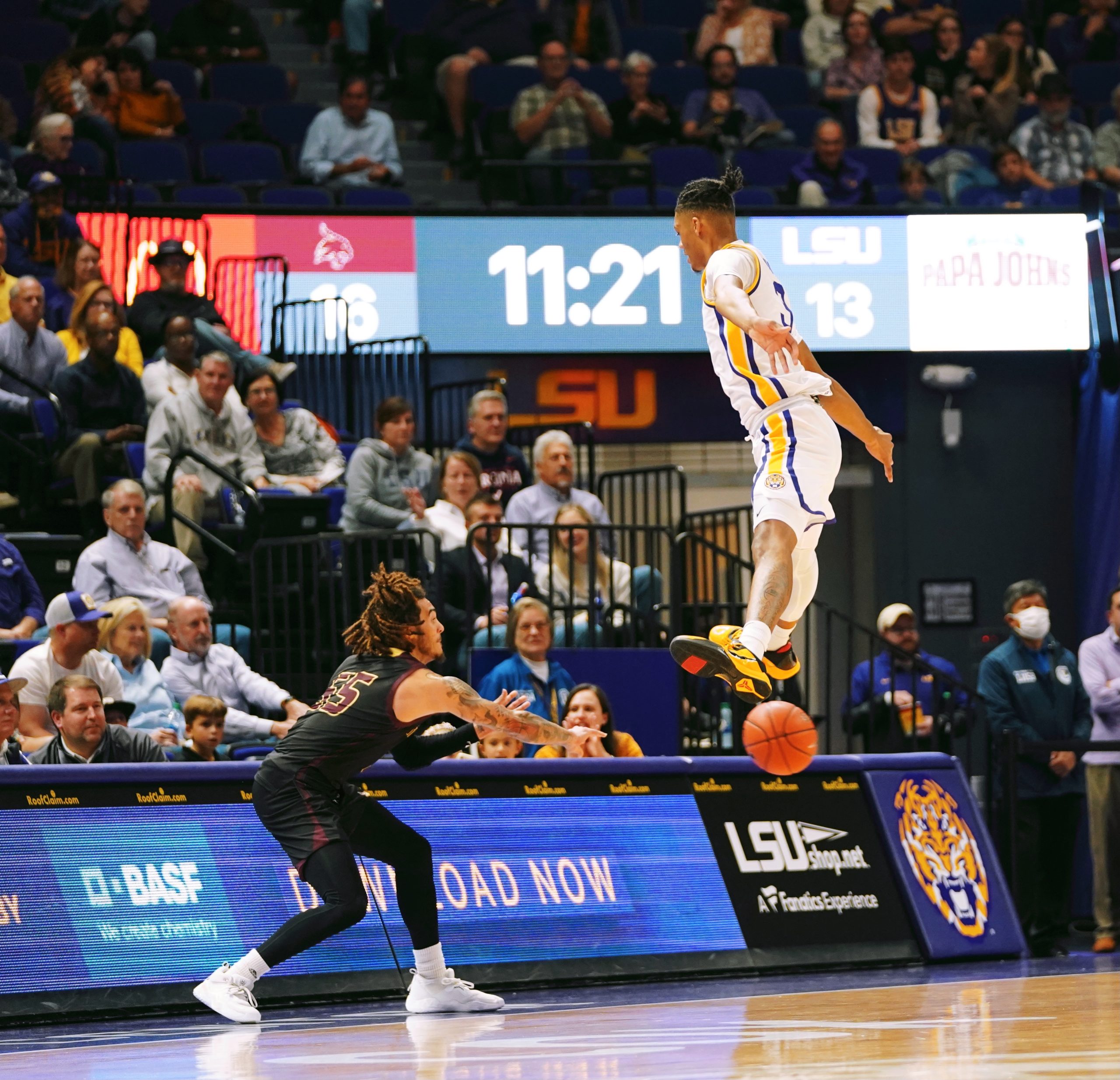 Yes, LSU's Will Wade has a bench full of talent for the first time in his five seasons as the Tigers' head coach.
And against pesky, veteran-laden Texas State, the defending Sun Belt Conference champion, he needed all of it to flip the game back LSU's way after trailing for more than 11 minutes.
Reserves Tari Eason, Alex Fudge and Eric Gaines combined for 39 of the 43 Tigers' bench points as LSU exploded for a 52-point second half in an 84-59 victory over the Bobcats Friday night before a loud Pete Maravich Assembly Center crowd of 11,030.
"We've got eight very good players," said Wade, whose team is 2-0 with an average victory margin of 43.5 points. "They can shoot, they can score."
It could have been a recipe for disaster that two LSU starters, point guard Xavier Pinson and center Efton Reid, stayed in foul trouble most of the game. They combined for just 8 points and 7 rebounds before fouling out in the final three minutes of the game.
LSU was trailing 39-34 just 65 seconds into the second half when Eason, Gaines and starting freshman guard Brandon Murray combined for 22 points in a Tigers' 24-8 run that gave the home team a double digit lead it never relinquished.
Eason, a 6-8 sophomore transfer forward from Cincinnati, recorded his second straight double-double, scoring 13 of his game-total 17 points in the second half.
"This team is very talented, 1 through 8," said Eason, who grabbed a game-high 10 rebounds. "We're a deep team. Even when we go to our bench, we can still do a lot of great things."
Murray, a 6-5 freshman guard who was one of the few Tigers who never got untracked in LSU's 101-39 season-opening demolition of UL Monroe Tuesday, scored all 14 points vs. Texas State in the second half. Sophomore point guard Eric Gaines contributed 8 points, 5 assists and 3 rebounds and steadied the Tigers' ship with Pinson in foul trouble.
Senior forward Darius Days followed his 30-point performance in Tuesday's opener with 17 points (including 3 of 6 3's) and 7 rebounds.
But as far as Wade was concerned, his team wouldn't have been in position for a comeback if 6-8 freshman Fudge hadn't kept Texas State to just a 37-32 lead at the half.
"Give Alex Fudge a ton of credit, he saved us in the first half," said Wade of Fudge, who scored 12 of his game-total 14 points in the opening 20 minutes. "He did a tremendous job. He showed flashes of his production."
From the opening tip, the Tigers were dealing with a quintessential mid-major team, one with an all-senior lineup that rarely took a bad shot or appeared in a hurry.
TSU often forced LSU's defense to play deep into the shot clock. Three of TSU's six first half 3's came after one extra pass with an open shooter letting a shot fly just before the shot clock expired.
But the Bobcats' field goal percentage of 48.2 (12 of 25) dipped to 32 percent (8 of 25) in the second half after Wade's stern message to his team at halftime.
"We were lackadaisical in the first half," Days said. "We turned up the (defensive) intensity and that turned into our offense."
LSU's length and athleticism simply overwhelmed Texas State, especially in the game's final six minutes.
"It was a tale of two halves," TSU assistant coach Robert Guster said. "We did a good job of dictating pace, shared the ball, took good shots and understood how we wanted to play. Then in the second half, they turned it up a bit."
LSU is back in action Monday at 6 p.m. in the PMAC against Liberty, which won its season opener Thursday night 85-24 over Regent. It was the fewest points Liberty has ever allowed in a game.
Last season, Liberty finished 23-6 and won the ASUN regular season and tournament championships before losing 69-60 to Oklahoma State in the first round of the NCAA tournament.