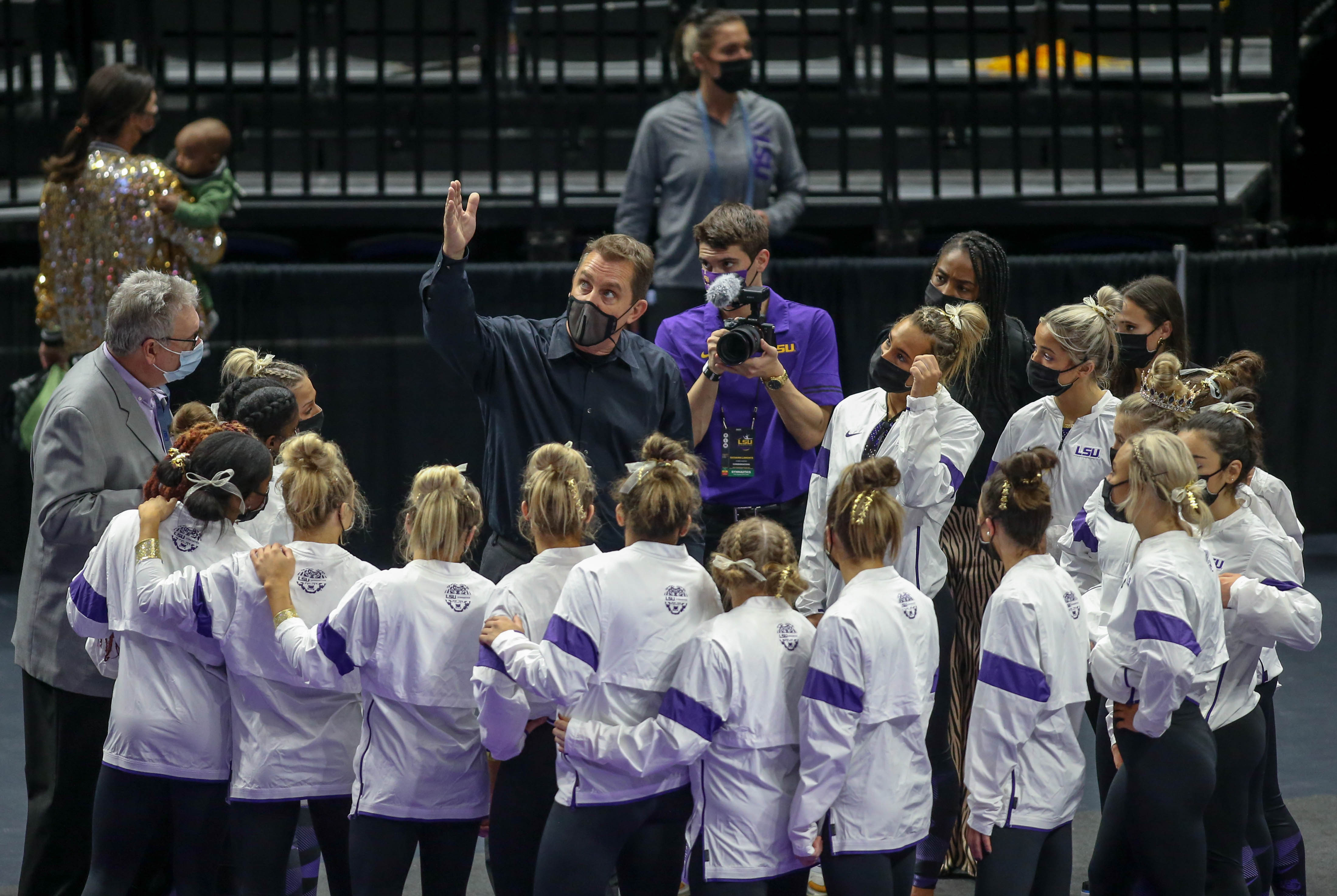 Jay Clark realized he needed to pull back as LSU gymnastics entered a long offseason.
Clark, formerly the lead assistant to legendary D-D Breaux, led the Tigers to the NCAA semifinals in his debut as head coach. Sami Durante was injured on the last bar routine, sending her teammates into a tailspin that led to a disappointing fourth-place finish.
The results stung. Enough for LSU's five seniors to return for one last chance to capture the program's first national championship.
"I didn't have to beg them," said Clark, who served as co-head coach with Breaux for one season before taking the reins in Aug. 2020.
"They were excited to come back and they did have a little bad taste in their mouth. They want to be able to show that wasn't who they are in those pressure moments."
LSU fans have noticed. After performing for limited crowds at the Pete Maravich Assembly Center last year due to COVID-19 restrictions, the gymnastics program set a new record with over 7,000 season tickets sold. 
With 20 gymnasts on the roster, Clark has taken advantage of LSU's depth while working through injuries and illnesses.
Olivia Dunne had the flu in December. Kiya Johnson, the 2021 SEC Specialist of the Year, continues to battle an Achilles injury that will keep her from performing in floor events.
Clark hopes Johnson can return to the floor by midseason.
"Those things can go if you don't manage it and it might go if we do manage it, so there's no magic pill that prevents injuries," Clark said. "Kiya is far too important to risk on something that would only gain us a 10th of a point right now."
Dunne, one of the most recognizable NIL athletes in the country, will earn over $1 million in sponsorship deals.
"Her social media presence is unique and it's been interesting to see how that's so marketable in todays age of NIL," Clark said. "All our young women have gotten NIL deals and I think LSU has done an amazing job educating our kids on how to go about it."
While the Tigers will be more specialized this season, Clark is counting on Durante and Christina Desiderio to handle multiple events.
Freshmen Tori Tatum and Aleah Finnegan are expected to contribute. Finnegan is the sister of LSU great Sarah Finnegan.
Clark said the only concern with the incoming class is the bulk of them arrived on campus after having surgeries in the spring.
"They were a little bit behind from where we'd like them to be, but I think the headliner that everyone hears about is Aleah Finnegan," Clark said. "She's full of personality and you'll see some similarities (to Sarah) in their gymnastics."
Clark also reshaped the coaching staff in the offseason, adding the husband-wife team of Garrett Griffeth and Courtney McCool Griffeth to join Ashleigh "Bugs" Gnat and Katie Copeland.
McCool-Griffeth was a gymnast for Clark at Georgia, while Garrett Griffeth was an assistant coach.
LSU hosts SEC opponents Arkansas, Auburn, Alabama and Kentucky this season.
"The goal is to have every single meet sold out and to average 12,000 plus in attendance," Clark said. "I hope our season ticket holders will help us achieve that. Not only show up but encourage others to come and check us out as well.
"This is a great milestone, but we also want to continue to grow in every way as a program"