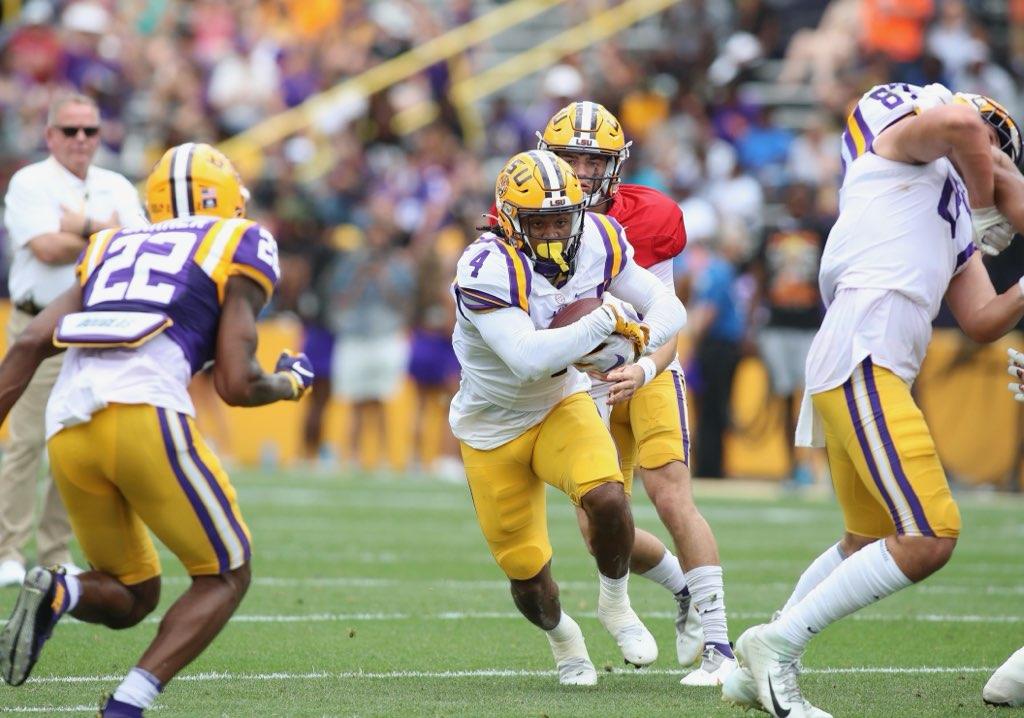 It's been 21 months since LSU running back John Emery Jr. last carried a football in a game.
That drought ends Saturday when LSU (1-1) opens Southeastern Conference play against Mississippi State (2-0) at 5 p.m. Saturday in Tiger Stadium.
"He's a big back, he's explosive," LSU football coach Brian Kelly said of Emery on Wednesday's SEC Coaches' Teleconference. "He's bigger than the backs that we have now. He's got a little bit more speed, but he hasn't played the year. For all of us, it's kind of like let's see what he's got. We've seen what he can do in a practice situation, but you know, that's a big difference when it comes to game."
Emery, a former five-star recruit out of Destrehan, missed the entire 2021 season because of academics, a development that spilled over into the first two games of this season.
Aside from starting quarterback Jayden Daniels being the team's leading rusher with 159 yards and a touchdowns, LSU's leading running backs have been Armoni Goodwin (17-108, 2 TDs) and Noah Cain (17-76, 2 TDs).
Emery, who has started in three of 19 games, has rushed for 566 yards and scored seven downs during his career. He last appeared in a game for the Tigers Dec. 12, 2021 and carried four times for seven yards and caught a pass for six yards in the team's dramatic 37-34 win at Florida on Cade York's 57-yard field goal in the fog.
Despite an ankle injury, Emery took part in the spring game in April and rushed four times for 24 yards with a touchdown.
"You can't play him a whole game because he hasn't played the year," Kelly said. "I think he's going to complement what we have already. And the skills are, he's got speed, he's got size. He's got all the things that you look for in a back, but he just hasn't played very much. This is going to be his first game in a long time and we're not going to ask him to do too much. But we're going to give him the opportunity to insert himself into the game and see what he can do to get our running game moving."

This is what else Kelly had to say:
Opening statement:
"Excited about the opportunity to play an SEC opponent. It's been everybody's goal to play for an SEC championship. It starts this weekend at Tiger Stadium against a well-coached and very good Mississippi State football team. Coach Leach, I have great respect for him and what he's been able to accomplish, and this team is no exception, and it starts with Will Rogers at the quarterback position. Great running game where those backs not only can run the football but catch the ball coming out of the backfield. And defensively, they cause a lot of problems. They take the football away and are very difficult to defend. It's going to be a great challenge, but one that you know we're playing at home. We're excited about being home at Tiger Stadium. I think for both teams, starting SEC play's pretty special."

Feelings about SEC games again after being at Notre Dame which is Independent?
"Having the opportunity to play for a conference championship is enjoyable. When we had that opportunity at Notre Dame for that one year during COVID, it gives you more to look forward to other than just playing for a national championship every year which was quite unique. Adding this to the goal chart makes each SEC game even more special and then you're upping your competition. We love the opportunity to play Southern, and the cross-town rival against an HBCU school, but when you get into SEC play, it heightens everybody's awareness. I love the opportunity to be in a conference, especially one like the SEC where the West side is a challenge each and every week. I know our guys are excited about it."

What set Jayden Daniels apart from Garrett Nussmeier to win QB job?
"I think it was very close. Jayden's experience maybe edged out Garrett at the end in terms of his poise. Garrett is a guy that has a lot of skills, but maybe has a little bit less experience and that wasn't his fault. You had a guy that came in with three years of game experience and that showed whether it would be in a simulated game situation (or) 11 on 11. You can see the poise and the confidence that three years of starting gives you. So, maybe that was the edge that he had. Garrett has so many skills that it's sometimes it's just harnessing them. Last week, maybe pressed a little bit trying to do a bit too much. And that's what we got to be careful with it. You know, he understands that. He doesn't have to do anything outside of the normal because he's so talented."

Feelings on your running game?
"I think it's hard for me to evaluate our running game right now. You know, with the competition last week, it's not a clear evaluator. I think we were better up front, and it was easier for us to run the football. I think as we get into SEC play, against a particular team like Mississippi State, we'll get a better assessment of what the running game looks like. It has to be consistent for us. And I look at run efficiency in terms of third down conversions, averaging four yards per game, more so than just yards per game. How much you rush for, those can be misleading numbers at times. And so, the efficiency has been pretty good. But I think I can evaluate it better when we start to get into SEC play."

Did you have an existing relationship with Jayden Daniels before he signed?
"We did not have a prior relationship. We knew of each other in the recruiting process. We recruited him when I was at Notre Dame, but that was that was it. We didn't stay in touch or anything like that. There was a little bit of a relationship in the recruiting process. And, and other than that, when he was looking at schools reaching out here and there, we built that relationship deeper. You know, through his entering the transfer portal."
Key to slowing down Air Raid offense? Quarterback Will Rogers?
"Slowing it down is really about the fundamentals of football. I've used this analogy, and maybe some might not think it's a very good one, but it fits for me and the way my brain works. It's really like going against the triple option. The phases of it are such that they run it so well. From a defensive perspective, you have to be so good at your assignments first and foremost. And then you've got to tackle, you got to fight for every yard. And if you try to get too cute, or try to come up with schemes, they've seen it all. Mike's seen it everywhere. He's been running this longer than anybody else. Play sound and fundamental defense tackle, try to get Will Rogers off his spot. If he is just comfortable in a three-man rush all day, it's easy for him. He's obviously leading the SEC in passing yards per game for a reason because he's efficient. He doesn't get rattled. And you know, he's got to take what you give him and so the best way I would characterize him is disciplined. And he's a highly efficient quarterback in terms of percentage and very accurate and throwing the football."

Thoughts on State's defense led by coordinator Zach Arnett?
"At first glance, they're a salty group. When I say a salty group, this is a veteran group that plays hard and physical. Zach does a great job. You know, he mixes things up, but they're all coordinated. For me watching this defense with all of its moving pieces, it's as coordinated as a group that I've seen in a long time. Sometimes you see a defense like this and they're cutting gaps open, and guys are running free. You don't have that this. The assignment and execution are outstanding. They're well coached. And he puts his players in positions to make plays. It's a really good defense and it's I think overall when you assess it, it's so very well coached."