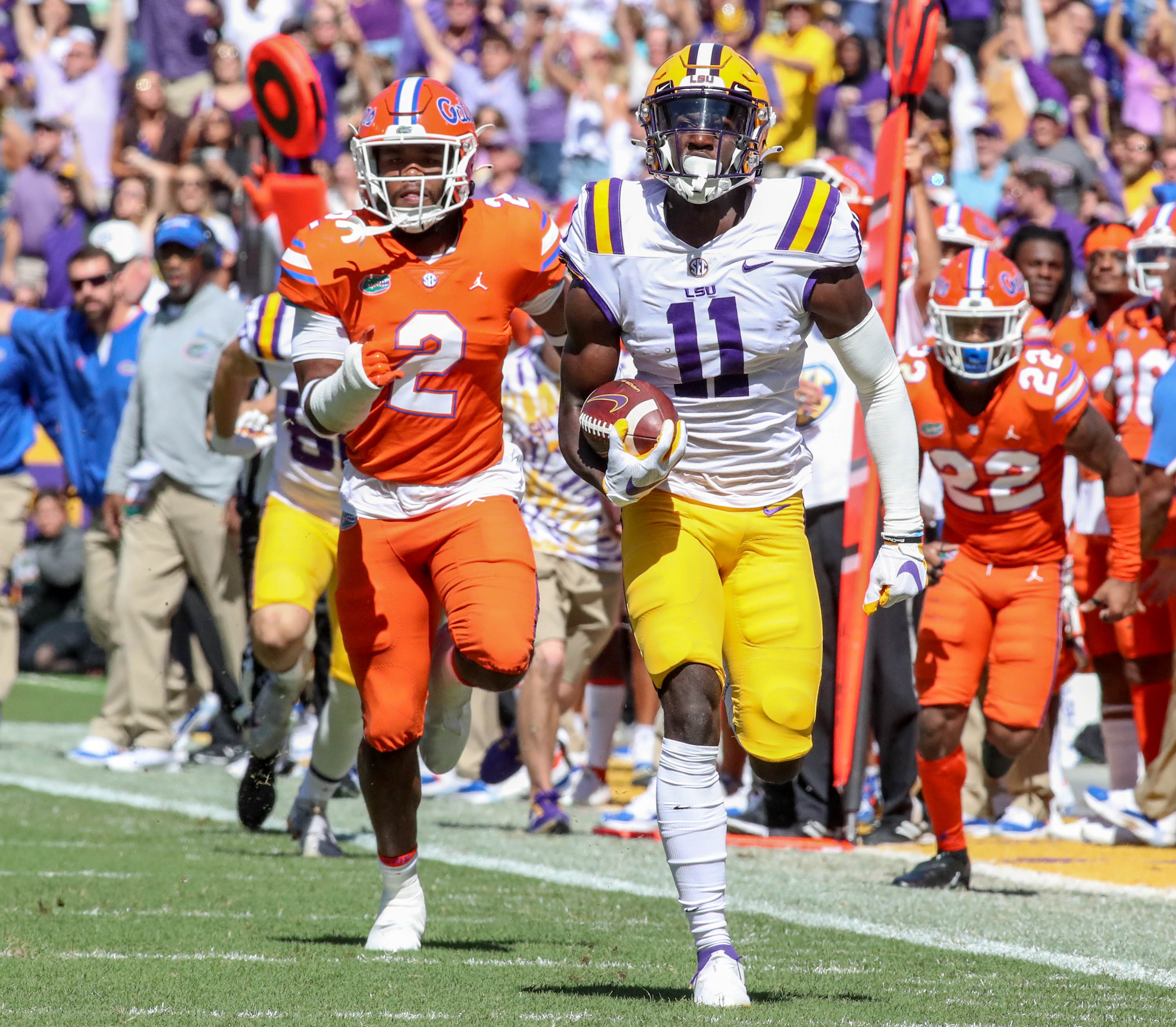 Brian Kelly holds onto hope that two of his top receivers can elevate their game.
It starts with holding onto the football, in the case of one, and taking things to the next level, in the case of the other.
Be better, in other words.
That seemed to be the message Kelly was delivering when he challenged both Kyren Lacy and Brian Thomas Jr. while speaking with reporters following LSU's open-to-the-media practice Thursday.
Thomas, a sophomore from Walker High in Livingston Parish, had 28 catches for 359 yards and two touchdowns as a freshman last season.
"He'll be a contributor (this year)," Kelly said after a practice in which Thomas hauled in a 60-some-yard Myles Brennan touchdown bomb. "He needs to be a key contributor.
"There's a difference between a 'contributor' and a 'key contributor,' in the sense that – as I look at it – the consistency of performance has to be such that he can step in and be a starter for us."
The 6-foot-4 big play threat played 12 games and had nine starts last year, the most among all LSU true freshmen in 2021.
But that happened partly because the Tigers' receiving corps was besieged by injuries, including that cost Kayshon Boutte – their top threat, and a projected first-round selection in the 2023 NFL Draft – more than half the season.
Teammates have high hopes for Thomas in 2022.
"I feel like he could be another great," Boutte said.
For it to happen, however, Kelly firmly believes Thomas much take a step forward.
"I think at times, you know, he thinks he's still a freshman," Kelly said, "and he's not anymore."
Thomas is, however, still relatively inexperienced.
He didn't play his first football game until 2018 at Walker, where he also was an NCAA Division I-quality basketball player who helped lead the Wildcats to their first Louisiana Class 5A state championship as a freshman and to a runner-up finish behind Thibodaux High in 2019.
He had 20 points and eight rebounds in Walker's state-title game win over Landry-Walker, securing Most Outstanding Player honors.
Later in 2018, early during his sophomore year, Thomas caught four passes for 278 yards and three TDs (89, 63, and 75 yards) in his football debut.
"We need for him to understand we need him to go in there and think like a starter," said Kelly, who inherited a deep receiving corps when he jumped from Notre Dame to LSU late last year. "And that's maturation, and he's getting there.
"We like his work ethic. He's very, very strong. He's actually – when we look at our numbers, in terms of strength in the weight room – one of our strongest players. It's amazing what his raw, physical ability is.
"Sometimes it's just a matter of maturation, and coming along," Kelly added, "and, actually, probably making a play or two in an SEC game."
Thomas did, though, have a season-high five receptions in LSU's 24-19 loss to Auburn early last October at Tiger Stadium.
Lacy, meanwhile, also was a star high school basketball player who could have pursed that course on the college level.
He played on the 2019 Thibodaux High team that beat Thomas and Walker for the 5A state title.
But instead of sticking with hoops, the 6-2 Lacy signed to play football at Louisiana starting in 2020 – then left Lafayette after Ragin' Cajuns coach Billy Napier was hired by Florida late last year.
He had a team-high 28 catches for 364 yards and four touchdowns as a freshman, including four grabs for 38 yards and a TD in UL's First Responder Bowl win over UTSA in Dallas.
Lacy followed that up with 24 catches for 304 yards last season. He also had a team-high six TD catches for the Sun Belt Conference's Cajuns in 2021, including one in their New Orleans Bowl win over Marshall.
Before signing with the Cajuns, Lacy turned down heavy pursuit and an offer from Miami, among other Power 5 programs. After entering the transfer portal last January, he received offers from Oklahoma and Ole Miss before deciding on LSU.
"We think Kyren has, certainly, the athletic ability," Kelly said. "I think for Kyren … you know, at times confidence is a choice, and he's got to choose that every day."
Lacy was targeted frequently during spring practice at LSU, but drops seemed to be an issue during parts of practices there were open to the media.
He dropped a couple as well in Thursday's open practice, which opened the second week of preseason camp before the Tigers open their 2022 season Sept. 4 against Florida State in the same Superdome in New Orleans where Lacy last was seen playing for the Sun Belt-champion Cajuns.
"He's got to play with great confidence," Kelly said. "You know, we can't play with confidence for him. He's got to do it himself."
New Tiger teammates, however, can help prop Lacy up.
Boutte, for one, seems to have gone to great lengths trying to do just that.
He made a concerted effort to get to know the backup wideout, taking Lacy to lunch and learning about not only where he's from – down in the Bayou – but also what he's all about.
"I felt like now it kind of paid off," Boutte said. "I feel like I've been knowing him. But we just met."
    Boutte, who is from New Iberia, feels Lacy has potential greatness in him.
Kelly does too, if only he can draw it out of him.
"He doesn't bring that same mindset every day," the new LSU coach said, "and we just need to encourage him to choose confidence every day.
"And if he does that, I think he's going to have a great season for us."