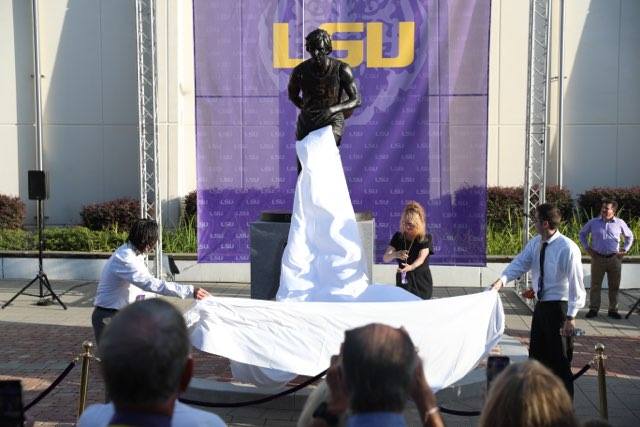 Six years after it was approved unanimously by the LSU Board of Supervisors, a statue of late Tigers basketball great Pistol Pete Maravich stands alongside existing statues of fellow Naismith Memorial Basketball Hall of Famers Shaquille O'Neal and Bob Pettit on the north side of the LSU arena named after Maravich himself.
Long overdue in the eyes of some at LSU, the statue was unveiled in a public ceremony Monday night outside of the Pete Maravich Assembly Center.
"I don't know why some things become so difficult," said former LSU coach Dale Brown, who was among those who spoke during an invitation-only gathering prior to the public unveiling, as was Maravich's widow, Jackie. "They're so simple."
An LSU official earlier this year cited uncertainty over future renovations plans for the PMAC and the COVID-19 pandemic as reasons for the lengthy delay in placement and unveiling of the statue.
Now Maravich's likeness stands to the right of O'Neal's statue, and soon another statue, one honoring LSU great Seimone Augustus, will stand in between those of Pettit and O'Neal.
His features Maravich, ever the showman on the floor, passing the ball behind his back with his right hand.
"Over Pete's lifetime many have described him as an entertainer, an artist, a showman, basketball assassin, wizard, genius or one-of-a-kind," Jackie Maravich said. "These are just a couple descriptions used by fans, players and coaches about Pete.
"Whatever the adjective, they all represent the joy and excitement that Pete provided for the game of basketball."
Maravich scored 3,667 points in three seasons at LSU, averaging 44.2 points per game starting with the 1967-68 season.
His totals still stand as school and NCAA records today, despite a ban at the time on freshmen playing varsity basketball and the absence of a three-point line and shot clock during Maravich's college career.
Maravich was the 1970 Naismith Award winner, the Sporting News National Player of the Year, a three-time first team All-American and a five-time NBA All-Star.
He's also a member, as are O'Neal and Pettit, on the NBA's 50th and 75th Anniversary All-Time Teams.
Maravich was inducted into the Naismith Hall of Fame in 1987.
The Louisiana Legislature renamed LSU's assembly center after him shortly after Maravich, who had previously undetected heart issues, died playing pickup basketball in 1988.