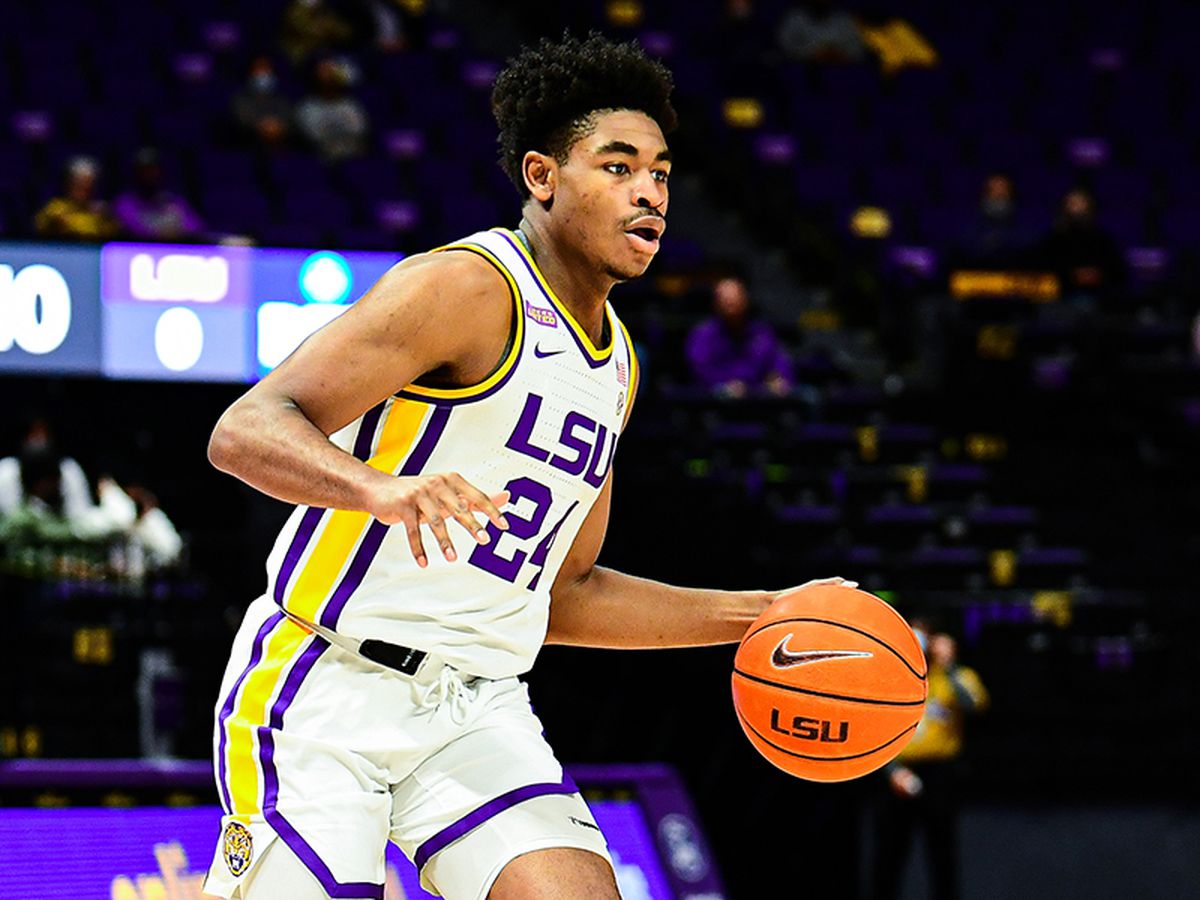 LSU's defense giveth.
And LSU's defense taketh away.
A 17-point Tigers' first half lead became a six-point Texas A&M second half edge via a flurry of Aggies' 3-pointers before 15 straight missed A&M shots in a game-closing 18-0 LSU run led to the Tigers' 78-66 SEC road victory.
After a 30-point loss to Alabama and a 13-point loss to Kentucky in which LSU (11-4, 6-3 in SEC) allowed a combined 30 3's including an SEC record 23 by the Crimson Tide, the Tigers needed a win to finish the halfway point of the 18-game league schedule on a high note.
"We were desperate to win this game," said LSU sophomore forward Trendon Watford, who had 13 points, 8 rebounds and 4 assists. "We didn't want to drop three-in-row. We had to come tonight and respond."
The response came in spurts against the Aggies (7-7, 2-6 SEC), the worst offensive team in the SEC.
LSU, which crawled out of the gate in the Alabama and Kentucky losses, opened the game hitting 9 of 16 shots including 4 3-pointers to establish its first double digit lead at 23-13 with just under 11 minutes left.
Five minutes later, the Tigers ballooned the advantage to 35-18 and with a bit more focus could have taken a 20-point lead to the dressing room at halftime.
Instead, the Aggies went on a 18-4 run, hitting seven straight shots including four 3-pointers. LSU missed its last four shots of the first half and led by just 41-36 at the break.
A&M's 3-point bombardment didn't slow after the break. They hit their first 7-of-9 3's in the second half, the last of those bombs from Jay Jay Chandler for a 66-60 Aggies' lead with 8:50 left to play.
That was the last field goal A&M would score as the Tigers heeded coach Will Wade's advice at a timeout to "play with great energy, enthusiasm and execution."
Also, LSU began running A&M's 3-point marksmen off the arc and forced them to try and finish in the Tigers' defensive traffic. The momentum quickly flipped back to LSU in the "six-minute game" Wade likes to preach in practice.
"We talk about six-minute games all the time," Wade said, "taking care of the ball, being solid on defense and making our free throws."
In the last six minutes, LSU hit 7 of 7 free throws, A&M missed all 10 field goal attempts and the only Tigers' turnover was by freshman guard Cam Thomas with three seconds left.
Thomas, who scored 32 points against the Aggies in LSU's win earlier this season in Baton Rouge, finished with a game-high 28 points including 9 of 9 free throws.
He made just 9 of 25 field goal attempts, including 3 of 11 3's, but he scored 9 of LSU's final 18 points with two 3s and three free throws.
"They needed me to make some big shots and that's what I do," Thomas said.
LSU juniors Javonte Smart and Darius Days played like veterans. Smart scored 19 points and dealt 9 assists and Days had 11 points and 6 rebounds.
Seniors Chandler and Savion Flagg came off the bench to lead A&M with 21 and 17 points respectively as the Aggies reserves scored 51 points.
LSU returns to action in a Saturday 1 p.m. home game vs. 10th ranked Texas Tech (11-5, 4-4 Big 12) in the SEC/Big 12 shootout. The Red Raiders lost 88-87 at No. 11 West Virginia on Monday night.
"I watched the game last night and almost wanted to cancel (Saturday's) game," Wade said. "They (Tech) are relentless on both ends. They are top 20 in the country on offense and top 5 in the country on defense. They are a tough, complete team."