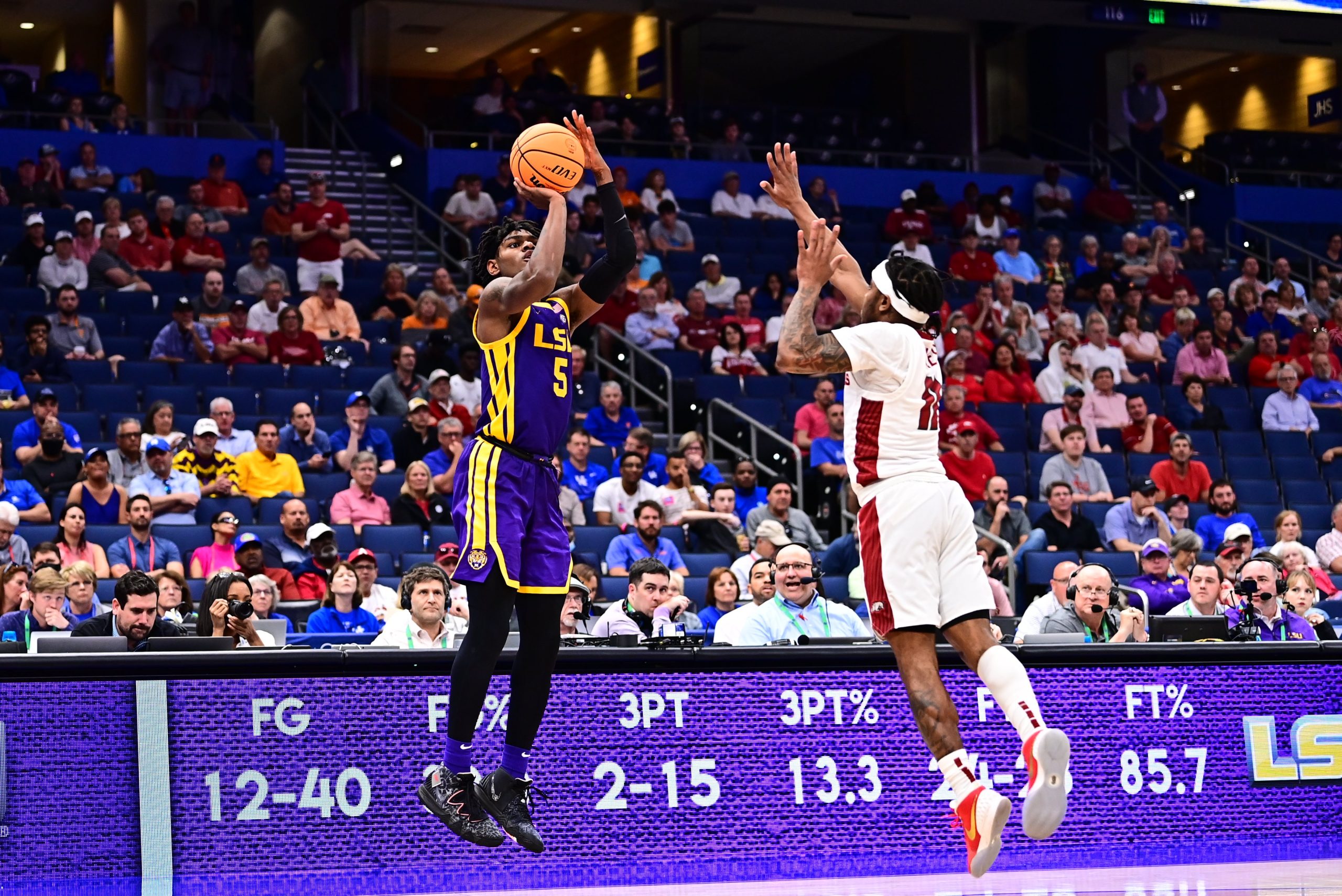 LSU starting forward Mwani Wilkinson has withdrawn his name from the NCAA transfer portal and decided to remain in the program, the school announced Tuesday afternoon.
Wilkinson averaged 4 points, 3 rebounds and 1.2 steals while playing 24.2 minutes per game and shooting 40.3% from behind the long-distance line with 25 made 3-pointers in the 2021-22 season. He averaged 3.6 points and 2.7 rebounds as a freshman.
A product of Bishop Gorman High in Las Vegas, Wilkinson appeared in all 34 games for the 22-12 Tigers this past season, opening 30. He had 44 starts in 61 games during his first two seasons at LSU.
Matt Zenit of On3 Sports first reported Wilkinson's decision to stay at LSU.
While Wilkinson decided to remain at LSU, rising junior point guard Eric Gaines announced on social media that he was committed to UAB and coach Andy Kennedy.
Wilkinson was the 11th of 11 Tigers to reportedly enter the portal after LSU fired coach Will Wade and hired Murray State Matt McMahon to replace him.
  Two of the 11, Brandon Murray, a starting shooting guard from Baltimore, has committed to Georgetown, while Gaines said he's bound for UAB.
Gaines averaged 9.0 points, 3.3 rebounds, 2.9 assists and 2.1 steals while appearing in all 34 games with eight starts in 2021-22. The sophomore combo guard from Lithonia, Georgia, had 14 scoring games in double figures, including five straight in late January through early February with a career-high 16 against both Texas A&M and Ole Miss.
The eight who remain uncommitted are starting point guard Xavier Pinson, starting center Efton Reid III, reserve forwards Shareef O'Neal and Alex Fudge, guard Adam Miller (who was injured and out all season) and sparingly used freshmen Jerrell Colbert, Justice Williams and Bradley Ezewiro.
Players in the portal are permitted to remain at their most-recent schools if current coaches are willing to keep them.
Two other scholarship players from LSU's 2021-22 roster, forward Tari Eason, its leading scorer, and forward Darius Days, its leading rebounder, have declared for the 2022 NBA Draft.
McMahon started to restock shortly after being hired.
He landed former Northwestern State center Kendal Coleman; extracted two of his former Murray State players, guards Justice Hill and Trae Hannibal from the portal; received a commitment from Murray State signee Corneilous Williams; and got a commitment from former North Carolina State combo guard Cam Hayes.
Coleman, Hill and Hannibal have been announced by the school; Williams and Hayes have not.