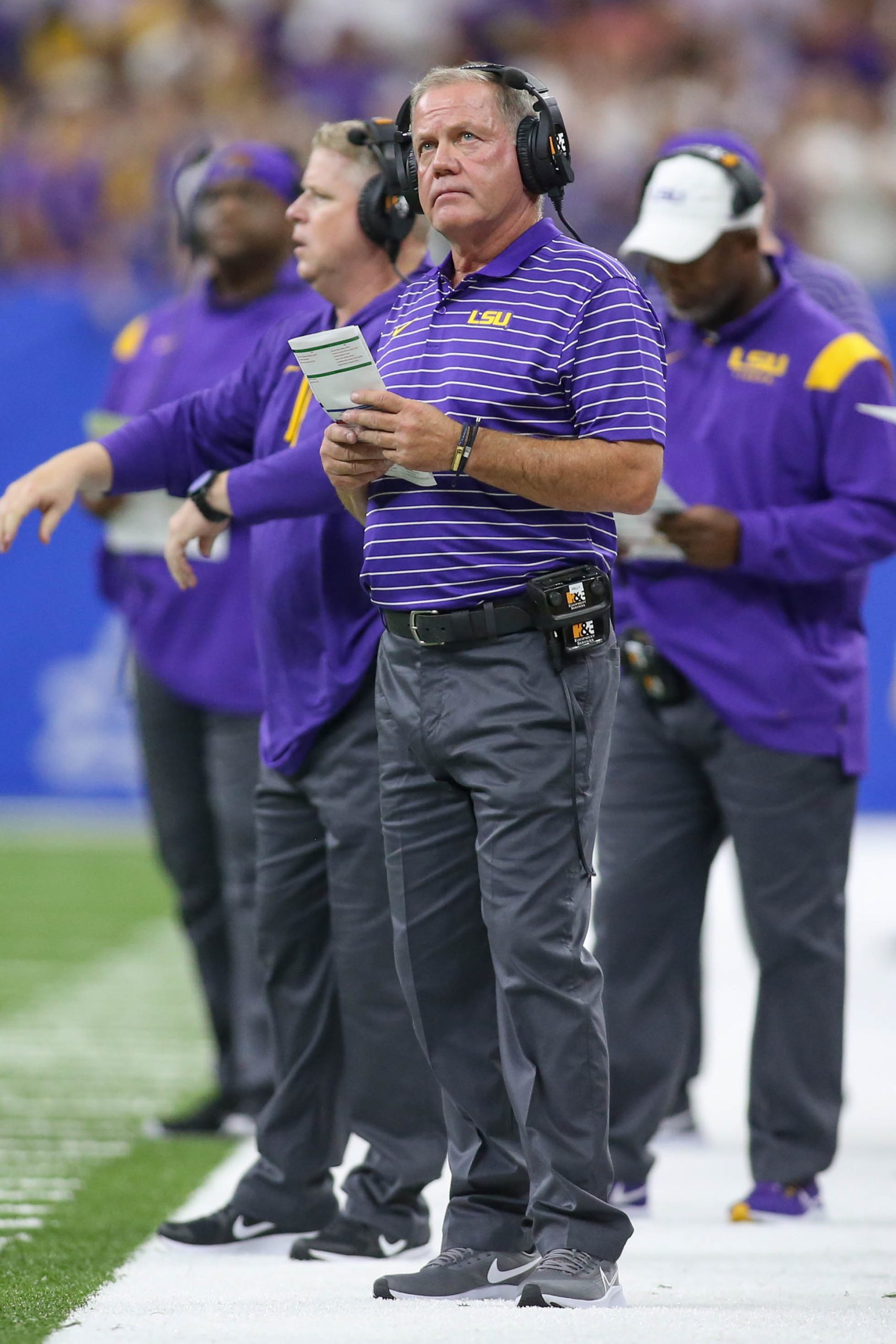 Sophomore left guard Garrett Dellinger is expected to move back into the starting lineup when No. 25 LSU hosts No. 8 Tennessee in Saturday's 11 a.m. kickoff in Tiger Stadium.
The game is being televised by ESPN and carried locally by 98.1-FM.
First-year LSU coach Brian Kelly said Dellinger, who had surgery to repair a fractured left hand following the New Mexico game, has practiced with a cast this week and is listed as the No. 1 left guard on the team's depth chart.
"He's got to wear a cast on this surgically repaired fracture," Kelly said after Thursday's practice. "But surprisingly, he's done quite well. I thought that there would be some uneasiness from him. He's attacked it and he's done very, very well. We've got the ability to do 3D cast renderings of the hand to make it so comfortable for him and I think that's really helped him to find the right cast and the right fit. So, he's done quite well this week."
Dellinger began the season as LSU's starting center against Florida State and moved to left guard for three straight weeks against Southern, Mississippi State and New Mexico. Last week, Miles Frazier started in Dellinger's absence against Auburn. Frazier is listed as the team's starter ahead of Anthony Bradford at right guard.
Kelly announced redshirt freshman wide receiver Chris Hilton Jr. will miss the remainder of the season to have shoulder surgery. The Zachary native appeared in four games and had seven catches for 109 yards, including a long of 51 yards.
Hilton finished the Texas Bowl with a career-long 81-yard TD reception from quarterback Jontre' Kirklin.
"He's had a sub lux (subluxation) of the shoulder on two or three occasions, it got to the point where do we wait until the end of the year, or do we get it done now," Kelly said. "I think it made sense to get it done. I think our medical team will get him back for spring ball, so just made sense to do it now."
Here's what else Kelly had to say:
On impact forcing turnovers can have Saturday?

"Turnovers are key in games like this. Look, our defense has done a great job especially getting those turnovers at key times. They got the one that we needed so badly to change the momentum in the game. But you can't count on it. I think the point I'm trying to make is that we've got to have better balance. Offensively we've got to do a better job moving the football, continue to do what we're doing defensively. But we can't rely strictly on taking the football away from a very good offense in Tennessee. I think what we're looking for more than anything else is continuing to play that aggressive defense. But we've got to complement what we're doing defensively but be more effective offensively."
On what you've seen from Tennessee's defense?
"We know it's a really good defense. Their linebackers are active. They're certainly a group I think from a talent standpoint and an execution standpoint, they do a great job. Our hands are full. It's a Top 10 team and they deserve to be, so I think when you're going up against a team of this caliber, you really have to focus on what you do and execute at a high level against the defense like this. But I've said this a number of times, you can't be one dimensional. Like we can't come into this game and think well, we can't run the football. That's it, we're in trouble. We've got to find a way to do both. We got to throw the football. We're going to find ways to run and hopefully be efficient. You know when it's when it's time to run the football."
On what you hope the team shows the country Saturday?
"What I'm excited about is, you know playing at home against a Top 10 opponent in the SEC and it's Tiger Stadium. You know it's a privilege to play in these games. It's not pressure it's a privilege and just letting our guys know they get a chance to comeback after last week's road win where we probably didn't play our best. We played with great grit and fight and know we're going to have to play with great execution. The level of challenge rises. There's no doubt against a Top 10 team in Tennessee, and a well-coached team. But that's why you come to LSU. You end up playing games like this. I'm just excited to watch our team play."
On embracing the 'big game' atmosphere?
"We don't want a team that plays up and down. We want consistency in our performance, but the excitement of playing at home, the excitement of playing a Top 10 team. You want all those things as long as you're in the right emotional zone and you come to each game ready to play. We're learning how to do that. We haven't been consistently in that zone each and every week. I'm sure Tennessee will be ready. But having these big games is why they come down with you."

On strength of Tennessee QB Hendon Hooker?
"I think his poise in the pocket. His patience. I think the passing game it was the passing game associated with what he was doing at Virginia Tech as much as it was a RPO, run game. This is a comprehensive passing game. The maturity of a passer and quite frankly I think the poise that he shows at the quarterback position."
On Mississippi State's offensive tempo helping in preparation for Tennessee?
"Yeah, no, doubt. All those little things help in terms of being more familiar with teams that want to play fast, play up tempo … Spread the field. But they are different offensively, there's no doubt about that. Tempo will be a challenge, there's no doubt. The matchups will be what we'll have to look at each and every play, but I think we've got a pretty good sense of what to expect against a really good offense."

On traits true freshman in playing roles have shown?
"I would say just their maturity. It's not physical maturity. I think it's their mental maturity. Their ability to handle one play at a time where they play one play, and maybe it's not a successful play, but they can let it go and then comeback the next play and have success. Some of the younger players that don't have that kind of maturity let one play affect the next. And these guys have that maturity that don't let the next play get in the way of execution."