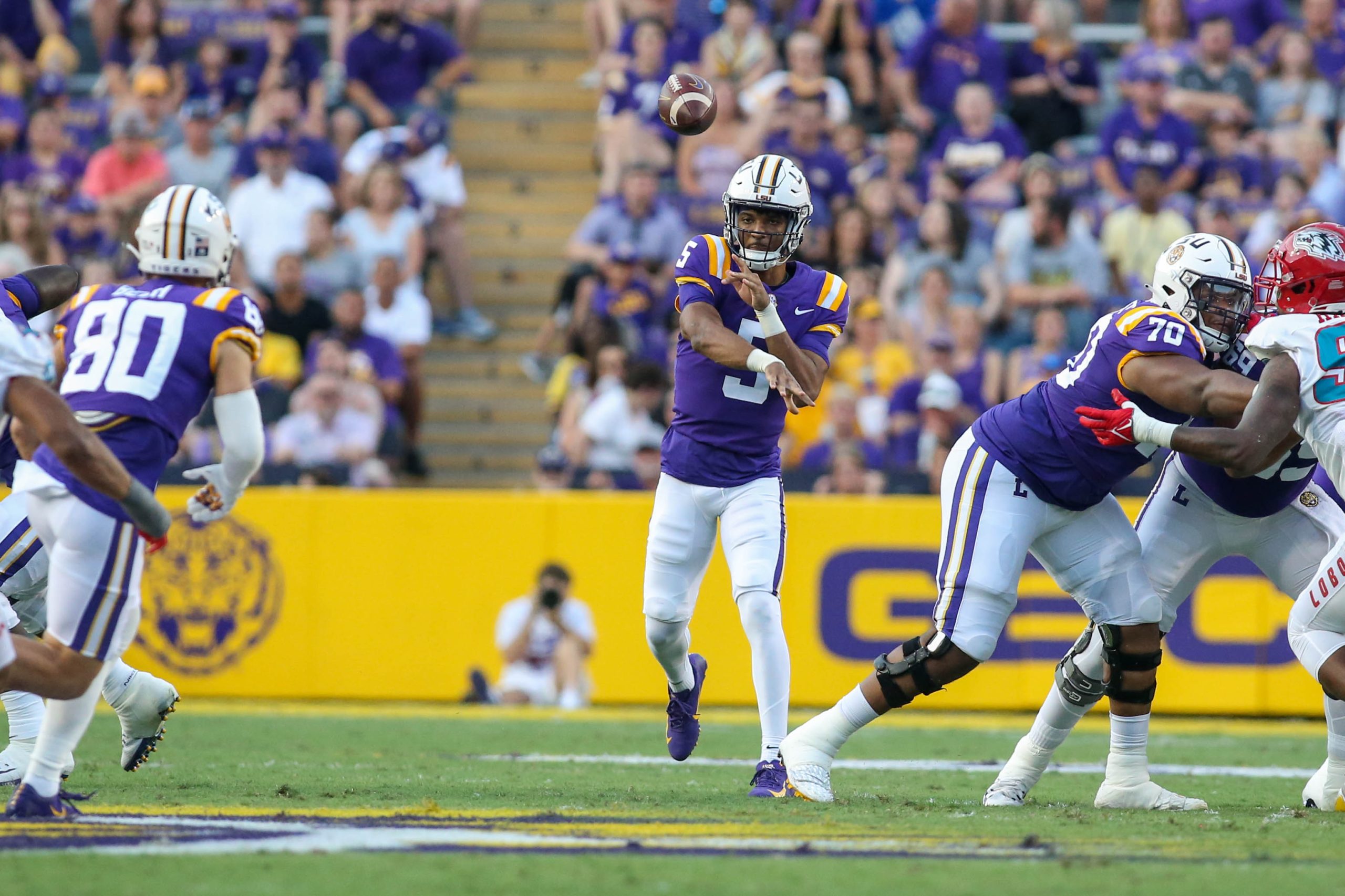 LSU football coach Brian Kelly has spoken and apparently starting quarterback Jayden Daniels has listened.
Earlier in the week Kelly gave his account of the team's passing game which netted 85 yards in last week's come-from-behind 21-17 victory at Auburn.
"We're way too conservative right now, and so I don't want to throw interceptions," Kelly said. "That's not what I want to do. I don't want to turn the ball over. We haven't thrown any. That's not necessarily a bad thing in one respect, but if you are looking to be aggressive, you're going to throw an interception or two because somebody made a great play. Because you trust that you're going to throw it in there."
Kelly's heightened sense of urgency correlates with this week's challenge which is a significant one.
Not only does No. 25 LSU (4-1, 2-0 in SEC) hosts No. 8 Tennessee (4-0, 1-0) in a key Southeastern Conference encounter at 11 p.m.  Saturday at Tiger Stadium. The Tigers are also facing one of the nation's top-rated offenses both in total yardage and points scoring, placing the onus on Daniels and the offense to strike a better balance and unleash a more aggressive passing game.
ESPN will televise the game and 98.1-FM will broadcast locally.

"Just go out and give those guys a chance," Daniels said of Kelly's personal message. "For me, it's being decisive. It's a mindset. I know I can make every throw on the field. It's a matter of going out there and doing it. That's what he's been harping, being aggressive and giving those guys chances. Make the one-on-one plays. Put the ball in an area where they can catch it and there's a good chance, they can catch the ball."
This marks the first time since the 2014 SEC Championship game that LSU and Tennessee are both ranked at the same time. The Tigers scored a 21-14 victory over the Vols in that game.
LSU's won the last five meetings with Tennessee, the last three coming down to the final play of the game.
"They continue to find ways to win," Tennessee football coach Josh Heupel said of LSU, which is riding a four-game winning streak. "No matter what the scoreboard looks like, you'll have to be prepared for their best for 60 minutes. They are a resilient team. They've done a really good job of creating turnovers."
Without question, forcing turnovers a week ago was LSU's saving grace in rallying from a 17-0 deficit against Auburn. The Tigers created four turnovers in their comeback effort with Jay Ward returning a fumble for a touchdown and Greg Brooks Jr. getting credited with an interception late in the game to seal the win.
LSU's point total, though, was its lowest in four years in a victory.
Daniels only completed 8 of 20 passes for 80 yards before exiting the game with a knee injury and reserve Garrett Nussmeier wasn't much better, completing 2 of 6 passes for 5 yards.
The Tigers were able to lean on a consistent rushing attack that produced 185 yards led by Josh Williams' 68 yards on 17 carries. Daniels added 59 yards and a TD on 16 attempts.
"We've got to get Jayden to be a little bit more on that edge, and be a little bit more aggressive, and we will," Kelly said. "We'll get there with him because that's the nature of this position. This position has to be with the skill players that we have. We've got to get that ball down the field, and we've got to get it into some tight windows sometimes. They're not always going to be wide open, but those guys can make plays, and we have to get them the ball."
Daniels, one of five quarterbacks nationally without an interception, understands Kelly's charge.
"Just be more aggressive," he said. "We brought those guys to LSU for a reason. Let those guys win their one-on-one matchups. We have those talented guys at receiver that can make plays. If we to achieve the goals that we want to achieve, that's what we're going to have to do. Win our one-on-one matchups, the (down field) shots. If we really want to beat teams, that's what we're going to have to do. Trust what I see and don't be indecisive."
LSU's defense, which hasn't allowed a point in its last 14 second-half possessions, is facing its biggest test to date.
Led by sixth-year senior quarterback Hendon Hooker, Tennessee's offense is ranked first in total offense (559.3), passing offense (365.8) and scoring (48.5).
"We have to have balance in what we're doing," Heupel said. "The run game on early downs will be critical. Playing from ahead of the chains will be critical in this game."
Hooker, who began his career at Virginia Tech, is ranked No. 1 nationally with 365.8 total yards per game. He's completed 71.7% of his passes, throwing for 1,193 yards, eight touchdowns and no interceptions.
"I'm going to be me," said Daniels, who has passed for 915 yards and 6 TDs and rushed for a team-high 321 yards with three scores. "I can't have that in the back of my mind, to play more conversative and try and change my game. I'm going to keep playing how I play. Have that mindset to go out and be more aggressive with the guys. Go out and have fun."