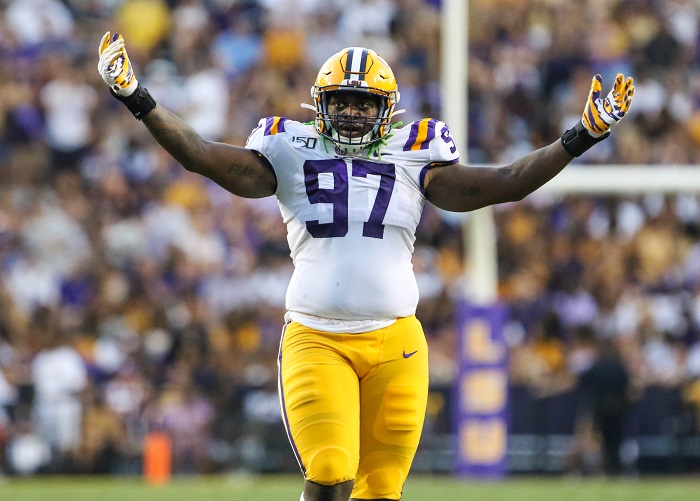 When it comes to trying to defend Ole Miss' high-powered offense led by quarterback Matt Corral, LSU head football coach Ed Orgeron believes his team will have all of its bases covered from all angles.
With Ole Miss' offense running an average of 80 plays per game for 483 yards, the Rebels seemingly operate at warp speed with Corral who doesn't huddle his teammates.
The challenge that poses for opposing defenses, in this case LSU's which visits Ole Miss for a 2:30 p.m. SEC Western Division battle Saturday, is being able to rotate its deep interior line to avoid getting worn down, especially in the second half.
"I don't know if there's going to be a lot of on and off the field," Orgeron during after Thursday's practice. "They go so fast. We may be able to get a couple of guys on if it's on our sideline. You have to pick and chose your times. One of the things that hurts you is third down because he's (Ole Miss coach Lane Kiffin) so fast, you can't put your nickel or dime group in. There's a lot of things we have to do, a lot of adjustments made this week in order to keep the same guys on the field. We're going to have to play two (defensive lines) units. The key to that is to rotate early, not to wait until they're tired. We have to rotate early so our guys can go 60 minutes."
Ole Miss ran an astounding 101 plays for 510 yards in last week's 31-26 win over Tennessee. The Rebels have challenged that number several times this season with 94 plays for 707 yards in a 61-21 win over Tulane and 82 plays for 630 yards in a 54-17 win over Austin Peay.
Orgeron said it's of a paramount importance to substitute as quickly as possible when the ball winds up on the hashmark closest to his team's sideline.
"I've always done that with the defensive line, I have them right by me," he said of immediately sending a player into the game. (Defensive line coach) Andre (Carter) is going to be right behind me. We have each coach watching his position and each coach has their sub ready to go if the ball comes on our hash. It's an opportune time to send a guy in. We worked hard on that this week."
Here's what else Orgeron had to say:
On momentum carrying over this week
"It believed it carried on. I challenged the guys on Monday to have another great week of practice. We had an absolutely great week of practice. Our coaches are working their tails off. This is obviously going to be a tremendous challenge. Lane (Kiffin) has very good football team and a hostile environment. Our guys are ready. I'm very pleased with the week's work.
"I feel it, I feel it (momentum) in the building. The leadership is coming through. The confidence in the offense, especially when you can run the football like we did. I think the defense has confidence having Glen Logan back, stopping the run. There's still a lot of things we can work on, but our guys have a great chemistry in the building."
On injury status of any starters
"I don't think Chasen (Hines) or Deion (Smith) will play unless something miraculous happens tomorrow."
On preparation of right guard Marlon Martinez
"We're really excited about him. He did well. The gap play was really good. Coach Brad Davis has done a tremendous job with him."
On recruiting of freshman wide receiver Jack Bech
"On Friday nights we have recruiting meetings where we watched film. We were watching Walker Howard. Jack Bech kept showing up, kept showing up and we said we need to get this guy on our team. Everybody voted to get Jack Bech on the team. I think he was committed to Vanderbilt, and we called him that night. I think it took him about a week or so. He decommitted from Vanderbilt, he came here and what a great young man he is. We're glad we got him."
On trying to remedy the second-half defensive lapses
"If you watch around the country, it's not only us. The spread offenses, they catch up to what you're doing, and they make adjustments, and it turns out to be a shootout. You look around the country that's kind of what's happening. I don't think we're getting worn down. We're doing a good job of substituting. There might be some situations where we're a little bit tired but it's more or less the offense's ahead of the defense. They're coming out the second half on fire."
On a counter for the counter play
"Obviously, we're going to try and see if it works. As a good offensive coordinator Jake (Peetz) is going to have something off of it. If they overplay the counter, we'll have something to run instead of a counter."
On the advantage of being the state's lone Power 5 Conference school
"It's a huge advantage. That's what makes LSU. We're the school and there's some other school's guys can go to. We're the only Power 5 school. There's some guys that try and come to poach our players. I've spent the last five, six years to keep them out of here and for the most part we've done a good job. We can't get them all. It's very tough. People want Louisiana players. They're great players. They're tough, but it is a big-time advantage."
On contributions of Jack Marucci, Director of Performance Innovation
"Jack's like the professor. He's always thinking. He's always working on something, and he thinks outside the box. He came to me with something interesting stats that we wouldn't have without him. I wanted him to study Lane's offense and what he's doing, some of the tendencies he has. The guy's phenomenal. He's very invaluable."
On Marucci's help with last week's success in running game
"Jack thought of it. We weren't running the ball very well and he went and looked at certain type of formations that were conducive to us running the football where we were having more success than others and the parts of the field. Kind of a self-scout. Being the head trainer here, Jack relates well to our players, he does it in a unintrusive way, in a helping way. It's a combination of him being very smart, him identifying what's good for us and his communication to the players."
On the preparation for Ole Miss' back-up quarterback if Matt Corral doesn't play
"We've just practiced for Matt the whole week. I know the competitor he is, that he's going to play. That's my gut feeling. I'm not sure, but I believe he's going to play."
On the possibility of any teams poaching recruits
"Not that I know of and sometimes I'm the last to know on all that. I haven't heard anything. We've been calling recruits. I've told them I'm going to recruit all the way to the end for the LSU Tigers. I've called all of our commitments and told them LSU's the place for them. I still wanted them to come to LSU and that's not going to change until the day I die."