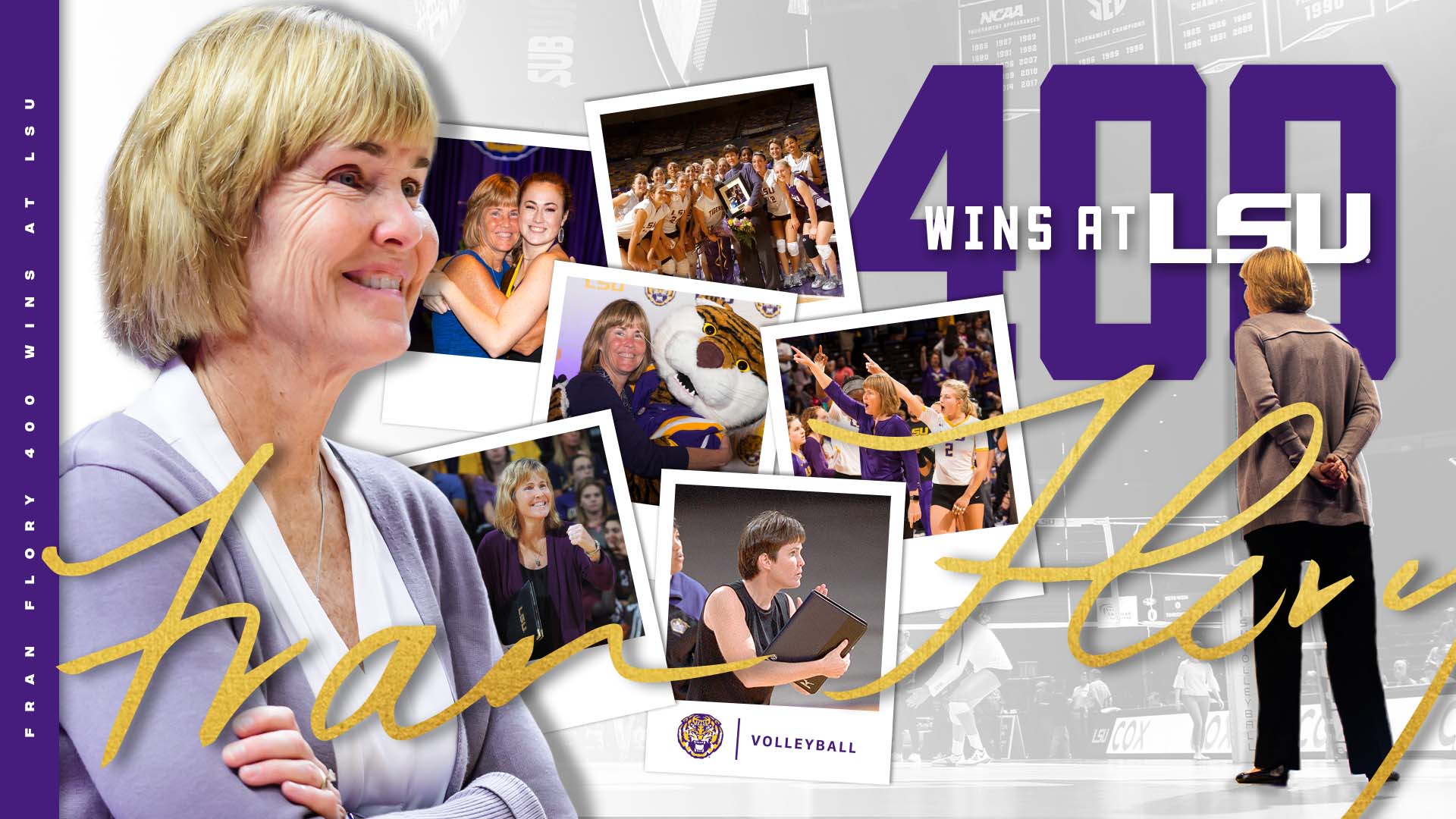 LSU head volleyball coach Fran Flory picked up her 400th win with the Tigers (8-11, 4-6 SEC), rallying from a two-set deficit to defeat South Carolina (11-7, 3-5 SEC) on Wednesday night in five sets. The Tigers dropped the first two sets, 23-25, 21-25, before fighting all the way back to win the next three, 25-16, 25-18, 15-12.
Flory, in her 24th season at LSU, improved her record at the school to 400-297. Her overall record, that includes 31 years, is 510-411.
"I do not win any matches, the players score the points," Flory said. "I am proud to be coaching at LSU and proud to have great players and great staffs that has helped me get to this point."
The comeback, known as a "reverse sweep," is the first for LSU since Nov. 24, 2017, when the Tigers trailed 0-2 to Tennessee before winning three consecutive sets. 
"It was a gutsy performance from our kids," Flory said. "We grew up in this match. South Carolina is a tough team and a tough place to win. For us to maintain our composure and have great poise with out backs against the wall, I cannot say enough about how maturely we played."
LSU (8-11 overall, 4-6) had three players reach double-digit kills: outside hitter Kylie DeBerg had 15 kills and 13 digs (her seventh double-double of the year) on a .405 kill percentage, as well as four service aces. Right side hitter Taylor Bannister added 14 kills, eight digs, and seven blocks.
Outside hitter Hannah Brister made a huge late-game impact, tying her season-high with 14 kills, also adding 12 digs on a .407 hitting percentage in just three sets.
Libero Raigen Cianciulli had 13 digs, while setter Ella Larkin posted 45 assists and 9 digs. Middle blockers Anita Anwusi and Allee Morris combined for 11 total blocks. 
"I am very proud of Ella Larkin in how she ran and managed the offense even when our first contact was not great," Flory said. "Hannah Brister was the one who made the difference in the match. I am very excited for our team to have that kind of performance and win this type of match on the road. It was a huge performance for us."
LSU won the attacking battle, recording 61 kills on a .273 hitting percentage, while South Carolina mustered 56 kills on a .177 hitting percentage. The Tigers had 10 service aces to the Gamecocks' six, and were able to dig the ball out more effectively (67-57). LSU also used its height to their favor, posting 15 blocks as a team while South Carolina had just six.