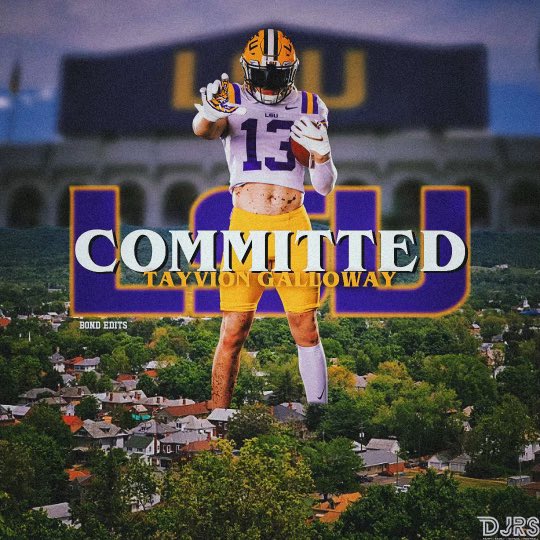 LSU has one of the nation's top tight ends in Mac Markway of St. Louis on the way in its current recruiting class.
The Tigers continued to add to what they consider a position of need in their program Saturday, getting a Class of 2024 commitment from four-star tight end Tayvion Galloway of Chillicothe, Ohio.
The 6-foot-5, 230-pound Galloway is the nation's No. 3 composite tight end according to 247Sports.com. He's ranked as high as No. 128 overall by 247Sports and is the state's consensus fifth-best player in Ohio.
"To me, the SEC is the best conference in college football," Galloway told 247Sports. "It doesn't get bigger and better than the SEC. A lot of people try to bring up the Big Ten, but the SEC is just the best football. "They send the most guys to the league and it's not even close. And that's just where the best player development is and everything like that."
The addition of Galloway gives LSU its fourth prospect in the Class of '24 and boosted the Tigers' class to second overall behind Notre Dame. He privately committed to the Tigers on June 17 but made his declaration public at Zion Baptist Church during an announcement that was live streamed.
Galloway selected LSU over a group of schools that included Alabama, Auburn, Kentucky and Ole Miss from the SEC. He also participated in summer camps at Michigan (where he earned an offer) and Ohio State and has 27 scholarship offers to his credit.
"It was really just they just showed me a whole bunch of love even from the first time I was down there the hospitality just felt real," said Galloway. "And they just felt like it was different than where anybody else's showed me."
Galloway averaged 24 yards per catch last season at Unioto High in Chillicothe (8-192, 2 TDs) before transferring to Chillicothe High and playing on the school's basketball team during the 2021-22 season.
Galloway made his first unofficial visit to LSU for its junior day in March where he reconnected with Tigers offensive coordinator/tight ends coach Mike Denbrock. The two first developed a relationship when Denbrock served as the offensive coordinator and coached tight ends for five years at the University of Cincinnati.
"I feel like he's a huge impact on that," Galloway said. "Because Coach Denbrock, he's really my favorite coach that I met throughout my recruitment and just like the favorite coach I've connected to. He's just like, a real genuine guy and he shows lots of love and I can tell he actually cares for me more than football. That just went a long way with me, and I can just tell he's a real genuine dude."