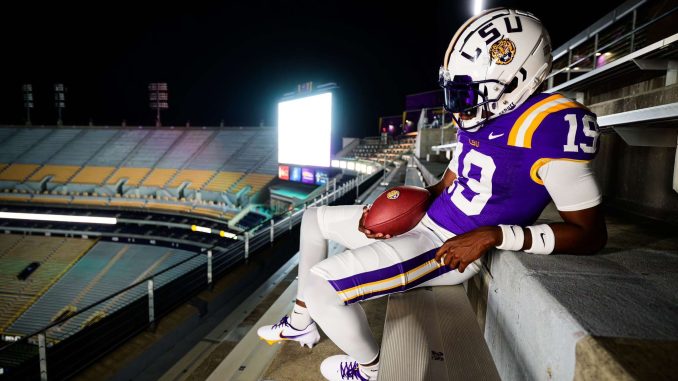 The 2025 football season may still be three years away but that didn't slow down LSU's recruiting effort from laying the foundation to developing a strong relationship with the top player in that class.
It appears the Tigers are on the right track.
Five-star quarterback Bryce Underwood of Belleville, Michigan announced on social media Monday that LSU, Alabama, Ohio State and Michigan are among his top four schools.
"Decisions, decisions," Underwood wrote on his Twitter account.
The 6-foot-3, 205-pound Underwood, the nation's top-ranked player in his class by On3Sports and ESPN, made a recent unofficial visit to LSU that included a tour of the facilities, sitting in on a class and talking with a professor. He also visited with a nutritionist and strength and conditioning coordinator, and met with LSU head coach Brian Kelly and lead recruiters, Mike Denbrock and Joe Sloan.
"It was like a second home," Underwood's father Jaquan told CBS.com of the visit.
Bryce Underwood, who reclassified into the Class of 2025, recently took unofficial visits to Alabama, Ohio State and LSU. He's also made the 30-minute trip from his home to Ann Arbor, Michigan for unofficial visits such as a 7-on-7 competition.
LSU will graduate senior Jayden Daniels after the 2023 season and is expected to have quarterbacks Garrett Nussmeier and Rickie Collins on the '24 team. Current quarterback commitment Colin Hurley of Jacksonville, Florida has indicated he will enroll early at LSU and take part in spring training.
The Tigers currently have two commitments in the Class of '25 with offensive lineman Brett Bordelon of Newman High in New Orleans and cornerback Jaylen Bell of Grayson High in Loganville, Georgia.
Underwood has directed Belleville, which has 1,700+ plus students from grades 8-12, to a 27-1 record and back-to-back state championships. He compiled 5,650 yards passing and 76 touchdowns during his career, adding 642 yards and eight touchdowns on the ground in 2022.
He was selected MaxPrep's Freshman of the Year in 2021.