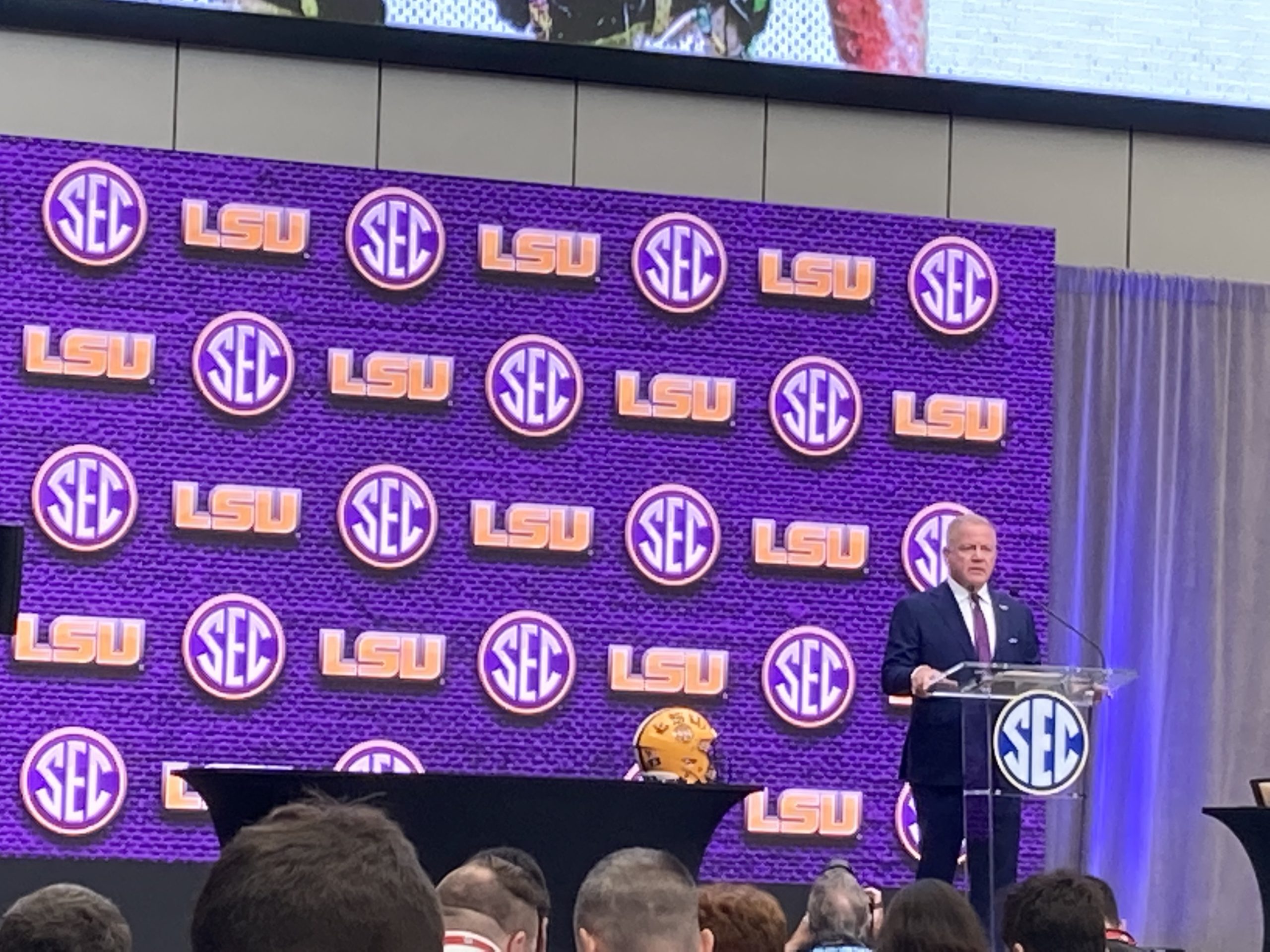 ATLANTA – LSU coach Brian Kelly met with media members at SEC Media Days here Monday.
Kelly first visited in a suite at the Omni Hotel with a small group of local reporters who regularly cover LSU football, then he was the first SEC head coach to address national reporters in the main media center at the adjacent College Football Hall of Fame.
The first-year Tigers coach had several other media responsibilities throughout the day, including interviews with various ESPN outlets, Sirius radio and others.
Here are some of the highlights of his remarks …
KEY TO THE OFFENSE
Kelly was quite clear on what position group he feels is the biggest key to making LSU go this season.
"If I had to point to one, I'd point it to the offensive line," he said when asked which group "needs the fastest acceleration between now and the start of the season."
"You know, we've got to bring that group together," Kelly added while talking with local reporters. "I believe the success of our football team will start and end with the offensive line, and our ability to control the line of scrimmage."
He mentioned the unit later in the day too.
"The offensive line is clearly an area that we need to keep our eye on," he said. "But I think we've added some really good transfers, and we think we've got some young men that have developed."
THE SECONDARY
Kelly pointed to his defensive backfield as an area of concern as well.
"I think the secondary has a number of players that I think we've went out and recruited either through the portal or that were in the program that give us great depth," he said. "But they're going to have to go out and prove it.
"I think that's an area that is going to have to come together for us, but we think we have depth and we think we have some talent there."
THE QUARTERBACK FRONT
All is relatively quiet on the quarterback front, which LSU must decide is returnee Myles Brennan (injured and out last season), Arizona State transfer Jayden Daniels, returning Garrett Nussmeier or freshman Walker Howard will start in 2022.
But Kelly made it clear he likes what he has.
"Jayden and certainly Myles bring us obviously starting experience," he said. "Garrett obviously for me is an exciting quarterback. Walker is a true freshman, but there's great depth there."
Kelly said, as he has frequently this offseason, that the base of LSU's offense was installed in the spring, but he again suggested real decision-making won't come until sometime in August.
"Now that we've installed," he said, "we'll go back and be much more focused on those pieces of the offense that hit the skill set of the (contenders).
"Then that's where some separation will start to show itself."
Kelly was asked how challenging it is to have three QBs who are so different in styles and strengths.
"I think there's four that are different, actually, adding Walker to that," he said.
"I think we have to be mindful of it and intentional, but that's it. Once we're mindful and intentional, we'll be fine."
BUSY, BUSY
With Kelly in his first season at LSU after making the move from Notre Dame, he's had little rest this offseason.
"This year there never has been a full disengagement," he said, "because there are so many moving parts relative to that first year.
"For me this a little bit unusual, in that … I've been in the office at least a couple of times each week in the month of July."
But there has been some down time, evidenced by when Kelly dodged a question about his thoughts on Notre Dame perhaps joining a conference.
"It's probably not been high on my list of things to think about," he said. "I've been trying to correct a slice for the last couple of weeks, and I haven't had much success with that.
"So," Kelly added with a smile, "I'm going to go back to my day job."