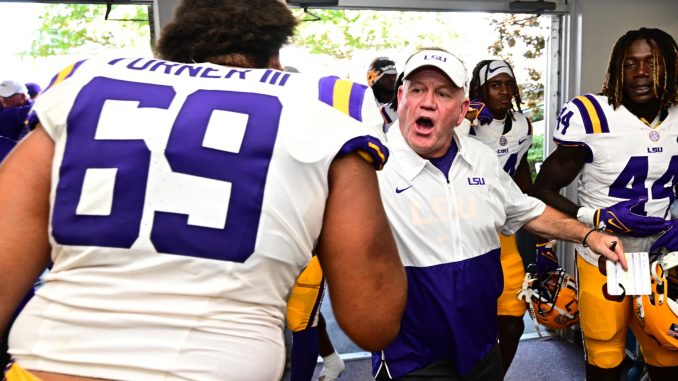 Listen to LSU head coach Brian Kelly's SEC Media Press Conference in its entirety below:
Two weeks have gone by since LSU's 45-24 loss to Florida State and head coach Brian Kelly still feels the angst of that season-opening setback.
So, Kelly understands the demands facing his No. 12 Tigers (2-1, 1-0) when they host Arkansas (2-1, 0-0) in Saturday's SEC Western Division game at 6 p.m.
The game will be televised by ESPN and can be heard locally over 98.1-FM.
After two relatively uneventful wins to open the season the Razorbacks, which led 14-0 and 31-21, eventually lost a 38-31 decision at home to Brigham Young.
Arkansas must face a schedule that includes road games with LSU, Texas A&M and Alabama and a neutral site matchup with Texas A&M in Arlington, Texas.
"We talked about it on Monday in terms of knowing that we're going to get Arkansas' best," LSU football coach Brian Kelly said on Wednesday's SEC Coaches Teleconference. "I just said, 'put yourself in Arkansas' shoe if we didn't play well against Mississippi State. You can imagine the paint would be peeling off the walls in this building'. And our expectations would be through practice, and how we prepare, and we will be coming out, ready to play and that's going to be the case with Arkansas.
"So, we're going get the very best and we're going to have to match and exceed that," Kelly said. "And certainly, as I said in my comments at the outset, it's just college football and keeping young men at that competitive edge week in and week out is the biggest challenge that we face. There are so many distractions, so many things that can get you away from where you need to be focused. And that will be the challenge for this football team to play with the same kind of competitive edge that they played with last week."
LSU, which is coming off a 41-14 road win over Mississippi State, has been installed as a 17-point favorite in the border rivalry for the 'Golden Boot'.
Here's what else Kelly had to say:
Opening statement:
"You know this week does presents a great challenge from Arkansas, another SEC matchup, our first SEC game at Tiger Stadium, so I know our guys are excited. It's a rivalry game. It's a battle for The Boot, which is an annual trophy between both teams started back in '96. And both these teams certainly understand these games have been close and hard for the last three games. I think there's been a three-point difference in each game. So, the kids know each other, we recruit against each other. Actually, a couple of the players have on each team. So, there's a great understanding of both programs and have a great deal of respect for (Arkansas) coach (Sam) Pittman. What he's been able to bring to Arkansas is toughness and physicality. Their defense is playing really well, in terms of their total defense and their rush defense. It's led by KJ Jefferson, a three-year starter with 50-something-plus touchdowns and just a big physical quarterback that brings a presence to the position. Outstanding running backs and (Rocket) Sanders and (AJ) green and a very capable wide receiver corps, and defensively they've got to the top guys and in terms of sacks and all of the SEC. Looking at that, plus their special teams, they've got one of the better punt return guys (Isaiah Sategna) and they returned one for an 80-yard touchdown against BYU. So, we're excited about playing at home with Tiger Stadium, but we have to play with the same kind of competitive edge we played with against Mississippi State. That's college football is can you do this consistently? So, that's what we'll be looking for from our team."
After not facing KJ Jefferson a year ago, what big a difference does he make?
"It makes a huge difference. I mean, just his presence as a quarterback. He can extend plays and the size he brings to the position. He breaks so many tackles, keeps plays alive. It forces you from a defensive perspective to stay in coverage and then when he gets out, it's getting him on the ground. He brings a huge dimension. From a defensive structure standpoint, you have to be so sound fundamentally and then he breaks down the play and all kinds of things can happen after that. So, it'll be a great challenge that we have this Saturday with him."
What have you seen from Arkansas offensively under its new coordinator?
"I think you're going from really a different structure and offense from (Kendal) Briles to Dan Enos and so there's going to be some transition there. But Dan's a really good football coach. He'll have that offense prepared to look like Sam Pitman's football team. They're going to be physical. They're going to take shots down the field. They're going to play smart football. They're going to complement their defense. So, when you really talk about it from my perspective, I mean, they're going to be a complete football team. When they get to the point where everybody knows what they're doing on every single snap, it's a scary team to play as they continue to develop."
Has playing field in SEC been leveled this season because of NIL, transfer portal?
"I don't get a chance to dive into it certainly in the manner that the fans would. But I get bits and pieces of it. Certainly, the narrative is because you know LSU lost (to Florida State) and Alabama lost (to Texas) and you know that it's (SEC) down, but that's one game. We've got a long season ahead of us. Georgia is still the two-time national champion, the SEC (champion). Last I checked, they were still undefeated. I just think that's a new cycle kind of narrative. I think you just play the games and continue to do the things that you need to do, and you know that changes the next week. So, everybody was talking about how difficult it was in Florida and look how well they're playing. So, I just think that all the teams in this league are difficult to play against. And I think each coach in this league respects the others and we just think we're all just really focused on developing our own teams."