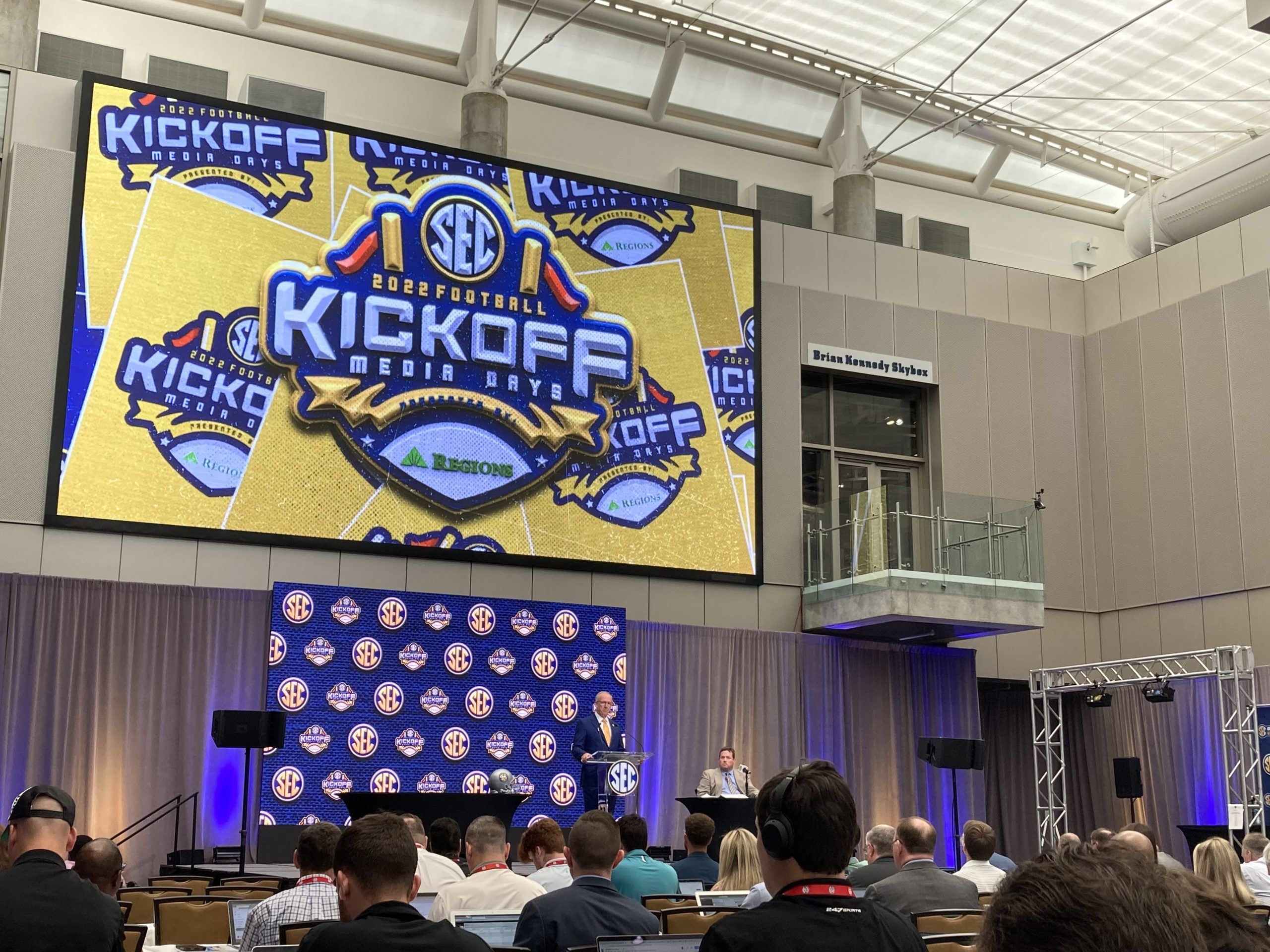 ATLANTA – Name, image and likeness matters, conference realignment issues and the FBS playoff structure all were high on the agenda for both Greg Sankey and media members when the SEC commissioner addressed the press on Monday, the first day of the four-day SEC Media Days here.
Speaking in the main media room at the College Football Hall of Fame before making his rounds with various individual outlets, Sankey fielded those questions about all those matters and more during a session that lasted just shy of 40 minutes.
Regarding NIL – the way college athletes make money nowadays via personal appearances, commercial endorsements and social media engagement – Sankey lobbied for uniform legislation and against using NIL payments as a recruiting tool.
"Our football coaches were unanimous and unequivocal in our spring meetings, when they discussed name, image and likeness, that booster activity should be completely removed from the recruiting aspect of their work," Sankey said during his opening remarks.
"Our young people deserve consumer protection to ensure commitments they make do not create long-term entanglements and points of exploitation that reduce or eliminate their future earning potential.
"Lastly on this list for now, there's an absence of oversight for those described as agents … or NIL businesses that approach young people and families directly with offers with no transparency. That gap needs to be addressed and the unregulated marketplace calls for action.
"The NCAA is limited in its ability to govern this space. To put state universities in conflict with their own state laws is an impossibility," Sankey added. "Litigation limits the extent to which the NCAA can actually act. That's why the continuing identification of Congress is the opportunity to set a national standard remains important."
LSU coach Brian Kelly, meanwhile, defended his program's position – perceived in some circles as lacking compared to certain SEC brethren – in what has become an NIL arms race or sorts.
"Nobody has given me any kind of documentation that we're behind," Kelly said when asked if LSU has been "outbid" in recruiting.
"I feel very comfortable, quite honestly, as I stand here talking to you that what we're doing relative to NIL is as competitive as anybody else."
Regarding conference realignment, Sankey boasted about the planned future addition to Texas and Oklahoma to the SEC – and suggested the recent decision by UCLA and USC to move from the Pac-12 to the Big Ten will not prompt the SEC to do something it might regret later.
"I think in the view of our entire membership, the Southeastern Conference is stronger now than at any other time in our history," he said.
"We're poised to grow to 16 members on July 1st, 2025. This expansion keeps the SEC in contiguous states which supports reasonable geography among like-minded universities and keeps us confident that fan interest will continue to grow in our communities, in our region, in this country and literally across the globe.
"There's no sense of urgency in our league, no panic and reaction to others' decisions," he added. "We know who we are. We are confident in our collective strength, and we are uniquely positioned to continue to provide remarkable experiences, educationally and athletically, along with world-class support to student-athletes."
Sankey suggested the Longhorns and Sooners are a better geographic fit for the SEC than the Bruins and Trojans are for the Big Ten, but he did not bite when asked if he sensed Texas and Oklahoma might join the SEC ahead of schedule.
"That's not up to me," he said. "That's about the relationship between Oklahoma, Texas and the Big 12. We are focused on the addition being effective July 1, 2025."
   As for the college football playoff structure, Sankey shared his stance on an eight- or 12-team playoff now that the CFP has punted on expanding from four teams until sometime after the 2025 season.
It's quite complicated.
   "I walked into one of the first meetings when we were looking at the format and said, 'If we want to expand to eight teams for the playoff with no automatic bids, I'll have that conversation,' " he said. " 'But moving to an eight-team playoff and granting what we're going to be six automatic bids, reducing at-large access, is unwise.'
   "If you look at 2014, you would have replaced the 8th best team in the country with the 20th best team in the country. I don't think we can survive that from a credibility standpoint.
"But the pressure was there to have conference access with some guarantee. So the 12-team, six at-large, which increases the at-large access, and six conference qualifiers, not automatic qualifiers, but the guarantee that the six best conference champions, was a really good balancing outcome.
"But things have changed. I was clear back in January when we walked away from the conversation that we as a conference weren't unanimous in our support. I had as commissioner moved people forward to the point we were supportive as a league."
The move of USC and UCLA to the Big Ten, however, complicates things.
"If we're going to go back to square one, we're going to take a step back from the model introduced and rethink the approach, number of teams, whether there should be any guarantee for conference champions at all. Just earn your way in," Sankey said. "There's something that's healthy competitively about that and creates expectations and support around programs.
"Where we go? We'll see. We've had one initial conversation in late June. I walked into that meeting not very optimistic about the ability to talk through issues. I walked out much more positive about the path forward than when I walked in. There's a lot of work to do. We have time and we'll use it.
"It's the same type of issues that you've heard: AQ, no AQ, how many teams, what's the relationship to the bowls, when do we play these games on a calendar. We really need to look at that more deeply than we did in the previous iteration.
"We'll see how it goes, but those are the realities," Sankey added. "I'd be fine with no AQs, whether it's four like we have now, a model that's worked, eight, 12. But the inclusion of conference champion access was I thought an effective compromise to the 12-team playoff."