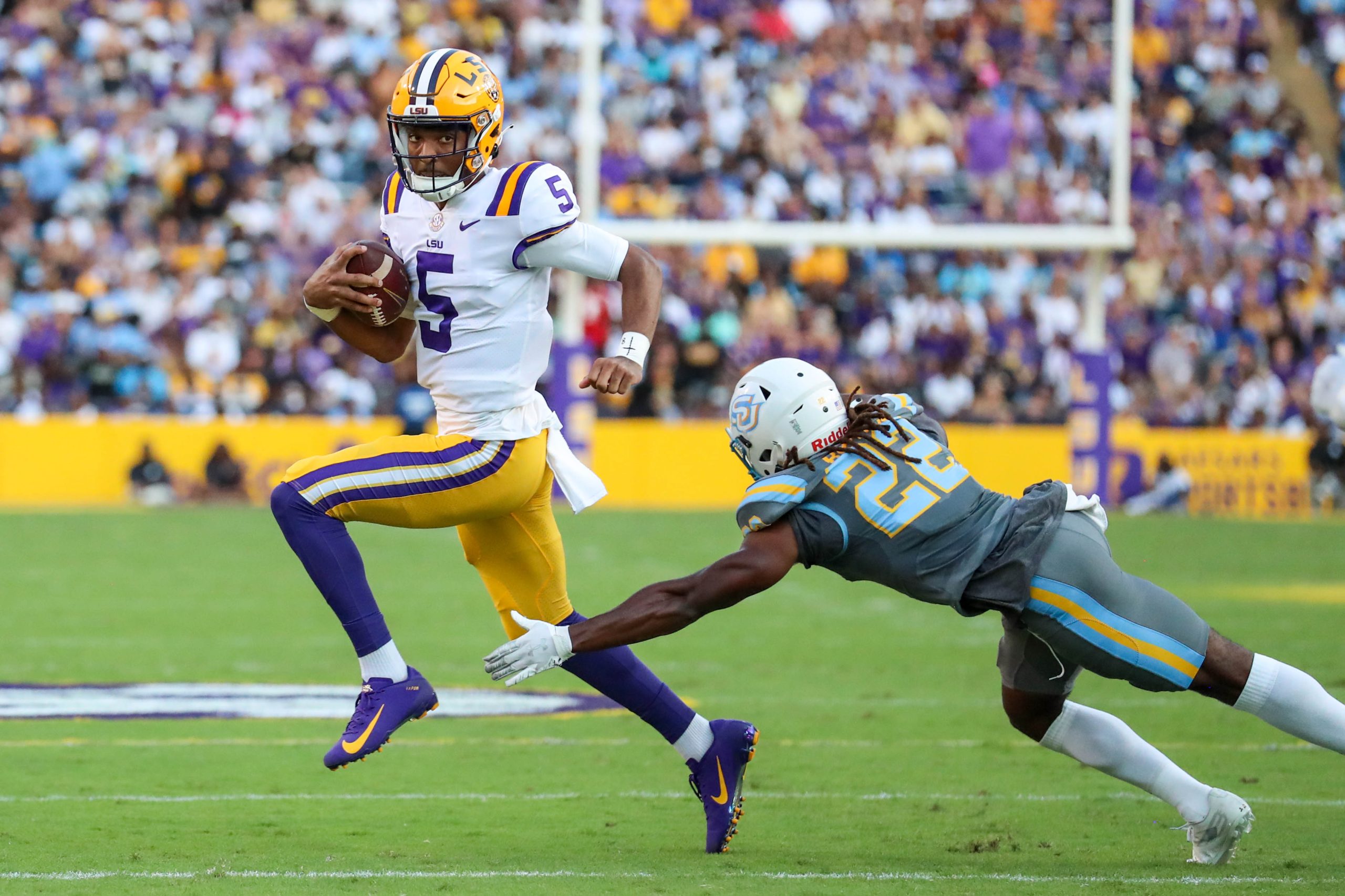 LSU football coach Brian Kelly said he expects to start quarterback Jayden Daniels in Saturday's Southeastern Conference clash with No. 8 Tennessee at 11 a.m. in Tiger Stadium.
No. 25 LSU (4-1, 1-0 in SEC) hosts Tennessee (3-1, 1-0) in a game that will be broadcast by ESPN and can be heard locally over 98.1-FM.
Daniels left during the early stages of the fourth quarter of Saturday's game with LSU leading Auburn, 21-17, a final score that held up at Jordan-Hare Stadium. He went into the team's medical tent for observation but didn't go back into the game.
ESPN reported Daniels suffered "knee to knee" contact during one of his scrambles from the pocket and had to be replaced by redshirt freshman Garrett Nussmeier the last 10 minutes of the game.
"Daniels is fine," Kelly said during his Monday news conference. "He had a bursa sac (knee). It's not structural at all, but it's painful. He just felt like he was hurting the team being out there, but he felt good yesterday. The exam was clean. We did an MRI just to make sure, and that came back clean. He is now in a pretty good position where he feels like he is 100%."
Daniels led LSU in rushing with 16 attempts for 69 yards. He suffered through his worst game at LSU throwing the ball, though, completing just 8 of 20 passes for 80 yards.
Kelly also said that sophomore offensive guard Garrett Dellinger, who had surgery on his left hand and missed the Auburn game, was expected to practice this week and play against Tennessee. Dellinger, who began the season at center, was moved to left guard but remains the Tigers second team center behind starter Charles Turner.
A frightening opening to Saturday's game where Ohio State transfer Sevyn Banks was carted off the field covering a kickoff resulted in a bruising of Banks' spinal cord, Kelly said.
Banks was released from an Opelika, Alabama hospital Saturday, rejoined the team and able to return home on the team's charter plane and is expected to miss the next five to six weeks.
"No structural issues," Kelly said. "Really fortunate and really appreciate all the help that we got from our own medical team and certainly Auburn's as well in what was a very scary situation."
Here's what else Kelly had to say:
Opening statement:
"Any road win, obviously, is a great win. Especially in the fashion that we came back from a 17-0 deficit. I think the things that stand out after doing a deeper dive, defensively in the second half the turnovers, taking the football away and then running the football. We looked at our last three SEC games, we're averaging six yards per rush in the second half. I think we've said from the very beginning the ability to run the football in the SEC was going to be a very important part of winning football games. We would like to win them in a different fashion but winning is winning. I think those things stand out. Special teams was much improved. We're getting the kind of play and effort necessary.
"It's pretty clear this team plays with great heart, and they'll fight, but heart and fight will not win games against the opponents that we're going to have over the next month or so. We're going to have to have better execution. We're going to have to coach better, and those things we're going to have to have on display starting this weekend against an outstanding Tennessee football team. Josh Heupel has done a great job in a very short period of time of putting his stamp on this team. It is a fast-paced team. They're the fastest team in college football. They snap the ball with an average of about 20 seconds on the clock. It's led by (quarterback) Hendon Hooker, who I got a chance to go against when he was at Virginia Tech. He is talented. He is big, he is physical. He can throw the football. He runs it, and he has got playmakers. They're electric at the slot with (Jalin) Hyatt. You've got a big body guy in (Bru) McCoy, (Cedric) Tillman, obviously, didn't play last week, but he is obviously an alpha out there for them. Whether he plays or not, they are talented at the wide receiver position. Big, physical up front. They want to run the football. And then defensively of you've got athletes all over the place. On the front they've played 12 players on their defense in their defensive line, so they're rolling guys in and out. I think a team that is deserving of their ranking. They've earned it. They're talented on both sides of the ball. Special teams, aggressive. I think they've got something like 15 kickoffs and half go to the right and half go to the left. They're a very talented kicking team. A great challenge for our group, one that we're looking forward to. 11:00 a.m. start, so get there early. I would like to be the cheerleader here and say, come out early and get going. It's Tiger Stadium, it's LSU football. If you are not excited for that, I don't know what gets you going in October. There's time to do other things, but LSU playing Tennessee in Tiger Stadium, tell me what else is better to do? This is an awesome opportunity."
On team's breaking into Top 25 poll? Team's ability to rebound from slow starts?
"I think that when you look at the body of work and who this football team is, there's probably 35 teams that could be in the Top 25, right, from 25 to 35. That really is a judgment call. We feel like at this point the development of our football team will continue to take place through this month. I think the more germane question is, how do you get off to a better start against Power 5 teams, so you don't have to rally in the second half? What I will make clear when I get a chance to talk to the team is, having heart and fighting the way we do, that's not going to get it done against Tennessee. That's not going to get it done against Florida at Florida or Mississippi or Alabama. We're going to have to execute better. Our details are going to have to be better technically, tactically. We have to coach better. Hopefully what's come out of this is that we've learned that our preparation is going to have to be so much better, and then bring the heart, then bring that fight because you're going to need that too. But you can't just rely on that and play sloppy football and expect to win these games."
On play by BJ Ojulari to get strip sack, set up Jay Ward's fumble return for TD?
"I told him that was a captain's play. What I meant by that was that was an effort play, and that was a timely play that gave us the life that we needed at that particular time. We were down 17-0, and we needed something good to happen. A leader like BJ made a play when a play needed to be made. Those things need to happen. You know, players need to make plays, and BJ made a big play in that moment."
On getting Kayshon Boutte moved involved in passing game?
"Part of this is building trust with a new quarterback. Obviously, we're trying to get him the football. He is getting a lot of double coverage. We're still winning. He is happy that we're winning. All those guys that make decisions about who the best receivers are in the country are still going to look at Kayshon and go, 'That's a really, really good wide receiver'. Numbers are numbers. At the end of the day, he is going to continue to play this game at the next level, and the numbers won't dictate where he gets drafted. It's his ability to continue to play the game at the highest of levels, and when you turn on the film, and he is running full speed and he is beating guys and the ball didn't come to him for whatever reason, that's out of his control. So, what Kayshon continues to do better each and every week is he controls what he can control what he does that in practice and what he does that in games. He was happy we won the football game. Would he like the ball more? Absolutely. Would I like to get it to him more? Absolutely. But he has handled himself in the right way, and he continues to work for the team."
On ability to throw down the field instead of relying on shorter throws?
"I could give you a video clip of all the throws down field. We've had a number of deep ball throws. They weren't this week. Last week against New Mexico that was a Cover 8. That was (a) short passing game, catch it, run after the catch, we threw for over 300 yards. This past weekend was not good enough. That's not going to get you a sustainable offense that can win games at the highest level in the SEC, but that's coaching and that's playing. What I mean by coaching and playing is we have to prepare better. Our fundamentals have to be better. We have to look at the passing game. Are we doing too much? Are we doing the things that highlight our players? Then, in turn, our players have to look at themselves. Are they preparing the right way? Is there attention to the details necessary? This is on all of us together that we need to get better, and the recognition and the awareness that 85 yards (against Auburn) is not going to get it done, but it's a new week. The one thing that doesn't carry over very well in college football is the last week. So, we expect to be much better."
On state of passing game?
"I think I would continue to answer the question, and I'm going to be honest with you. Everybody should be asking the same questions, but I will tell you that it starts with putting together a comprehensive plan that can be repeated in the game. The guy that has his hands on the ball is the quarterback, and he is going to get most of the notoriety when we do well, and he is going to get a lot of the blame when it doesn't go well. So, the quarterback is part of this. The wide receivers have got to be better at attention to detail. Their routes have to be better. We've got to throw it better and catch it better. There were probably five or six – and you probably can all remember them – where there needed to be a little bit better of a throw and a little bit better of a catch. So, that also goes to play-calling. We've got to be able to look at, are these the plays that we can repeat and are we doing too much? I think we're looking at it in all of those areas because this is not going to work. We can't throw for 85 yards with the talent that we have and expect to beat the Top 10 teams in the country."
On impact on your defense facing Tennessee's high-paced offense?
"You've got to get your cleats in the ground, and you've got to go play. In one instance they can't do a lot of things either. So, if they're going to snap the ball with 20 seconds on the clock, there's not a lot of motion, there's not a lot of changing of formations. They've got to line up right and left too. So, to play fast allows you a pretty clean look at what you are getting, but on the other side, you can't do a lot defensively. But what you can do is get your cleats in the ground, line up, play fast, play free, and play physical. That's what we'll have to do against a really good Tennessee offense."
On the adjustments in the secondary to address coverage busts last week?
"We've addressed the issues. There are communication issues. Then really, making sure that our guys know the rules associated with coverages, and do your job. Don't try to do somebody else's job. We've been in flux a little bit back there, so making sure that there's great communication, guys doing their job, not trying to do something that's not part of our system, and rules and just over-communicate it now. Just make sure that it's been communicated effectively. And do a good job teaching it and re-doubling our efforts to make sure that point is getting across to those guys that are in that situation."
On ability to help Jayden Daniels recognize what opposing defenses are doing?
"I think we have to improve. We've got to be better at recognition. Look, there's a difference between being on the edge aggressively and being reckless. We're way too conservative right now, and so I don't want to throw interceptions. That's not what I want to do. I don't want to turn the ball over. We haven't thrown any. That's not necessarily a bad thing in one respect, but if you are looking to be aggressive, you're going to throw an interception or two because somebody made a great play, because you trust that you're going to throw it in there. We've got to get Jayden to be a little bit more on that edge, and be a little bit more aggressive, and we will. We'll get there with him because that's the nature of this position. This position has to be with the skill players that we have, we've got to get that ball down the field, and we've got to get it into some tight windows sometimes. They're not always going to be wide open, but those guys can make plays, and we have to get them the ball."
Was John Emery Jr. at fault for fumble Saturday?
"We had one side of the line going left and the other side of the line going right. That's not a good thing. What actually ended up happening on the play was the back side lineman was pulling. He was not supposed to be pulling. John didn't expect it and got run into and the ball came loose. Inexcusable. You still have to have great ball security in that situation, but it was a miscommunication, understanding of what the play was. Somebody thought it was right, and it was going left, and we had just a circus going on up front, and it created that collision in the back field, which was unexpected and jarred the ball loose."
(On Emery's 20-yard TD run)
"The physical run was amazing, right? I think we still have to settle him down a little bit in the passing game. He had the nice catch, obviously, up the sideline. He needs to play with that kind of calmness in the passing game. He got a little antsy the other time where he dropped it, but he is coming along. We can see it coming, and I just think it's just more reps for him, and he will continue to settle in nicely."
On play of offensive line?
"We put a lot of pressure on them in the second half. We got down big. We had a great drive. I thought the protection was really good against some really good pass rushers. They had two legitimate pass rushers. You have two true freshmen (Will Campbell and Emery Jones Jr.) out there battling, but I thought, by and large, the offensive line has been a bright spot for us. Then, like we've talked about many, many times, the ability to run the football, when everybody in the stadium knows that LSU is going to run the football and exerting our will to close out football games in the SEC says a lot about the growth of that offensive line."
Outlook of team through five games
"I never really looked at it relative to the wins and losses. What I've looked at is will. We continue to get better each and every week as we go through the season, and can we develop an identity as a football team? I think that early on we've been able to identify that this football team will fight. It's got grit. Those are traits that sometimes don't ever show themselves during the season. I think we're ahead of it because to go on the road and be down 17-0 and come back and win, that means that your program is establishing character within the ranks, and that to me puts you on the right path."
Without injured Armoni Goodwin, how does running back rotation look?
"I think what you see is what you get. Josh (Williams) has been kind of the guy for us. He is extremely reliable in all areas of the game. He can pass protect for us. Made a mistake out on a handoff sweep where he blocked below the waist, but he is usually really clean in all those areas and making good choices. He runs hard. He catches the ball out of the back field, so he has been really reliable. Then as we talked about, Emery is coming on. We feel like we can give him a little bit more and more each week. And then (Noah) Cain comes in with fresh legs, and he is a big guy. He kind of gives us a nice change-up when he does get in. We need all three. There's no doubt."
On recent play of defensive line?
"It was good this past weekend, and I think it got to that level. (Mehki) Wingo has been our most consistent. What made it better was Jaquelin Roy. His play this weekend is what we need to see from him each and every week. Now, he has been banged up. He has had a back issue. He was injury-free this week. He practiced all week, and you could see it in the way he played. If we can get that kind of play from Jaquelin Roy each and every week, we're going to be pretty good up front. Even with the loss of a great player like Maason Smith."